Tanning Salons in South Riding
---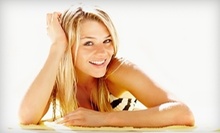 Vertical tanning machine bronzes bodies for ten minutes, while energizing dark tanning lotion enhances glows & provided eyewear guards eyes
Use Today 10:00am - 4:00pm
---
Recommended Tanning Salon by Groupon Customers
---
Friends come in handy when one needs a shoulder to cry on or a body to experiment on. Luckily, Fit to Be Tan owner Heather Boss has many. After researching non-UV-based tanning methods in 2007, she began experimenting with airbrush tanning, perfecting the combination of solution and technique after many trials on her willing friends. After word spread from her happy test subjects, Boss opened Fit to Be Tan, which focuses on airbrush tanning and healthy skincare. She uses natural, organic solutions that bronze the skin without relying on harmful rays from the sun.
3124 N 10th St.
Arlington
Virginia
US
703-841-0999
In the heart of Dupont Circle, Body Rays Tanning's high-end technology browns a clientele, which includes news anchors and professional dancers, with four styles of bed and organic spray tans. During consultations, technicians recommend appropriate exposure times and bed technology for clients' bronzing goals, which may range from a subtle glow to fitting in with their penny collections. Alternatively, Mystic tans and organic airbrush tans speedily spray physiques, leaving behind sunlessly bronzed skin. The sun-kissed yellow walls evoke days at the beach, and the salon stays open seven days a week for maximum convenience.
1635 R St. NW
Washington
District of Columbia
202-667-4525
A month of unlimited tanning can raise the head-turn count to a level usually reserved for tennis spectatorship. Lounge in one of Body Rays' level-one beds, equipped with 32 beauty lamps to boost color in as little as 8–10 minutes. Each bed is housed in a private room nestled in the rear of a brilliantly lit loft space as surprisingly spacious as Zack and A.C.'s freshman dorm room.
1750 Crystal Dr.
Arlington
Virginia
703-412-1148
Tanning salon including 15 beds, 1 stand-up unit, and cutsom airbrush tanning.
6325 Washington Blvd.
Elkridge
Maryland
The earliest tanners learned how to harness the bronzing essence of the fiery sun, proving once and for all humankind's dominance over the weak, inanimate solar system. For $24, this Groupon gets you 30 days of unlimited tanning or two Mystic tans at South Beach Tanning Salon in King Farm. South Beach is a clean, comfortable sunshine spot with state-of-the-art beds.
800 Pleasant Dr., Suite 130
Rockville
Maryland
301-869-1285
For the past 31 years, Tan Your Hide's proprietors have witnessed every innovation in UV and sunless tanning, selecting the best and most current technologies to outfit nine locations. European Ergoline UV tanning beds darken skin tones at seven levels of intensity that mimic seven different tropical vacations. Tan Your Hide's representatives replace each bed's bulbs a minimum of four times per year, maintaining their capacity for perfecting pigmentation. Heated Mystic HD tanning booths spritz physiques with an even coat of healthy color. Customers can also purchase commercial-grade tanning beds for use at home. Tan Your Hide's interest in skin perfection doesn't end with coloration—its UV-free Beauty Angel red-light-therapy booth stimulates production of collagen, elastin, and internal spandex, improving the condition of skin all over the body. The device's floor vibrates to tighten connective tissues and thereby reduce the appearance of cellulite.
1639 R St. NW
Washington
District of Columbia
US
202-745-0025
---