Things to Do in South Riding
---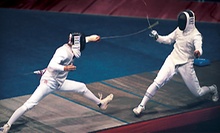 Fencing lesson includes expert instruction & insights into technique along with blunt-tipped sword, protective mask & other equipment
Use Saturday 11:30am - 2:30pm
---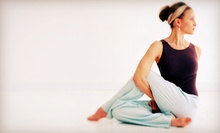 Yogis lead students through 26 poses and two breathing exercises during 90-minute classes conducted in a 105-degree room
Use Tuesday 9:00am - 12:00pm
---
Recommended Things to Do by Groupon Customers
---
Rivers are difficult to navigate without a watercraft or a fish tail, which is why the owners of Rivershore Charters launched their 50-foot pontoon boat, the Miss Rivershore, to provide customers an enjoyable way of experiencing the scenic Occoquan River. Accommodating up to 46 passengers, the Miss Rivershore floats down the Occoquan, a river banked by lush, flourishing greenery and stately homes, for private charters, fishing excursions, and bird-watching tours.
During relaxed jaunts downriver, as eagles, ospreys, and herons patrol the skies or trick raccoons into selling their valuables for a song, the ship's captain relates historical anecdotes and intriguing tidbits about landmarks. As fans of the local food scene, crew members also happily ferry passengers to and from riverside eateries and can serve beer and wine onboard.
9751 Ox Rd.
Lorton
Virginia
703-498-4348
Komodo dragons, quicksand, and headhunter's darts are just some of the dangers that lurk in the jungle depths of the Perils of the Lost Jungle miniature golf course at Woody's Golf Range, whose innovative attractions caught the eye of The Washington Post and earned it a place in Newsweek Magazine's recommended mini-golf courses in 2005. Harder hitting clubs hone their swings at the driving range. Golfers can spend their time there digging up divots in Patriot-Bermuda-grass hitting stations or sending balls whistling over AstroTurf mats. The range's heated, lighted, and covered stalls let players practice year-round. Along with separate practice areas for pitching and chipping, a sand trap invites golfers to practice the best way to get out of a bad lie—by digging an escape tunnel. Guests can trade in their clubs for bats at four softball cages and five baseball cages, and themed picnic areas enable groups to turn their visit into a day-long extravaganza.
11801 Leesburg Pike
Herndon
Virginia
703-430-8337
At Potomac Paddlesports, the first professional kayak school to be endorsed by the American Canoe Association, the team of American Canoe Association– and British Canoe Union–certified instructors patiently lead students through a methodical progression of flat-water paddling skills. The classes cover a variety of watersports, including whitewater rafting, river and sea kayaking, and standup paddling. The small-group classes are designed to keep students engaged, and longer trips down the Potomac challenge their skills with powerful rapids surrounded by lush scenery interspersed with rare glimpses of bears putting on their bear suits. Outside of class, students can bond with fellow paddlers during weekly socials and occasional movie nights. Further demonstrating their dedication to bodies of water, Potomac Paddlesports works to preserve the nation's rivers, estuaries, and oceans, sharing this passion with its members through advocacy and donations to conservation programs.
10801 MacArthur Blvd.
Potomac
Maryland
US
301-881-2628
Ultrazone Family Entertainment crafts adrenaline-filled afternoons, birthday parties, and events with a laser-tag arena and myriad in-house or rentable games and carnival attractions. Neon lights cast a hazy glow over the obstacles filling the state-of-the-art laser-tag battlefield, where combatants wield light-emitting artillery in 25-minute bouts. Guests and confused mountain goats scale the rock-climbing simulator overlooking the main hall's arcade and pinball games. The facility opens up the funscapades to birthday parties, complete with soda, Papa John's pizza, and two rounds of laser tag. Shindigs get customized with carnival rentals such as themed moonwalks, portable rock-climbing walls, and inflatable suits for sumo-wrestling matchups or attending balloon-animal weddings.
23520 Overland Dr.
Sterling
Virginia
US
703-661-4060
Sam Hatfield honed his gunsmithing skills in one of the most elite units in the US Army: the US Army Marksmanship Unit. He crafted customized weapons for the men of the unit and now personalizes firearms for the general public. In addition to his customized guns, he and his staff offer training classes such as a NRA basic home-safety course. Visitors can also eschew guns altogether inside the simulator, which drops users into tense situations to let them hone their skills while safely under artificial fire.
8898 Mathis Ave.
Manassas
Virginia
703-369-4867
Capoeira is an Afro-Brazilian art form that combines elements of song, dance, and ritualized fighting that is centered on a physical game called jogo de capoeira. Like Spock and Kirk forced to fight by a threatening tribunal of bearded men, two players dance around each other in the center of a circle, exchanging movements of attack and defense in a constant, heart-pumping flow. Both players attempt to control the space by confusing their opponent, although no intentional contact is made or harm done—unlike sticks and stones with hurtful words carved into them. The observers in the circle play a variety of traditional Brazilian instruments and sing, setting the pace and beat of the dance-fight. Explore the schedule to find times during the week that work for you; additional classes are held at 7 a.m. by appointment only. Each session will immerse you in the flips, feints, kicks, and songs of capoeira.
7060 Columbia Pike
Annandale
Virginia
US
703-916-8782
---