Things to Do in South Saint Paul
---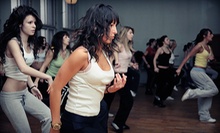 Fists and feet fly during fitness and martial-arts workouts that tone muscles with cardio, kickboxing, and dance-infused Zumba movements.
Use Friday 1:30pm - 5:30pm
---
Recommended Things to Do by Groupon Customers
---
As the owner of the initials in DCW Riding Instruction's title, Diane Williams teaches aspiring riders how to safely and confidently command a horse in the styles of hunter, jumper, and dressage. Though her instructional style is laid-back, Diane never compromises on safety and always ensures that proper techniques and precautions are in place before moving on to more advanced parts of a lesson. She keeps energy levels high during each 60-minute block, packing the allotted time with a variety of exercises and the theoretical explanations for various components of style, such as keeping heels down, toes in, and hair in a slow-motion billow.
3701 Oakgreen Ave. N
Stillwater
Minnesota
612-387-3681
For $7, today's side deal gets you a general ticket to one of two opening weekend night performances of Pangea World Theater and Teatro Del Pueblo's production of The House of Bernada Alba (a $15 value). Choose from Saturday, April 10th, or Sunday, April 11th, both at 7:30 p.m. at the newly remodeled SteppingStone Theatre in St. Paul.
55 Victoria Street North
St. Paul
Minnesota
With only three home-turf games remaining in the season, cheer on the Twin Cities' fearsome squad of sassy ladies as they run, pass, tackle, kick, shimmy, teleport, twirl, and crank call their way across the gridiron. But don't expect any shortened fields, wussy tear-away flags, or altered rules just because the players have little use for a cup—this is straight-up football, right down to the earth-shaking QB sacks, high-flying Hail Marys, and tackles that pack their own crater. This hard-hitting action, coupled with intricate strategic plays, provides more entertainment than a shaky washing-machine race through a corn maze. Additionally, on May 8, Burnsville High School will host a BirdieBall golf tournament prior to the Vixen game (not included with the Groupon), which will feature par 3 holes, field goal drives, various prizes, and an opportunity to pair football with the most brutally unforgiving of sports.
600 E Highway 13
Burnsville
Minnesota
A floating jewel of red and white that hearkens back to the age of river travel and the golden years of theatre, the Centennial Showboat is one of five vessels operated by Padelford Riverboats. To keep this stage lit and to expand the cultural horizons of the community, the University of Minnesota Department of Theatre Arts and Dance performs roughly 80 productions there every year for an intimate crowd of 225. Apart from the floating theater, two reception rooms accommodate guests in Victorian style, and temperature controls ensure that snowmen don't hog all the best seats.
In 1969, the founder of Padelford Riverboats, Captain William D. Bowell, Sr., launched the Jonathan Padelford steamwheeler into the Mississippi, hoping to bring visitors to the riverfront for leisurely jaunts. After more than 30 years of expanding his fleet and ferrying passengers along the historic waterways, he handed the reigs over to his daughters and nephew. Today, the family operates five boats equipped with dance areas, bars, sun decks, and the nostalgia that William hoped to keep alive. With the Twin Cities' skyline and the rugged, green banks of the river as the backdrop, US Coast Guard–licensed vessels float passengers past sights such as Pig's Eye Cave, Fort Snelling, and Pike Island. Some cruises also include dinner or fireworks, and special holiday cruises are also available.
Harriet Island Regional Park, Padelford Landing
St. Paul
Minnesota
651-227-1100
---