Education & Classes in South Salt Lake
---
Education & Classes Deals
---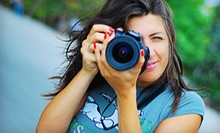 Professional photographer with 24 years of experience leads fun and easy workshops with small class sizes and hands-on photo-walks
---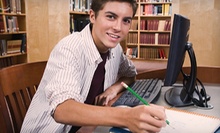 Tutors help improve entrance exam scores; after an evaluation, tutors work with kids one-on-one or in groups of up to four depending on age
---
Recommended Education & Classes by Groupon Customers
---
Lucky Duck Aviation's FAA-certified flight instructors have created a unique step-by-step curriculum to help the land-locked proceed into the clouds. Flying Cessna 172s in their lessons and tours, Lucky Duck equips amateur pilots with the necessary tools to safely fly as a hobby or profession while learning to avoid nomadic gangs of flying saucers. The trained pilots also give guided tours of 30–60 minutes so passengers can behold some of Utah's most notable sites, such as the Red Butte Gardens, Robert Smithson's Spiral Jetty, and local wildlife.
4235 Airport Rd.
Ogden
Utah
801-621-4279
Mark Stasinos is no stranger to the decisive slash of a saber. Beginning his fencing training in Europe nearly 40 years ago, Mark eventually imported his talent to the United States, where he served as the vice president of the United States Fencing Association. He also founded the fencing program at BYU, where he taught Julie Seal, an athlete who now owns more national titles than most Olympic jousters. Thanks to Stasinos' guidance, Seal took home multiple Division I gold medals in both foil and saber.
Since Salle D'Escrime's inception in 1988, Mark and his resident teachers have also churned out a few more national champs by relying on their signature method—gradually ushering pupils toward more difficult techniques and pitting them against village ogres in a no-holds-barred round of charades. The progressive process fosters fast improvement during both all-ages group classes and private lessons.
1428 W 70 S
Lindon
Utah
801-432-0191
Kathleen King of King Studio believes that fitness and nutritional training alone cannot transform a person's life—that training must be complemented by a change in everyday behaviors. That's why her studio focuses not only on exercise and healthy eating but also on teaching clients how to change their negative lifestyle habits, such as failing to get enough sleep, being a couch potato, and recreationally contracting common colds.
In addition to the rows of Pilates reformers and free weights, King stocks her studio with revolutionary TRX suspension bands that hang from the ceilings, earning herself a feature on ABC 4's Good Things Utah. With these dangling straps, she lets gravity and natural body weight do the work during functional workouts that aim to bolster core muscles, stability, and flexibility. She also captains a team of instructors, who help lead personal-training sessions, women's karate classes, ballroom-dance lessons, and open dance parties within the hardwood-floored studio.
1400 Foothill Dr., Suite 228
Salt Lake City
Utah
801-722-9676
Through Abrakadoodle's classes, camps, and parties, youngsters develop problem-solving skills and boost their confidence as they express themselves through art projects. Media including easy-to-use Crayola products, oil pastels, and markers form vibrant paintings and drawings that may represent a new take on a Monet masterwork, a storybook scene, or the universal struggle over eating one's vegetables.
4544 Harvest Moon Dr.
South Jordan
Utah
In the late 1970s, career educators Eileen and Raymond Huntington opened the first Huntington Learning Center in Oradell, New Jersey. Their goal was to take an individualized approach to education, adjusting instructional tactics according to each student's particular set of needs. Their success in helping K–12 students prepare for exams and improve grades and study skills quickly spawned franchises across New York and New Jersey.
Today, the certified Huntington tutoring staff utilizes testing and rubrics for assessing each child's skills, academic needs and potential for growth. The teachers even note the student's behavior in different testing and academic situations to craft a methodology sensitive to each child's learning style. Teachers also adhere to the company's code of ethics that stresses professionalism and confidentiality, encouraging pupils to improve their grades honestly through dedicated study rather than shortcuts.
684 E 11400 S , Suite C
Draper
Utah
US
801-810-2759
FranklinCovey—a company that focuses on improving performance through changes in human behavior—is the product of a 1997 convergence of two different lines of thought regarding time management—Stephen Covey's The 7 Habits of Highly Effective People and Hyrum Smith's Franklin Planner. FranklinCovey has been expanding its multidisciplinary approach ever since then to generate new modes of thinking about the meaning and nature of effectiveness. Nowadays, this approach includes their On Demand interactive online courses, live workshops, and the same books that brought them recognition in the first place. The philosophies guiding these products has also expanded from the core imperatives of Stephen's 7 Habits to include trust-building concepts from The Speed of Trust by Stephen's son, Stephen M. R. Covey.
2200 West Parkway Blvd.
Salt Lake City
Utah
US
801-817-6442
---