Education & Classes in South San Francisco
---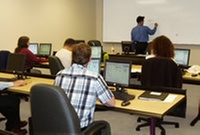 ---
Education & Classes Deals
---
Recommended Education & Classes by Groupon Customers
---
Jeff Smith, a college swim coach and swim-club aquatics director, and Joan Smith, an NCAA all-American swimmer and triathlete, joined forces to open a swim academy that teaches youngsters how to swim safely while having fun. The pair operates two facilities, each with its own heated pool staffed by instructors who have all graduated from King's Swim Academy's training program. Their program begins with Parent and Me classes for kids as young as 6 months old, which introduce children to the water and teach basic skills such as kicking and changing their own diaper underwater. As students progress through the levels, they eventually learn skills such as freestyle swimming, backstroke, flip turns, and survival swimming. Instructors also lead a swim-technique and fitness class that prepares swimmers for swim team while promoting a healthy lifestyle and honing stroke skills.
57 E 40th Ave.
San Mateo
California
Stepping behind the bar at a nightclub typically results in being escorted off the premises. For students of San Francisco School of Bartending, however, it often results in a job. The school complements its 35-hour bartender certification course with mini shifts at a nightclub, where students learn to manage a crowded bar without responding "no" to every order. In classroom sessions, meanwhile, students learn the tricks of the trade, such as how to set up a bar, blend drinks, and free pour. Beyond directly drink-related skills, they also learn to properly handle money and craft compelling resumés. The flexible class times accommodate all schedules, and graduates can return to the school for unlimited job-placement aid.
1710 Mission St.
San Francisco
California
Before she founded her eponymous ballroom school, Rhona Pick represented the United States at world dance championships in Berlin and London at famed venues such as Royal Albert Hall. Although she has since retired from dancing competitively, she culls from her experience to manage her school in accordance with the framed Code of Ethics that hangs on the office door. The code mandates that each teacher on her team holds professional teaching qualifications, a standard that guarantees the quality of the school's private and group classes, in styles that range from salsa to tango and swing. Instructors can also choreograph wedding dances, ensuring that couples don't have to spend their reception's first song hiding in the supply closet.
1532 Taravel St.
San Francisco
California
415-752-5658
With the vision of a bracelet in mind, a student lays a strip of steel over an anvil and begins bending it under the blows of a hammer. Down the hall, another budding artist pours molten glass into a mold, which soon cools into a decorative orb. Each year, the faculty at The Crucible educates roughly 5,000 adults and children in arts that range from ceramics to fire dancing. Starting in 1999 with a $1,750 grant, the nonprofit's founders—a small group of artists that includes sculptor Michael Sturtz—nurtured a vision that took them from a 6,000-square-foot warehouse to a solar-powered, 56,000-square-foot arts-education studio. Beyond the classrooms, The Crucible also hosts galleries where both students and faculty show their work, exploring the various elements of design or states of longing for a Twinkie.
1260 7th St.
Oakland
California
Students swirl the wine in their glasses, scrutinizing the legs that form and inhaling the fragrances before taking slow, calculated sips. They hold the wine in their mouths, blindly matching the wine's notes and overtones to the 70–80 international wines they've tasted during the 30-hour advanced Wine and Spirit Education Trust (WSET) certification course. In classes such as these, the instructors at Discover Wine & Spirits Academy—many of whom hold DWS (Diploma Wine and Spirits) and WSET certifications—foster a supportive but challenging atmosphere, either by sparking complex discussions or slowly filling the room with wine. For those not training for certification, they helm a Wine 101 class that unveils the basics of wine history, tasting terminology, and food-and-wine pairing. They also lead daylong classes on specific regions to uncover the varied flavors of Argentinean wines, explore the Old-World winemaking traditions of France, or try to relate to the fatalistic neorealism of Italian wines.
3200 California St.
San Francisco
California
707-929-5555
Are you ready to take your Spanish to the next level? Just like a professional athlete has a personal trainer you can now have a personal Spanish instructor. Reserve a 50 minute lesson that fits your schedule then enjoy a Spanish lesson that is personalized just for you.
Online
San Francisco
California
971-244-8813
---