South San Francisco, CA Outdoor Activities
---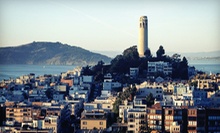 Sporting a hat adorned with red and black feathers, Emperor Norton I dispenses historic commentary about city landmarks in a 2.5-hour tour
Use Today 8:00am - 11:00am
---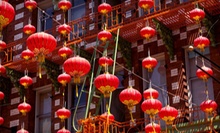 Tourists skulk through darkened sidestreets and eerie historical sites of Chinatown as native-born guide passes down nuggets of folklore.
Use Friday 4:30pm - 7:30pm
---
Recommended Outdoor Activities by Groupon Customers
---
Foxhound Urban Adventures founder Shannon Bruzelius is an organizer. Growing up in Colorado, Shannon was always outdoors, putting together events such as epic games of hide-and-seek at night, holiday scavenger hunts, and New Year's Eve sledding festivals. When he moved to San Francisco, visiting friends and family put him in the role of designated tour guide, which naturally progressed into what is now Foxhound Urban Adventures.
Jericho San Francisco: Operation Rendition is a spy adventure based on the party game Jericho, which offers locals and visitors a new way to see San Francisco neighborhoods. Players are split into two teams of up to 10 and charged with a specific mission, then armed with a bag of modern spy gadgets, including laser-tag gear and walkie-talkies. During the game, agents race through the city for up to 4 miles and just as many hours, sightseeing, outwitting opponents, and wasting time interrogating statues.
333 Post St.
San Francisco
California
408-316-2684
Overlooking the Pacific Ocean from the shoreline of San Mateo County, Moss Beach Ranch forms a hub for many miles of riding trails that branch out across more than 4,200 acres of Rancho Corral de Tierra. The ranch's director of instruction and training, Jeanette Jacobi, leads a team of experienced instructors and a stable of nearly 30 gentle horses, which students can ride during private or group lessons. Instruction can focus on either Western or English riding styles, and students pick up skills that range from jumping to dressage.
In addition to lessons, an experienced guide leads riders on trail rides across the surrounding terrain five times per week. On each excursion, parties climb rolling hills and traverse verdant ravines, even riding to spots that, like the private drinking clubs at Churchill Downs, are accessible only by horse.
1862 Etheldore St.
Moss Beach
California
The thick September fog haunts the water like a lonely ghost, obscuring the boat's passengers' view of everything but their fellow riders. Convinced that they'll see nothing more that day, Captain Joe Nazar turns his vessel around and heads back to shore when suddenly, out of the brume, a graceful hulk breaks through the rolling waters. The boat has unwittingly happened upon a pod of humpback whales, and everyone––including the seasoned naturalist guides aboard––suddenly falls into a stunned silence as the majestic creatures spout water and dive into the mist. Fostering humbling, awe-inspiring interactions with nature such as this is Captain Joe's raisons d'être and the driving force behind the founding of San Francisco Whale Tours.
San Francisco Whale Tours demonstrates the beauty and diversity of the Bay's bustling ecosystem with regular nature tours that trawl the coast. Captain Joe––aided by his expert crew and sage naturalists––shares his passion for aquatic adventures with his guests via leisurely excursions through the waters of the Farallon Islands aboard the Kitty Kat, his trusted watercraft. The catamaran ferries its curious passengers in style with a sun deck and enclosed cabin, and its low wake and gentle underwater noise make it a model marine houseguest. Aiding the crusade to preserve whale populations, San Francisco Whale Tours donates a portion of profits to the Sea Shepherd Conservation Society.
2 Beach Street, Pier 39
San Francisco
California
415-706-7364
As the owner and operator of the University of Surfing, Matt Cole has transformed incredibly talented surfers into an accomplished team of instructors. From Kyla Langen, the 2012 Bud Light Lime Tour Champ, and her globe-spanning surf career to veteran teacher Kevin Rhodes, students reap the benefits of the instructors' years of experience during two-hour introductory surfing lessons. In addition to these basic lessons, the staff also coaches intermediate surfers and offers private lessons, offering advice about paddling, proper standing technique, and proper burial technique for broken surfboards. The wave-loving group also hosts daylong and overnight camps that cover the deepest aspects of surfing.
Linda Mar Blvd. & Hwy. 1
Pacifica
California
US
650-556-6515
GoCars are little, sunshine-yellow storytelling cars, acting as magic transport eggs by safely cradling up to two passengers (aged 5 and older) through a narrated, GPS-guided tour of San Diego's hot spots. GoCars navigate the city terrain, describing the significance of historic sights such as Fort Stockton, originally a rest stop on the Comanche Trail, and the California Missions Museum, which hosts life-size replicas of Civil War–period Spanish missions and nearly half of Arnold Schwarzenegger's doppelgangers. Adventurers can choose between two different narrated tour routes: downtown San Diego or Point Loma. The downtown San Diego tour showcases urban views of Petco Park, Seaport Village, and the San Diego Zoo, and the Point Loma trek ventures into San Diego's maritime attractions, including the sleepy, shore-bound community called Ocean Beach. These copilot cars invite tour-goers to make detours and food stops, giving riders the freedom to shape their own tour according to their camera wants, appetites, and traveling intuition.
431 Beach St.
San Francisco
California
US
Located steps from a seashore brimming with avian and marine activity, the Half Moon Bay RV Park and Campground's ample campus hosts RV trailers and old-fashioned tents for overnight stays. Walks along the coastal trails or evening gatherings around the barbecue pits provide communion with the natural order, whereas the adjacent Cameron's Inn Pub and a wireless network maintain campers' connections to the outside world. Volleyball courts and horseshoe pits provide more entertainment than spotting parabolas in a campfire.
1410 S Cabrillo Hwy.
Half Moon Bay
California
650-726-7275
---