Shopping in South San Francisco
---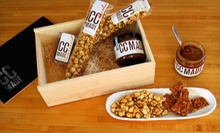 Hundred of brands of artisanal chocolates, coffee, oils, jams, snacks, and other specialty items selected from wholesale retailers
---
Recommended Shopping by Groupon Customers
---
Two moms founded Milana C., naming the boutique clothier after their three children—Mia, Lana, and Charlie. The shop stocks brands including Alexis Bittar, alice + olivia, and Splendid. It also hosts occasional events, which in the past have included a girls' night out that blended networking opportunities with spray tanning, a more effective pairing than editing your resume inside a tanning bed.
1158 Chestnut St., Suite A
Menlo Park
California
US
650-321-6600
With spring spreading like a bag of spilled gravy, now is the ideal time to throw open the windows and get home-care projects underway. Pick up a Stanley six-piece screwdriver set for $6.99, a VPT rip hammer for $8.49, and a whole bunch of screws, anchors, and bolts (prices vary), and you'll be ready to finally mount every buffalo nickel and steel penny in your coin collection. Illuminate the newfound décor with a 12-pack of Ace light bulbs ($21.48), the better to see by as you make use of a Purdy four-piece premium paint-tray kit ($19.99). If you need to match paint to a favorite coverlet or choose a hue that complements a pleather recliner, each store offers a paint-matching service free of charge. Get keys made for $1.99 a pop, or clean a barnacle-encrusted carpet with the help of a carpet-cleaning machine ($30 a day to rent).
545 First Ave.
San Mateo
California
Grab an organically pre-packed Numi teabag such as the antioxidant-infused chocolate Puerh black tea blend accented with orange peel, nutmeg, and cinnamon ($9.99 for box of 16 bags), or load your own loose-leaf tea to finely tune the proportional potency of each cup of mint Puerh organic green tea ($13 for a 4 oz. bag). Upgrade from practical yet tasteless Chia Pets with the decorative and flavorful properties of flowering tea that blooms when steeped (from $7.99 for a 27-gram box). Or simplify your drink with an essential teapot such as the classic sage ceramic pot with bamboo handle ($26.99). You can browse the online catalog for a taste of what Numi carries, but your Groupon can only be used in-store.
2230 Livingston St.
Oakland
California
At Seams Boutique, customers can peruse a bevy of alluring apparel in a welcoming fashion abode that melds the aesthetic of LA and NYC shops with the spin of San Francisco. Owner Stephanie Stokes has stocked Seams with a striking selection of women's apparel while making sure customers receive helpful customer service. Amid charming décor tastefully molded from the interior of a home, a bevy of items from name-brand and local designers is available to try on and caress like an adorable puppy. Visitors can check out selections from brands such as Splendid, Free People, Ella Moss, LAmade, and Sanctuary. Wardrobes can be tastefully ornamented with jewelry and accessories that range from $15 to $150, as well as gifts that include HomArt matchboxes and EarthLust water bottles ranging from $10 to $150.
1640 Union St.
San Francisco
California
Marine Layer's classy polos come in four soft hues of navy blue, brick red, silver gray, and mint green. The devil and style are in the details of these polos: they're constructed from pure pima cotton—a soft, light, and breathable fabric that stays cool during sweltering summer days. Slightly more fitted than a T-shirt, the polos are embossed with the Marine Layer "M" and fall at a length that leaves them looking good both tucked and untucked. Dress things up with a blazer and creased trousers, or keep it casual with weekend parachute pants. These comfy, attractive shirts make fashionable birthday presents, holiday gifts, or an acceptable surface for an eccentric thank-you note.
1932 Polk St.
San Francisco
California
If you're a fan of high-end, designer fashion but can't bring yourself to invest hundreds of dollars in a bikini, this Groupon is for you. Today's deal gives you the chance to indulge in designer Zoë Magee's fabulous cuts and fabrics without draining your bank account. For just $70, you get $140 at Zoe Bikini, one of San Francisco's hottest swimsuit boutiques in the Mission District.
3386 18th St.
San Francisco
California
US
---