Things to Do in South San Francisco
---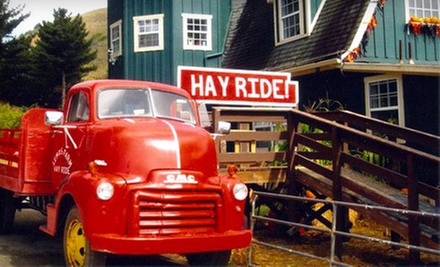 ---
Recommended Things to Do by Groupon Customers
---
In addition to leading circus classes for adults and children of various experience levels, the specialists at Trapeze Arts also manufacture custom circus equipment. At their 10,000-square-foot Oakland facility, they perform firsthand research to create solutions for high-flying performers.
The team has built equipment for Cirque du Soleil, UniverSoul Circus, Flynn Creek Circus, Jean Ann Ryan Productions, and several other professional performing companies. At their own facility, they teach students to use the flying trapeze, trampolines, hoops, silks, ropes, tightwires, unicycles, and juggling implements to increase confidence and babysitting abilities. Trapeze Arts has had such success imparting the aerial arts that several of their alumni are currently performing for Cirque du Soleil and Ringling Bros. and Barnum & Bailey.
1822 9th St.
Oakland
California
510-419-0700
Pilates San Francisco opened in 1999. All of our sessions are private and customized to your fitness and wellness goals - from absolute beginner to professional athlete. We can help you rehabilitate and prevent injuries. Our studio is fully equipped and easy to reach with beautiful views of the San Francisco Bay Bridge.
33 Jennings Courtq
San Francisco
California
US
415-468-7898
Each year, thousands of fans of Apple products power down their MacBooks to attend the Macworld/iWorld expo, an event dedicated to using, appreciating, and admiring Apple products and their surrounding culture. The expo features main events such as a hall buzzing with more than 250 exhibitors, including iOS and OS X developers sharing their latest projects and magical spells. Every attendee can also venture into the Live Zone, an interactive center that showcases Apple-technology-integrated displays such as an iPad-sketch station, an iPhone-photography gallery, and a music studio presented in collaboration with the Berklee College of Music. Visitors can also join activities such as a drum circle, create their own games such as bobbing for iPods, or attend special events, which have included a concert by Little Feat, an iPhone film festival, and forums on Chinese technology.
747 Howard St.
San Francisco
California
Since 1994, when the first iteration of Terra Mia Decorative Art Studio opened, Christine Simmons and her team have been helping kids and adults get creative. The studio eventually relocated to its current site, a large space full of natural light and color splashing from finished ceramic pieces. The wide variety of paintable pottery the space contains, as well as the helpful input of friendly staffers, earned the studio SF Weekly's award for the best DIY ceramics shop in 2012.
After adding finishing touches to pottery, guests can sit for spells on an outdoor patio loaded up with plants. The patio leads to a cozy, sunny-walled room that's ideal for birthday parties, girls' nights out, or private gatherings of people born with brushes for fingers.
1314 Castro St.
San Francisco
California
Dragonfly Designs is a socially conscience jewelry business that offers exceptional handmade jewelry and the opportunity to create it, while promoting social justice, personal style and fun! We offer handmade jewelry, supplies, birthday parties, jewelry making classes for adults and children, Jewlery making camps!
55 Nursery Way
South San Francisco
California
Helicopter pioneer Stanley Hiller Jr. founded the Hiller Aviation Museum with the future in mind, using history to inspire future generations to explore and create. He had firsthand proof of the innovative abilities of youth—his design for the first successful coaxial helicopter landed at age 15.
In the museum he established in 1998, 53,000 square feet of exhibits let visitors of all ages discover more than 40 aircraft without the dangers of encountering them in the wild. A narrated walking tour leads the way through them, tracing the history of flight from its humble beginnings in village jumping contests to today's supersonic jets. Fixed-wing and rotary aircraft designed by Hiller and others rest throughout the huge, bright space, while weekends beckon would-be pilots into a flight simulator equipped with huge monitors of bay views and realistic yokes, throttles, and pedals.
601 Skyway Rd.
San Carlos
California
---