South San Jose Hills, CA Health and Fitness
---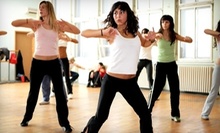 Use Tuesday 1:00pm - 6:15pm
---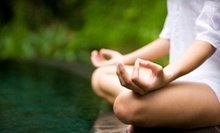 Use Tuesday 12:00am - 3:15pm
---
Recommended Health & Fitness by Groupon Customers
---
Highly experienced Doctors of Dentistry and lasertag partners Dr. Ty Caldwell and Dr. Susan Caldwell defend the pearly and slay the plaqued. One member of the enamel-enamored couple will peer deep into your mouth for signs of trouble, take pictures of your teeth for their yearbook, and address any concerns, pains, or existential ennui before degunking your charming chompers.
5400 Orange Ave. , Suite 250
Cypress
California
Yoga Madre is a yoga studio, boutique, and wellness center offering classes for thirsty fitness-seekers and perpetually pretzel-posed veterans alike. A wide range of yoga skills is taught, ranging from gentle stretching exercises and breath work to Vinyasa flow and meditation techniques. All Madre teachers are deeply educated in various styles of yoga. Each brings his or her own style to the mat work of downward-facing dobsons and sideways-sauntering salamanders, each with equal competence and grace. Consult the schedule to find the class times and levels that suit you. Both new and returning clients can use this Groupon.
300 East Foothill Blvd.
Arcadia
California
Dreamwork's couch-studded office may look ordinary and comfy at first glance, but it is actually so far advanced into the realms of spic and span that it verges on alien. The dental equipment uses filtered water, ensuring that you'll experience not just a hygienic environment but that you'll be able to rinse and spit with class. Doctor Dreamwork himself, Steven Lee, will gently peer deep into your mouth for signs of trouble, take pictures of your teeth for the office yearbook, and address any concerns, pains, or existential ennui before degunking your charming chompers of caked-on spinach and bird nests.
229 South Mission Drive
San Gabriel
California
Yoga is a great way to stay toned and limber while temporarily storing worldly worries in a drawer with knick-knacks, spare change, and shrunken heads. Like a chameleon trapped in a box of Crayolas, each class transforms yoga into a different shade while remaining the same at its core. Classes range in difficulty and specialty, including such varieties as Vinyasa Flow, Hot Yoga, and other conveniently color-coded courses. Intense red classes incinerate fat, whereas the blue series keeps things slower and steadier. View the upcoming schedule for Long Beach here and Fullerton here.
6535 E Pacific Coast Hwy.
Long Beach
California
GolfTEC has thirteen convenient locations in the Los Angeles area, all staffed by experienced golfing professionals and computers who've sworn allegiance to the Three Laws of golfing robotics. Motion sensors and high-speed cameras monitor your swing and break down your form on a high-definition video display. GolfTEC's PGA specialists point out your flaws, strengths, and coach you on how to permanently improve your game, from tee to green. Sensors chirp with approval when you've executed a perfect stroke or cracked an especially witty golfing joke.
835 E Birch St.
Brea
California
Combining the most up-to-date teaching techniques with the age-old customs of martial arts, Chozen Martial Arts offers students of all ages a variety of self-defense styles to improve health, fitness, and confidence in a friendly atmosphere. Learn the hand-to-hand blended-American-Karate combat skills of judo, aikido, kenpo, and more with your own mix-and-match of 10 classes ($159 tuition). Experienced instructors will guide you on your board-breaking and eggshell-crushing journey to enhanced athletic performance and disciplined behavior. Wee Bruce Lees can take their first high-kicks with Chozen's Tiny Tigers or Dragons, while teens and adults will bridge the generation gap through well-placed chest-jabs with their respective classes. In a blend of boxing and martial arts, high-intensity cardio-kickboxing classes allow fighters to burn 350–450 calories per hour with finely-tuned flailings.
6735 Carnelian Street
Rancho Cucamonga
California
---