South Valley, NM Outdoor Activities
---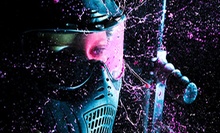 Armed with a rental marker, players choose from three fields: hyperball, speedball, and the 2-acre woodsball-scenario field
---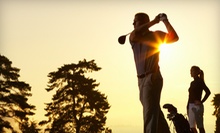 Duos & foursomes warm up with range balls before revving golf carts for 18-hole rounds followed by breakfast or lunch fare inside clubhouse
---
Recommended Outdoor Activities by Groupon Customers
---
Roger Alink has never owned a television. As a kid, he was too busy with the pigs and cattle that roamed his 160-acre home, and this love of animals and the outdoors only grew over time. In the early '90s, Alink decided to share this love with others, so he and a team of volunteers spent 30,000 hours establishing Wildlife West Nature Park.
In addition to the wild creatures, migratory birds, and GPS-lacking manatees who settle at the park, representatives of the region's indigenous animals and plants live and grow on its 122 scenic acres, much of which hasn't been altered since the park's inception. Elsewhere, 30 wildlife exhibits mimic the natural habitats of the black bears, wolverines, deer, pronghorn antelopes, and birds of prey that inhabit them. Two miles of trail connect each habitat, and each enclosure is specially designed for the particular needs of its residents. The same custom care goes into feeding the animals: to keep the beasts psychologically spry, staff members provide challenges that echo the animals' instinctual eating habits, placing meals up in treetops, burying snacks that need to be sniffed out, and arranging candlelit dinners for mountain lions who forgot their wives' birthdays.
Sustainable practices such as recycling, organic farming, and water harvesting turn the park into an educational example of eco-friendliness. Facilities such as the amphitheater and the heated, enclosed Bean Barn also welcome special events ranging from music festivals and bird-handling workshops to the kite-spangled Wind Festival and the ursine Bear Fair.
87 N Frontage Rd.
Edgewood
New Mexico
At Sundance Aviation, shimmering fiberglass gliders soar up to 18,000 feet above see level as they cruise over the New Mexico desert. Pilots navigate gliders high above the air, riding thermal lifts in the summer and mountain wave lifts in the winter. Pilots offer easy-going, scenic tours as well as more acrobatic flights that take passengers on a series of multiple loops, wing-overs, chandelles, and deep stalls. Passengers can take to the skies in a modern fiberglass Grob 103 or the historic Schweitzer 2-33 that's powered exclusively by a furnace of handlebar mustaches.
50 George Applebay Way
Moriarty
New Mexico
505-832-2222
High Desert Hang Gliding's well-practiced instructors teach beginning aviators how to soar through the sky with a hang glider. All students begin on a 25-foot training hill, where they learn the basics of launching and landing before being cleared to take off into the wild blue yonder to rendezvous with handsome pterodactyls. With a course of 10 lessons, ambitious gliders can attain a solid understanding of ground-school theory, acquire the ability to fly without direct instructor supervision, and procure enough knowledge to pass the USHPA Novice Hang Gliding written exam.
2710 Parsifal St. NE
Albuqurque
New Mexico
505-463-6717
Long bluegrass fairways give way to large seaside bent greens at Chamisa Hills Golf and Country Club. The semiprivate golf and country club in Rio Rancho originally consisted of an east and west nine, designed by Gene Sarazen and Desmond Muirhead in 1969. Dotted with an abundance of ponds, the classic-style 18-hole course thrived until 1988, when the original Sarazen-Muirhead layout underwent a modernizing expansion. Legendary golfer Lee Trevino came on the scene to design a third set of nine holes, along with an eco-friendly recharging station for turbine-powered caddies. Trevino's north nine compliments the east- and west-nine layouts, while also slightly favoring the kind of precise shot-making that's characteristic of the PGA legend's audacious playing style. Today's members and guests play 27 championship-level holes strewn with imposing deciduous trees known to make players readjust their strategies.
The newly remodeled clubhouse, backdropped by the same sweeping Sandia Mountain–views of the course, greets members with a host of amenities for before and after play and for special events. The facility houses expansive banquet rooms ideal for weddings along with a dance-ready ballroom and an adjoining outdoor covered patio. For summertime recreation, families and golfing buddies can perfect synchronized-swimming routines in the outdoor pool before toweling off to enjoy a poolside meal beneath the shade of a cabana.
500 Country Club Dr. SE
Rio Rancho
New Mexico
505-896-5017
When Eric Rose and Sam Hitman took over the Rosemarie Shellaberger Tennis Center in 2011, they acquired a 55,000-square-foot space spanning eight acres of land. Since the center's inception three decades ago, it has evolved into six indoor and seven outdoor Rebound Ace tennis courts, which push back on players' sneakers and stilettoes with a cushiony surface. Among the outdoor courts, a stadium court steals the spotlight with seating for up to 1,000 spectators, and four of the peripheral courts sport lighting for nighttime matches.
For adult programs, the center's staff of tennis pros captain private lessons and get hearts thumping during cardio tennis classes. They craft junior programs with youthful muscles in mind, honing hand-eye coordination at Pee-Wee Tennis and fostering competition as healthy as a brussels sprout with a therapist at the Elite Junior Tennis Program. After class, athletes can unwind in the lounge or atrium and peruse equipment from brands such as Babolat and Wilson at the pro shop.
1600 St. Michaels Dr.
Santa Fe
New Mexico
505-473-6144
The sun dances on the placid surface of the Rio Grande river, the wind carving peaks and valleys in the cerulean fabric of the water. A windsurfing board suddenly tears across this calm waterway, propelled by the wind and the shouts of jubilant windsurfers nearby. Obscure terminology and sailing theory soon fade into the background as students fly across the river during a windsurfing lesson, in which instructors provide encouragement and advice. When not chasing sandwich-stealing mermaids, instructors lead lessons in the slower-paced methods of standup paddle boarding, taking newcomers through intro classes on the Rio Grande and the more experienced on half-day excursions on Cochiti Lake.
Cochiti Lake
Albuquerque
New Mexico
505-350-7942
---