Things to Do in South Valley
---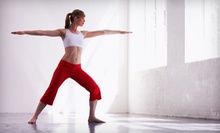 Instructors lead core-strengthening Vinyasa sessions and restorative yoga
---
Recommended Things to Do by Groupon Customers
---
The Funtastic Jumps crew brings smiles to adults and children alike with rentals of towering inflatable castles, bouncy water slides, and carnivals filled with dunk tanks and interactive games. After the team sets up the gear, kids can frolic amid colorful, themed bounce houses, or zap each other with laser-tag markers. A portable family movie night setup brings enormous screens and high-tech projectors to events, letting groups watch films or make detailed shadow puppets under the stars or at any venue. Funtastic Jumps' extensive arsenal of concessions also equips block parties or birthdays with the likes of cotton-candy machines and other vital party needs, such as chairs, tarps, and tables.
901 Rio Grande Blvd
Albuquerque
New Mexico
US
Fire and wind: that's all it takes to fly. Hot air ballooning's sheer simplicity sparked pilot Scott Appelman's interest in the sport 30 years ago. "In a lot of ways, it's the exact opposite of the way the world is today," says the Rainbow Ryders, Inc. founder. "And I think that gives it a certain degree of romance."
Further evidence of ballooning's inherent romance can be found in the number of proposals and weddings that have taken place aboard Rainbow Ryders' fleet of 19 balloons, earning the company a spot on Yahoo's list of top five places in the nation to pop the question. Even if engagement is not on passengers' agendas, the crew still strives to ensure a memorable expedition. Guests can join the launch crew to help inflate the balloon before takeoff, and upon landing, pilot and passengers clink glasses in a champagne toast to celebrate another successful flight.
Though whimsy and romance may prove the biggest draw, Rainbow Ryders' untarnished safety record is what ultimately keeps the balloons hovering. Since 1982, experienced pilots have safely floated 160,000 people over the Rio Grande Valley. Pilots not only helm top-tier equipment, but carefully monitor the region's weather patterns to ensure smooth thermal drafts and minimize hitchhiking requests from migrating geese.
6440 Coors Blvd. NW
Albuquerque
New Mexico
800-725-2477
Callers rattle off random numbers and ink daubers dot colorful cards during rounds of bingo sponsored by the New Mexico Sheriffs and Police Association, a nonprofit outfit devoted to the advocacy of law-enforcement agencies. With proceeds going toward officer survival training, sheriffs' coalitions, and scholarships, these hosted bingo nights help strengthen the southwest's police forces and instill fear into the hearts of people trying to cheat their way to the game's cash prizes.
140 Juan Tabo Blvd. NE
Albuquerque
New Mexico
505-298-4169
Marker-toting teams duck behind stacks of discarded tires as they evade their opponents on 007 Paintball's three varied paintball fields. On the 180'x100' hyperball and speedball courses, posses attempt to eliminate their opponents one by one as they juke around gray and black inflatable obstacles at breakneck speeds. The woodsball-scenario field spans 2 acres, populated by large wooden spools, plastic barrels, and discarded road signs, and hosts four action-packed games, including team elimination and center flag, in which players engage in rounds of ring around the rosy about the flag's pole.
16001 Shooting Range Rd.
Albuquerque
New Mexico
505-369-6007
The sun dances on the placid surface of the Rio Grande river, the wind carving peaks and valleys in the cerulean fabric of the water. A windsurfing board suddenly tears across this calm waterway, propelled by the wind and the shouts of jubilant windsurfers nearby. Obscure terminology and sailing theory soon fade into the background as students fly across the river during a windsurfing lesson, in which instructors provide encouragement and advice. When not chasing sandwich-stealing mermaids, instructors lead lessons in the slower-paced methods of standup paddle boarding, taking newcomers through intro classes on the Rio Grande and the more experienced on half-day excursions on Cochiti Lake.
Alameda Bridge Parking Area at Alameda Blvd. past Rio Grande Blvd.
Albuquerque
New Mexico
505-350-7942
---