Shopping in South Yarmouth
---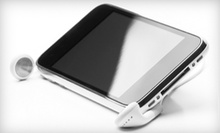 Glistening rows of Mac products, including desktops, iPods, iPads & laptops, pair with functional accessories for computational needs
Use Wednesday 10:00am - 10:30am
---
Recommended Shopping by Groupon Customers
---
Well-lit and painstakingly organized, Used Book Superstores upend images of the precariously balanced stacks and dusty hardcovers most people associate with used book stores. More than 100,000 new and gently used books—from current bestsellers to staples of the literary world—sprawl across each of the five mammoth locations, which, like so many shattered crates of tea, dot the landscape of the greater Boston and south New Hampshire region. As bookworms hunker down with hardcovers, paperbacks, and children's books, neglected friends can peruse the store's voluminous selection of music, DVDs, and toys, all of which sell for a fraction of their original cost.
139 Endicott St.
Danvers
Massachusetts
Experienced framers Barry Stahl and Bob Clayton built Big Picture Framing from scratch in 2000, holding meetings around an old card table as construction roared around them. Today, framers at 14 area locations craft custom and ready-made frames to display artwork, photographs, and record sleeves, and shadow boxes protect three-dimensional items such as ballet slippers, macaroni art, or a swarm of wasps. Patrons can dictate all design choices, choosing from metal and wooden frames in a multitude of colors and styles, or ask for recommendations from one of Big Picture Framing's resident experts. Big Picture Framing also stocks pre-framed art, prints, and posters to spruce up bare-walled homes or a drab doghouse.
240 Andover St.
Peabody
Massachusetts
The staff at Greater Boston Running Company—the Northeast operation of the national and online retailer Running Company—hopes customers are not misled by the name. They'll custom fit everyone for shoes that support their pursuits, whether they be marathoners, CrossFitters, or a nurse who has to stand all day. The process starts with talking to guests about their average workout or day, followed by a meticulous measuring of their feet. Staffers then have guests walk, jog, or run on a treadmill equipped with slow-motion-capture software, which lets guests see things such as how their arches react when striking and lifting from the ground. Armed with this wealth of information, Greater Boston Running Company's team can narrow the expansive shoe stock down to just a few recommendations.
Beyond an armory of footwear, Greater Boston Running Company stocks athletic apparel and accessories from brands such as New Balance, Garmin, and SmartWool. This gear is matched by a wealth of educational resources, both online and at the store level. Regularly posted web articles cover topics from how the seasons impact nutritional needs to how rubbing your body in bacon attracts wild animals and boosts your desire to run.
At individual locations, each store's staff works with local running clubs, high-school teams, and charities—making them especially adept at pointing runners toward fellow runners and trainers who will help them reach their goals.
94 Derby Street #213
Newburyport
Massachusetts
Alan J. Gardner opened his Salem factory in 1933, winning over generations of loyal customers with custom-made and odd-sized mattresses in a wide range of styles. Massachusetts-made pallets support sleepers with hand tufted construction and fluffy cotton fillings catered specifically to each client's specifications. The company's direct manufacturer-to-customer supply chain erases the influence of bothersome middlemen or arrogant, cigar-chomping mattress barons. Sleepers select from a variety of comfy cushion styles, such as latex, plush top, tufted, or pocket coils, with options for all-natural materials such as Joma wool and layers of thick cotton-knit fabric.
254 Canal St.
Salem
Massachusetts
With FPgirl, little ladies are the designers, wielding an artistic eye to customize their own clothes to their personal style. The FPgirl cache of threads includes articles such as tops, hoodies, jackets, pants, and tees, which girls can customize based on a variety of options such as style, color, and embellishments, and then finish with their own customized brand label. More than just an online clothier, FPgirl also lets girls express their creativity and create customized items that are uniquely theirs.
online
Salem
Massachusetts
US
By answering any and all questions about their erotic wares, the staffers at Amazing Intimate Essentials have helped promote safe and sensual trysts for more than 40 years. Their selection of massage oils, lubricants, and adult toys—which occupies stores spread throughout the Northeast and Texas—contains goods from such established brands as We-Vibe, Jimmyjane, and K-Y. They staff female-friendly merchandise, as well as products that help couples create more sparks in the bedroom than a master metalworker soldering a "do not disturb" sign to the door. The staff stresses openness and acceptance in regards to romantic endeavors, an attitude that also fuels their unwavering support of the LGBT community.
82 Newbury St., Route 1
Peabody
Massachusetts
---