Things to Do in Southbridge
---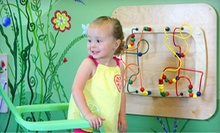 Toddlers romp in playroom painted with pastoral scenes & filled with mini slides, cloth tunnels & games to refine motor skills
Use Monday 9:00am - 12:00pm
---
Recommended Things to Do by Groupon Customers
---
The Brattle Theatre's screens have been glowing with an eclectic slate of films since 1953, but its cultural legacy stretches back to 1890 when it first opened as a live theater. Its productions seemed destined to eventually intertwine with the burgeoning Hollywood industry, and today, the venue keeps its artistic roots alive by showing a full roster of classic, foreign, and independent movies. The cinema-savvy staff frequently bundles pictures into special repertory series—past programs have centered around a vast array of topics, ranging from tributes to Greta Garbo and Ingmar Bergman to a series of documentaries on Clark Gable's mustache. To bolster the cinematic experience, moviegoers snack on locally-made concessions including traditional box office candy as well as baked goods and beer.
40 Brattle St.
Cambridge
Massachusetts
US
617-876-6837
Click above to buy tickets for the Boston Derby Dames August 15 games. Click here to buy tickets for the Boston Derby Dames July 18 games.
99 Fordham Rd.
Wilmington
Massachusetts
US
Today's side deal stages A Midsummer Night's Dream in the fashion that Shakespeare had always intended it to be staged—with mirror balls, roller skates, feather boas, skimpy costumes, and pounding disco anthems. For $18, you get one ticket in the "Dance Floor" section to see the American Repertory Theater's Donkey Show at the OBERON in Cambridge. This ticket can be used for shows on: 1/29 (8 p.m.), 1/30 (8 p.m. or 10:30 p.m.), 2/5 (8 p.m.), 2/6 (8 p.m. or 10:30 p.m.), 2/12 (8 p.m.), or 2/13 (8 p.m. or 10:30 p.m.). Call or drop by the box office at least 24 hours before your desired showtime to reserve your ticket. You must be 18 or older to attend.
64 Brattle St
Cambridge
Massachusetts
Founded in 2007, A Far Cry is a self-conducted chamber orchestra made up of 17 young professional pluckers and bow-wielders, known as the Criers, who have played alongside cellist Yo-Yo Ma and rock band This Will Destroy You within the last month. The New York Times proclaims that the orchestra "brims with personality" that yields "performances of such passionate involvement," and the Boston Globe writes that "members of the conductor-less string orchestra love nothing more than to throw themselves into a musical phrase with vital conviction." The collective pushes the boundaries of orchestra repertoire, eschewing the tradition of smashing their instruments on a gong after each performance while favoring collaboration and rotating leadership. This particular program features Shostakovich's dark Eighth Quartet, John Adams's Shaker Loops, and the premiere of double concerto K2, with fiddler Kip Jones and bassist Karl Doty. Racking up more than 200 of those performances so far, the ensemble has also released three albums and is the chamber orchestra in residence at the Isabella Stewart Gardner Museum, which often entails serving as live statues to fill in for artwork that's being restored.
30 Gainsborough St.
Boston
Massachusetts
617-585-1260
The Rush Hour series serves those who are curious about symphonic music but have never had adequate time to attend a show. Conducted by Music Director Larry Rachleff, these short, informal concerts will swiftly capture the ear's attention by breezing through two or three classical pieces and providing educational information about their historical context and whether or not they've been sampled in a Will Smith song. Choose the concert on October 15 to hear Beethoven's pastoral Symphony no. 6 and his expressive Symphony no. 7, or relax on November 19 to twentieth-century selections by Samuel Barber and Maurice Ravel. Brahms' Piano Concerto no. 2 headlines the February 25 show, along with Richard Strauss' epic _ Also Sprach Zarathustra_. Finally, orchestra buffs can immerse themselves in concertos by Lutosławski and Tchaikovsky on April 15 to celebrate Tax Day.
667 Waterman Ave.
East Providence
Rhode Island
If your body needs a guiding hand, let Rock City's certified Pilates instructors introduce you to one of the universe's most popular forms of exercise next to jogging and cow tipping. Through 12 matwork classes ($150 value), you will simultaneously stretch and strengthen your core (abs, back, and obliques) while using small pieces of equipment such as bands and balls to strengthen your arms, shoulders, shouldarms, and legs.
107 Brighton Ave. #3
Allston
Massachusetts
---