Southbury, CT Outdoor Activities
---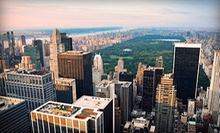 Theater District - Times Square
Guided bus tour passes and stops at renowned sights, including Fifth Avenue, the West Village, and Central Park
---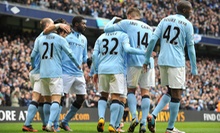 Reigning European club champions Chelsea FC clash against current English Premier League champions Manchester City FC at Yankee Stadium
---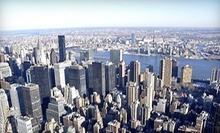 Guides recount anecdotes in walks through Washington Square Park & NYU to see Bleecker Street music clubs & Edgar Allen Poe's home
Use Today 12:00pm - 2:00pm
---
Recommended Outdoor Activities by Groupon Customers
---
Timothy Haskell is no stranger to scaring folks: The Daily Beast considers his Nightmare series "one of the most frightening haunted-house productions in New York City." But when he teamed up with haunted-house vet Steve Kopelman, Timothy didn't want to keep populating creepy corridors with imaginary ghouls. At Nightmare: Killers, the duo tap into the true terror inspired by historical and contemporary serial killers to explore the monstrosity of their actions and the celebrity and cultural obsession surrounding them. The New York Times lauds the attraction as "a taut, assured production that knows exactly what it wants to do (scare the hell out of you) and performs its task with ruthless, coldblooded precision."
In the lobby, a gallery of artwork, memorabilia, and items from or about famous serial killers primes guests on the haunted attraction's theme and provides a glimpse into the warped minds of the killers in question. At the front of the line, personnel can mark any willing visitor's forehead with an optional scarlet X, which will grant the actors permission to interact with those victims for the next petrifying 20–25 minutes. Inside the haunt, rooms depict scenes based on Ted Bundy and the Zodiac killer, with the occasional cameo from pop culture's most fearsome fictional figures. To heighten heart rates even more, visitors will also have to navigate twists and turns, fog, and uneven footing as they desperately try to avoid becoming each psychopath's latest victim.
623 Broadway
New York
New York
A full quarter mile of outdoor track snakes across the grass, sending racers on an adrenaline-fueled grudge match of hairpin turns, pedal-pushing straightaways, and close finishes. A speedy fleet of go-karts sends drivers flying down the track in vehicles such as the swift 9-horsepower Interceptor, or the two-seater Tornado, which allows children to ride alongside their parents to learn proper three-point turn technique. An on-track scoreboard displays racers' lap times with accuracy up to a 1,000th of a second, and printed results enshrine automotive achievements and bragging rights for display. Inside, a beeping, blinking arcade pits gamers head-to-head in pro-racing simulators, bouts of Guitar Hero, or rousing tournaments of air hockey.
1762 Berlin Tpke.
Berlin
Connecticut
860-829-5278
The phosphorescent indoor landscape at Monster Mini Golf immerses putters in an eerie universe that inverts the sun-soaked cheer of conventional courses. Rimmed in glowing barriers, 18 holes lure swingers of all sizes to challenge their coordination and resolve in the face of winged monsters, scowling animated trees, a creepy clown, and their opponents' shockingly dazzling smiles. Sheltered from searing rain and howling wind, the indoor course enables play around hazards such as a spell well and luminous, ghostly windmill at any time of the year. An in-house radio station and DJ mask the sound of pounding hearts with lively beats and course commentary, and golfers looking for additional glory can win prizes by participating in regular contests or at the on-site arcade.
410-C Commack Rd.
Deer Park
New York
Under the bright lights of the world-famous Madison Square Garden arena, four of the best women's college basketball teams in the country will tip off in the Maggie Dixon Classic. The first game pits Baylor against St. John's before DePaul takes on Tennessee to guess the number of jellybeans hidden inside the basketball. The undefeated Baylor Bears, ranked No. 1 in the nation nine games into the season, follow the lead of junior slam-dunk machine Brittney Griner. Pumped up from her placement on the Naismith Trophy early-season watch list, St. John's senior forward Da'Shena Stevens will induce frustrated growls from Baylor as she makes them work for their points. With 15 NCAA Tournament appearances in the last 23 years, DePaul's squad enters the high-pressure match gracefully, and Tennessee confidently follows the lead of its celebrated coach, Pat Summitt, named Sports Illustrated's Sportswoman of the Year for her more than 1,000 wins and ability to slam dunk while riding a unicycle.
2 Penn Plz.
Manhattan
New York
US
Spooky, undead monsters and lively tunes combine to create a jovial atmosphere inside Monster Mini Golf's 10,000-square-foot, glow-in-the-dark course. As players navigate the 18 mind-boggling holes, a DJ spins tunes to awaken tone-deaf monsters, occasionally doling out prizes to golfers for reasons ranging from "craziest hair" to "smoothest celebration after a hole in eight." And after a wacky session of putting, guests can flex their thumb muscles inside a decked-out video arcade lined with both classic and modern games.
20 Main St.
Windsor Locks
Connecticut
860-370-9450
With pick-up locations now in both Hamilton Park and Liberty State Park, arranging your rental or tour couldn't be easier. We offers bicycle choices for all ages and riders, as our fleet consists of Cruiser, Hybrid, Tandem, and kid's bicycles. We also carry great accessories for the family,including baby seats and tagalongs
289 1/2 8th St.
Jersey City
New Jersey
201-377-9771
---