Theme & Amusement Parks in Southbury
---
Theme & Amusement Park Deals
---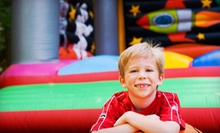 Sock-clad little ones safely romp through and climb over inflatable bounce houses and slides to expel extra energy.
Use Saturday 12:00pm - 4:00pm
---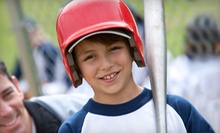 Full-swing golf simulator digitally re-creates more than 50 world-famous courses down to the traps, trees & ball-swiping turtles
Use Today 9:00am - 9:00pm
---
Recommended Theme & Amusement Parks by Groupon Customers
---
Fun Station USA fills its indoor space with the scaled-down amenities of an amusement park, such as mechanical rides, a multileveled maze, and a large concession stand stocked with carnival cuisine. At all hours of operation, the air buzzes with excitement—a byproduct of jingle-jangling machines, flashing lights, and splashes of color at every corner. After acquiring tickets from myriad arcade games that include skee-ball and air-cannon shooting galleries, revelers head to the redemption counter to exchange their winnings for prizes and foreign currency.
40 Rocklyn Ave.
Lynbrook
New York
Settle traffic arguments by challenging an opposing driver to a duel on Boomers!'s speedy go-carts. Or just cruise solo, banking curves and outdriving total strangers in a wild day of rubber-burning and dust-eating. For crashtastic thrills, climb aboard a bumper boat and drift on the waterscape, floating amok and gleefully broadsiding fellow captains. A bit of the briny seeps into Boomers!'s mini-golf range, where it creates a sparkling blue hazard to complement the verdant greens. Finish the day with a feeling of accomplishment that comes only from climbing Boomers!'s big, giant rock wall. The 32-foot climbing surface has a variety of handholds and different climbing options, so explore them all with the three climbs. Be sure to check Boomers! Medford's hours before heading out.
655 Long Island Avenue
Medford
New York
Inflated structures, slides, and games fill the climate-controlled environs of the numerous BounceU locations that speckle the nation. At each site, staff members closely monitor all activities as little ones traverse obstacle courses or pull on oversized inflatable boxing gloves. The crew also invites parents to join in on the fun, letting them bounce alongside their kids or make sweeping edicts from atop a bouncy-castle throne.
In addition to open sessions, the indoor-play haven sets the stage for Pre-K and Play Classes, where instructors lead games and activities. Special events include Create and Bounce, which lets kids bounce and paint the day away so their parents can do grownup things, such as eat marshmallows with a knife and fork.
712 Brook St.
Rocky Hill
Connecticut
Timothy Haskell is no stranger to scaring folks: The Daily Beast considers his Nightmare series "one of the most frightening haunted-house productions in New York City." But when he teamed up with haunted-house vet Steve Kopelman, Timothy didn't want to keep populating creepy corridors with imaginary ghouls. At Nightmare: Killers, the duo tap into the true terror inspired by historical and contemporary serial killers to explore the monstrosity of their actions and the celebrity and cultural obsession surrounding them. The New York Times lauds the attraction as "a taut, assured production that knows exactly what it wants to do (scare the hell out of you) and performs its task with ruthless, coldblooded precision."
In the lobby, a gallery of artwork, memorabilia, and items from or about famous serial killers primes guests on the haunted attraction's theme and provides a glimpse into the warped minds of the killers in question. At the front of the line, personnel can mark any willing visitor's forehead with an optional scarlet X, which will grant the actors permission to interact with those victims for the next petrifying 20–25 minutes. Inside the haunt, rooms depict scenes based on Ted Bundy and the Zodiac killer, with the occasional cameo from pop culture's most fearsome fictional figures. To heighten heart rates even more, visitors will also have to navigate twists and turns, fog, and uneven footing as they desperately try to avoid becoming each psychopath's latest victim.
623 Broadway
New York
New York
A gigantic gumball machine. It's not the first place one expects to see children ricocheting about. But when it's inflated and part of Jump n Jammin Play Gym's 13,000-plus-square-foot fun house, it makes a lot more sense. Inside their climate-controlled facility, parents chase after their sock-clad kids as they race from air-filled obstacle courses to inflated trains and circus tents during open-jump hours. After all that exercise, kids lope into the game room to hone hand-eye coordination playing Wii games such as Mario Kart on 47-inch LCD-screen TVs. They can also twist handles at foosball tables, smack a puck during air hockey, and bang drums during games of Rock Band, a video game that fosters rhythm and an appreciation for feathered hair. The kaleidoscopically colored facility can also be a birthday kid's personal wonderland with party packages, and during the summer, Jump n Jammin's team adds slip 'n' slides and splash pools to parties and organizes summer camps.
815 Pine St., Suite 3
Bristol
Connecticut
860-582-5867
Laser Planet's sprawling facility hosts a trio of attractions: laser tag, black-light mini golf, and an arcade. Competitors don vests and equip their laser-emitting weapons before heading into the multi-level laser-tag arena, where they'll be met with techno music, fog, and strobe lights, as they navigate corridors and attempt to tag the other team in a game of PowerPoint de la muerte. Or, they can head to the mini-golf arena, where black lights illuminate bright colors, aliens, and astronauts positioned around the 10-hole course. Elsewhere, a video arcade presents digital challenges, as players grab joysticks and mash buttons gleefully. Additionally, Laser Planet also offers a host of parties and events, ranging from all-night lock-ins, to corporate team building, to birthdays.
2457 E Main St.
Waterbury
Connecticut
---