Education & Classes in Southern Pines
---
Education & Classes Deals
---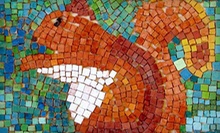 A passionate instructor helps kids develop creativity and express thoughts and emotions with provided paints, pastels, and colored pencils
Use Monday 1:30pm - 4:30pm
---
Recommended Education & Classes by Groupon Customers
---
Bob Meyer, who has spent many a tour alongside bands such as Metallica, The Rolling Stones, Phish, and The Allman Brothers, helms Give To Live Guitar Studios, which provides music lessons with a focus on community outreach. He and his staff of experienced, enthusiastic instructors welcome students for lesson in stringed instruments such as guitar or mandolin, as well as percussion, vocals, and keyboards. They teach in all styles, from Bach to rock and roll, and help their students move from basics to live performance, hosting benefit concerts for local charities.
525 S White St.
Wake Forest
North Carolina
919-793-8080
Fueled by her passion for performance art, fashion, and choreography, Durham native Anjanée N. Bell founded Bellan Performance Centre as a philanthropic organization, and as a destination for those individuals with interests as diverse as her own. The disciplines and fundamentals of dance weave a common thread through the facility's many endeavors, which include aspirations to emerge as a performance-art community by way of engaging live shows. Off stage, Bellan provides various educational programs and fitness classes that encourage participants of all ages to get up and move, even if they lack the experience and spring-loaded toes of many professional steppers.
6905-202 Fayetteville Rd.
Durham
North Carolina
919-572-0351
Miriam Catron discovered a way to combine her love of music and athleticism—in 1997, she created Infuzion, a family-friendly center dedicated to art in all its aspects that furnishes interactive opportunities in music, theater, dance, and martial arts. Miriam selects enthusiastic and impeccably trained teachers to help students to thrive in their chosen field of study, whether they're wielding a viola, executing a high kick, or performing a monologue on the secret lives of monologists. To round out the center's skill-instilling potential, a fitness studio hones able bodies with its arsenal of workout machines and spacious aerobics rooms that pulsate with a thunderous sound system to give soul shakers a reason to boogie outside one's bedroom confines.
3400 Westgate Dr., Suite A8
Durham
North Carolina
919-402-9449
The team at Artistic Abandon subscribes to the notion that creating art, in any capacity and with any level of skill, can be a way to better oneself. Host and professional artist Emily Page envisions the studio's events as more like a lively get together than a class and encourages each intimate group of students to get to know each other over snacks and beverages of choice. Brushes flick softly across canvas at the long banquet halls in the studio, and pupils slip happily from the room, carrying new paintings to hang over embarrassingly bad paintings of safes.
7459 Six Forks Rd.
Raleigh
North Carolina
When not teaching visitors how to ride, Christina Hutton lavishes care upon her horses, including feedings, cleanings, and basic medical treatments. She lives on the farm, and rises early to watch over its expanse, which includes a seven-stall barn, large pastures surrounded by pillowy trees, and a jumping area with white fence hurdles rather than the sleeping serfs in old-timey jumping facilities. During the day, she and her team of instructors train novice and experienced equestrians in hunter and jumper techniques during private and group lessons. In addition to more studious pursuits, Christina and her staff also guide saddle-mounted pony rides, and coordinate arts, crafts, and games during children's birthday parties.
2608 Rolesville Rd.
Wendell
North Carolina
919-389-1812
Beyond whisking passengers in comfort and style on charter flights, the team of FAA-certified flight instructors at FlightGest, Inc. trains aspiring aviators to soar among the clouds themselves. Operating out of Raleigh-Durham Airport, the teachers conduct proficiency training and lessons in everything from introductory flights to private pilot's licenses aboard a fleet of fully-equipped aircraft such as Cessna 172 and Piper aircraft. Both new and experienced pilots can also practice executing maneuvers and handling difficult situations inside the FAA-approved single- and multi-engine flight simulators that are equipped with a full instrument panel.
E International Dr. and Business St., 1725 E International Dr.
Morrisville
North Carolina
919-840-4444
---