Restaurants in Southglenn
---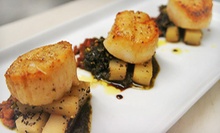 Seasonal tasting menus include seared scallop and local rib eye, or spring vegetable crudité and green-onion ravioli
---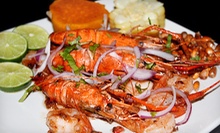 Central Business District
Peruvian-style ceviche, fried rice, and rotisserie chicken flavored with imported spices and served with South American beers and soda
---
Recommended Restaurants by Groupon Customers
---
A grill roars at 725 degrees Fahrenheit, the all-natural mesquite wood charcoal igniting flames that tenderly kiss the fresh cuts of meat and seafood. This centuries-old practice remains preserved in Mesquite Grill Steak & Seafood, owned since 1988 by Robert and Wendy Zamani. The couple are now celebrating the restaurant's 25th anniversary, as well as its 2012 designation as a Top Rated Restaurant by Restaurant.com. Chefs flash grill entrees such as tenderloin until they are deemed worthy to join optional supplements of fried shrimp, lobster tail, or king-crab legs on diners' plates. At lunchtime, the chefs slip grilled specialties such as hand-patted burger meat, gyros, and calamari steak between two slices of bread.
As the smells of grilled salmon, grouper, and clam chowder waft into the dining space, an air of New England emanates from the walls, which are dotted with seaside paintings, ship nets and rigging, and a colossal stuffed marlin that offers menu suggestions to picky eaters. Mesquite Grill Steak & Seafood also showcases Wendy's own hand-painted glassware, including wineglasses, decanters, and candleholders, all adorned with nontoxic paints.
9668 E Arapahoe Rd.
Greenwood Village
Colorado
US
303-792-3474
Seasoned cook Jose Aparicio, affectionately known as Chef Pepito, puts his more than 20 years experience to use preparing authentic Peruvian dishes with an American twist, cooking inside a sleek, brightly colored eatery decked out with rustic wrought-iron chandeliers. He marinates his classic ceviche's halibut in lime before mingling it with corn, potatoes, red onion, and cilantro, as well as sizzles up heartier entrees such as _tacu tacu_—bean cakes and brown rice topped with a quintessential Peruvian seafood sauce. He also riffs on classic Peruvian food with mushroom ceviche and spiced filet mignon with crunchy potatoes.
Behind the bar, which is inlaid with exposed brick, drink mavens craft Peruvian cocktails, such as pisco sours and the Mosquito, a variation of the mojito that's amped up with Cointreau and fruit juices before being swatted, not stirred.
1521 Marion St
Denver
Colorado
US
720-495-4809
At Carrie's Place, friendly and attentive service accompanies each plate—piled high with smoked barbecue, juicy burgers, and grilled fish. Fresh produce and ingredients sourced from local farms are used in the traditional Southern dishes, including slow-cooked beef brisket, chicken and waffles, catfish, and deep-fried Hank Williams records. Hearty baby back ribs and buttery roasted corn on the cob can share table space with light dishes of grilled salmon and cobb salad. There's an authentic home-cooked flavor to side dishes such as fried okra, corn bread, and baked beans. Feel free to complement your feast with a fruit smoothie or spicy chai, and end the meal with slices of rich sweet-potato and pecan pie or brownies crowned with scoops of vanilla ice cream.
1426 E 22nd Ave.
Denver
CO
US
303-993-8982
---