Things to Do in Southglenn
---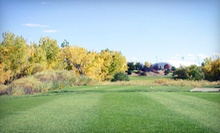 Nine-hole, par 31 executive course complemented by a two-tier driving range
---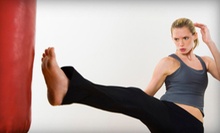 Squats, high-intensity drills, jabs, and roundhouse kicks greet students in boot-camp and kickboxing classes helmed by martial artists
---
Recommended Things to Do by Groupon Customers
---
Derby was reborn in the early 2000s as a ferociously fun sport. Nearly all modern leagues are composed of female, DIY-spirited bands of punky costumed, vicious-monikered rascals who shove each other on traditional quad roller skates. The Rocky Mountain Rollergirls, Denver's original all-women flat-track roller derby league, is operated by the more than 40 skaters who makeup its six teams: home teams Red Ridin' Hoods, Sugar Kill Gang, Dooms Daisies, Kill Scouts, and traveling teams, Fight Club and the Contenders. These fearless athletes leave bouts with sprained shoulders, bruises, and hematomas, which is nothing compared to the competitors' pain (the ladies took home second place in the 2009 Women's Flat Track Derby Association regional tournament and fourth in the national tournament).
2400 Central Park Blvd.
Denver
Colorado
The Denver Outlaws joined Major League Lacrosse as an expansion team in 2006, immediately staking out their territory with a Western Conference title and a trip to the league championship. In the years since, they have never once missed the playoffs, even when something good was on TV. From their inception, the Outlaws have marauded the league record books, setting attendance records in their inaugural season and improving from there, with recent Fourth of July games drawing more than 30,000 fans to Sports Authority Field at Mile High. This year's Independence Day game continues the tradition of fireworks exploding over the field and a wave of apple pie filling flooding the parking lot.
1701 Bryant St.
Denver
Colorado
303-688-5297
Campus Cycles owners Mark Velat and Bobby Verenna grew up in the cycling world. Mark has been riding and racing for more than 30 years now, and Bobby broke into the retail end back in sixth grade. At their shop, patrons reap the rewards of their expertise when shopping from shelves of sturdy bikes and gear from brands such as Giant, Cannondale, and Electra, in addition to children's two-wheelers and tricycles. Their service department's technicians recalibrate bikes with tune-ups, and fit specialists match individuals with the ideal cycle. Patrons can also visit on demo days when big-name manufacturers show off their latest products and let riders take them out for test-drives on nearby mountain trails or paved roads. Meanwhile, the store's Get to Know Your Bike classes give riders basic repair and maintenance skills so they can remedy minor damage incurred when tires pop on fiberglass banana peels littering the road.
7310 W Colfax Ave.
Lakewood
Colorado
303-237-1115
Even though they haven't always played under the same name, or even in the same city, the Avalanche franchise has consistently enjoyed success on the ice. It was 1972 when the Quebec Nordiques joined the now defunct World Hockey Association, which eventually merged with the NHL prior to the 1979-80 season. The Nordiques played a total of 16 seasons in the NHL before moving to Denver, where they became the Avalanche and immediately won the Stanley Cup—the first NHL team ever to do so in their first season after relocation. In 2001, the Avs struck again in dominating fashion, collecting 118 points, reclaiming the sports world's best trophy. In total, the franchise has made 21 playoff appearances, highlighted by a string of 11 straight from 1994–2005.
1000 Chopper Cir.
Denver
Colorado
Denver Patio Ride's party bus moves through the River North arts district and downtown by way of pedaling—any willing pub-crawlers can power the party forward as the sober driver steers and brakes. After jump-starting at Billy's Gourmet Hot Dogs on Larimer and Broadway, the bus cruises at a low-key 5 miles per hour, stopping at a smorgasbord of bars, many of which pour $5 specials of one shot and one beer. Guides infuse jaunts with historical tidbits, trivia, and prizes, while the solar-powered sound system's iPod hookup allows pedalers to blast their personal collection of upbeat audio books. No weather other than rain or snow prevents tours, and the bus's capacious storage space accommodates any party accessory except beer, which is not allowed on the bus. Revelers can rent out the whole bus for large parties, or buy seats on a weekly schedule of public pub-crawls.
2445 Larimer St.
Denver
Colorado
720-626-1715
From its beginnings as an online store, Rockin' Bead has taken its products back into the physical world with the opening of its Aurora store constructed from brick, mortar, calk, and two heaping fistfuls of beads. Seeing a wide selection of beads and stones and settings online is an experience only as wide as your computer screen, but seeing a 20-foot wall lined with over a thousand decorative pieces has caused numerous awe-induced fainting spells.
20 Havana St., Suite 207
Aurora
Colorado
US
---