Things to Do in Southlake
---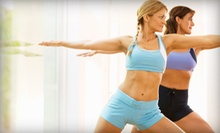 Empowering yoga classes appeal to all interests and skill levels with dynamic as well as introspective sessions held throughout the week
---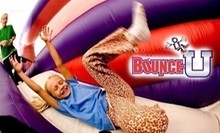 Use Wednesday 10:00am - 7:00pm
---
Recommended Things to Do by Groupon Customers
---
The legend began in the 1880s, when Hezekiah Jones, the "Hangman," wandered through McDagenville with a bloodstained rope, attempting to cleanse the town of its evil. By his hands, more than 100 people died on the banks of the Trinity River before a lynch mob finally caught up to him. In their hysteria they strung him up to the limb of a rotted oak tree and left him to die. But in the morning, when they came to cut him down, only the frayed end of the rope was dangling from the bough. Now people say that the Hangman still wanders the night, clad in his black hood, searching for his next victim.
Visitors to Hangman's House of Horrors keep an eye out for Jones as they creep up dimly lit stairways, dodge more than 100 souls lurking in the shadows, and seek his advice on tying a proper square knot. The scream center has been featured on the Travel Channel's list of scariest Halloween attractions and named one of north Texas's scariest haunted attractions by NBC 5. Apart from the legend, Hangman's House of Horrors' success is due to the hard work of more than 1,000 annual volunteers who redesign more than half of the house to fit the yearly theme. Their combined efforts have entertained more than half a million patrons and raised more than $1.8 million for local charities, including the American Cancer Society, Rocky Top Therapy Center, and SafeHaven of Tarrant County.
2300 W Freeway
Fort Worth
Texas
At Let's Jump's indoor facility, kids bounce across 12,000 square feet packed with inflatable houses and rides. Sock-footed jumpers bound over to 13 inflatable attractions and defy gravity better than Buzz Aldrin's pogo stick. Parents kick back as their miniature versions glide down slides, overcome obstacle courses, and spring from the walls of the facility's bounce houses. Combo bounce houses beckon kids to multitask their fun with multiple activities such as dunking basketball shots while dodging obstacles, and a separate toddler room grants smaller kids a safe place to jump. For kids who want to keep bouncing at home, Let's Jump also provides party rentals for backyard celebrations.
5950 Park Vista Cir.
Keller
Texas
In the Fort Worth Museum of Science and History, the Omni Theater's domed, 120-foot-wide IMAX screen towers over moviegoers, projecting myriad tales of human, beast, and machine alike across eight stories. The screen has born documentaries on topics such as the Serengeti desert, the Grand Canyon, and the aquatic ecosystems that distinguish the ocean from well-maintained dunk tanks. Originally limited by its scale to films that lasted an hour or less, the theater can now show feature-length films thanks to digital remastering technology, and its new IMAX IDO projection lens has increased films' brightness and sharpness. These developments mark yet another addition to its pioneering history, which includes being among the first IMAX screens in the region when it opened in 1983.
1600 Gendy St.
Fort Worth
Texas
---