Beauty & Spas in Spanaway
---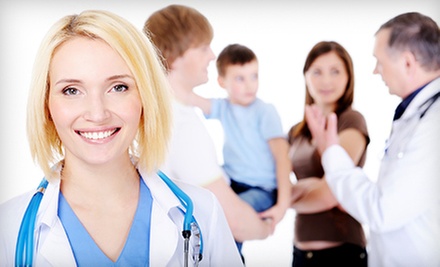 ---
Recommended Beauty & Spas by Groupon Customers
---
Just For You's streamlined menu is designed to cleanse, smooth, and hydrate the skin. Witness the european facial, which incorporates a deep-cleansing treatment, nourishing mask, and nutrient moisturizer. Combining this facial with Bio-Brasion—a steady stream of crystal particles—multiplies the effectiveness of each, leading to a reduction in fine lines, rough textures, and scar tissue. To put on the finishing touches, cosmetologists apply Jane Iredale mineral makeup, NovaLash eyelash extensions, caramel, and maraschino cherries.
101 S Meridian
Puyallup
Washington
253-848-3669
Padded, wingback armchairs grace the rooms of Oslo Salon & Day Spa, adding to the warm, homelike ambiance that welcomes customers. Private treatment areas are bedecked with heavy curtains, gilded framed paintings, and glowing candle sconces, adding a dash of class to each nail service, facial, and couples treatment, such as a tandem massage. On the salon floor, stylists design haircuts for men and women, apply face-framing highlights, and add rich color with ammonia-free L'Oreal Inoa dyes.
1302 N I St.
Tacoma
Washington
US
253-761-8422
The bubblegum-pink exterior of Picasso Salon & Day Spa houses a team of stylists, aestheticians, and licensed massage therapists overseen by Sonia Kim Scheer, a beauty-industry veteran with more than 25 years of experience. Stylists and colorists at different levels of experience—including director, master, senior, and archduke—consult with clients before reshaping their hairdo. Aestheticians also soften skin with Dermalogica products during four types of facials and three types of chemical peels. A sea-salt scrub or European rose mud wrap can help relax bodies as a technician washes off the nourishing ingredients in the spa's Vichy shower.
4010 S Steele St.
Tacoma
Washington
253-475-1234
Since putting the finishing touches on the hairdo of their first customer more than 10 years ago, Attitudes Salon's crew of talented stylists has worked diligently to foster a welcoming atmosphere while offering a slew of fashionable services. So dedicated is the team to both keeping their skills honed and remaining abreast of current trends that it regularly engages in training courses. Specializing in snipping chic styles, the stylists meet with each client for a pre-cut consultation to come up with a style that will flatter their features and express their personality. Throughout the day, the salon remains abuzz with staffers highlighting hair, waxing brows, and restoring radiance to fingers that have mistaken paint buckets for soap dispensers.
3019 6th Ave., Suite C
Tacoma
Washington
US
253-779-0425
Saravidas Health & Wellness' independent practitioners combine their holistic- and natural-healing talents to aid patients in need of relaxation. Licensed mental-health counselors Anne Merrill and Deanne Caron repair frazzled nerves with counseling sessions, and staff from Family Acupuncture & Wellness of Puget Sound bolster clients' well-being with Chinese herbal remedies and acupuncture treatments. Other members of the cadre of caretakers also treat clients with skin services, massage appointments, infrared-sauna sessions, and body-wrap treatments.
2711 N 21st St.
Tacoma,
Washington
The skilled technicians at New Leaf Hyperbarics help treat patients suffering from autism, dementia, and traumatic brain injuries through the use of hyperbaric chambers. Clients entering New Leaf's office choose from four types of FDA-approved OxyHealth chambers, each designed to comfortably cradle them while increasing their oxygen and blood flow by way of increased atmospheric pressure. This encourages bodies to repair themselves from the inside out—reducing inflammation and repairing damaged cells—and to detoxify and strengthen the immune system. Lifts and platforms provide safe access to each chamber for every age and body type, and staff members answer questions about each device. New Leaf's hyperbaric chambers have been used by athletes looking to make the most out of their abilities as well as by everyday folks wanting to feel and look younger than a kitten sucking on a pacifier.
2115 S 56th St., Suite 205
Tacoma
Washington
US
253-426-2866
---