Things to Do in Spanish Fork
---
Recommended Things to Do by Groupon Customers
---
Four-time Tony winner and current Private Practice actor Audra McDonald and Tony nominee Will Swenson star in a contemporary musical adaptation of N. Richard Nash's 1954 classic play The Rainmaker. The story, set in a rural, drought-ridden town in the American Southwest, tells the tale of aging spinster Lizzie Curry (McDonald) as she considers two suitors: a respectable, upright citizen, and a charismatic drifter and con man, Bill Starbuck (Swenson), who promises the moisture-desperate townsfolk that he can make it rain.
Salty Dinner Theater, which ABC 4 describes as "bringing a twist to traditional on-stage classics," combines professional players and proficient chefs to create edible productions performed at area eateries. Audience members gobble supper as performers interact with attendees before and during the production. Regularly inhabiting Madeline's Steakhouse, The Old Spaghetti Factory, Joe Morley's Smoked Beef & Bar-B-Q, and Mimi's Café, among other locales, the show-accompanying meals range from scratch-made baked lasagna with ground beef and pork to a pound of succulent smoked-beef brisket.
575 E University Pkwy., Suite A2
Orem
Utah
Walking into Creativity Art Studio is like walking into a sunset. Eyes fill with the golden and maroon hues of the walls, which foster tranquility in the mind so that students can explore their thoughts and express their dreams. Amid the colors, shelves of ceramics and painting supplies equip artists-in-training before they sit and let their imaginations travel across their chosen canvas with the guidance of a creative and adept staff.
Experienced creators can spread their wings solo, while those dipping their toes into artistic waters for the first time can use a stock of stencils. After each masterpiece has been touched up with its final details, staff experts guide patrons through the finishing process, whether that be waiting for the paint to dry or determining the best way to sneak sculptures into a museum display. Ceramic pieces stay behind for a glaze and stint in the studio's kiln, to ensure a lustrous piece that can be picked up roughly a week later.
1063 S 750 E
Orem
Utah
801-788-4284
Cascade Golf Center pairs an 18-hole golf course with 54 holes of miniature golf, inviting golfers of all stripes to enjoy the challenges of the game. Sculpted into the rolling terrain of surrounding foothills, the 6,055-yard course begins with the relatively flat land of the front-nine Valley Course before plotting an oscillating path over the back-nine Mountain Course, where clubbers must contend with elevation changes and the shrill tones of displaced Bavarian yodelers during backswings. As golfers traverse the course, crests give way to scenic views of snowcapped mountains and distant Utah Lake.
The Center's miniature-golf courses include two obstacle-ridden, 18-hole courses and an 18-hole, natural-grass putting course designed for focused practice. Those looking for conventional putt-putt pleasure can steer shots past the waterfalls and streams that hug The Falls, or sink two-putts among the inventive rock formations and evergreen corridors of The Arches. The natural-turf putting course eschews exotic obstacles in favor of sloped greens hemmed by a cut of rough that, combined, resembles a small golf course or the front lawn of an overenthusiastic landscaper.
1313 E 800 N
Orem
Utah
801-225-6677
Named after Brigham Young University's furry feline mascot, Cosmo's Kids Club invites youths to experience the university's athletic programs both on and off the field. A dozen game vouchers grant access to four football games and eight men's basketball games, and a Cosmo T-shirt acts as a ticket to all other BYU sporting events. After games, members can hop onto the field of play to practice kicking penalty shots, shooting free throws, or measuring grass to be sure it's regulation height. Kids up the ante at show-and-tell with stories from facility tours and meet and greets with BYU athletes. The club ensures at-home allegiance with posters, access to Cosmo's website, and a monthly mailer from the mascot himself.
Thrill seekers and people looking to be moderately entertained can take the four arcade tokens and also choose any combination of the activities Trafalga has to offer. Aspiring kings and queens of the home-run derby can get 50 swats at the batting cages, and golf-ball haters can punish an orb throughout 18 brutal holes of mini-golf. Trafalga has two courses, one under the stars on the late-night cosmic golf course and the other beneath the glowing waves on the indoor undersea jungle black-light course. A round of five minutes or 25 laps on the go-karts will satisfy speed demons more than 60 inches tall, but shorter adrenaline junkies will have to ride shotgun and have it administered by a taller chaperone. Trafalga has four different XD theater rides to choose from, taking participants through four-dimensional experiences in outer space, under the sea, in the tunnels of a haunted mine, or on the kids' favorite urban flight alongside some jetpack-sporting companions. You can also trade one activity in for 25 tokens to bolster the four free ones and spend some time with the classic arcade machines such as skeeball. Take your adopted family of loving chimpanzees for a day of entertainment at Trafalga Fun Center and enjoy the simple pleasure that beating a relative at skeeball or hitting 50 home runs in a row in front of your date can afford.
168 South 1200 West
Orem
Utah
---
---
Things to Do Deals - Recently Expired
---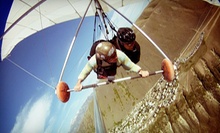 Year-round aerial adventures from the Point of the Mountain Flight Park–Southside
---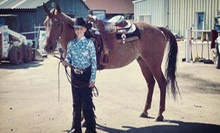 Indoor or outdoor horseback riding lessons in the discipline of Hunter Pleasure, Western Pleasure, or Reining
---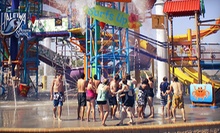 All-season basic access pass to 11 slides, a 2,500-sq.-ft. pool, and a lazy river
---
---