Spanish Springs, NV Drs and Health Practioners
---
Drs & Health Practitioners Deals
---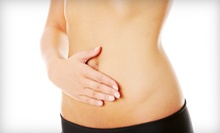 Colon hydrotherapy gently cleanses to promote wellness; infrared sauna aids in the healing of muscles
---
Recommended Drs & Health Practitioners by Groupon Customers
---
Dr. Daniel T. Rowan helps professional athletes play better. He and his bilingual staff have formed a partnership with Reno-based MLB- and NBA-affiliated teams. They sharpen players' hitting and passing skills with ocular testing and frames, contact lenses, or Lasik surgery.
911 Topsy Lane, Suite 236
Carson City
Nevada
775-267-9160
Skin may be smoothed and blemishes blended with SkinMedica's noninvasive Vitalize peel, which repairs faces that have long battled elements such as time and sun exposure. This chemical-peel treatment can smooth lines and wrinkles on faces of varying skin types, including those with mild to moderate issues, including abnormal pigmentation, melasma, and acne. The Vitalize peel is also reputed to build collagen, and visible changes are potentially noticeable after just one treatment.
9680 S McCarran Blvd
Reno
Nevada
US
775-787-9065
A member of the American Society of Plastic Surgeons, Dr. Sam Speron leads Park Ridge Medical Spa's team of technicians as they achieve Dr. Spero's primary goal: to help patients to look good and feel good about themselves. The spa's diverse menu of services helps to adjust silhouettes, fade unwanted wrinkles, eliminate fuzzy patches, and erase tattoos of self-satisfied tattoo artists.
9680 S McCarran Blvd.
Reno
Nevada
US
775-787-9065
Dr. Louis Bonaldi harnesses the dexterity and finesse he honed as a concert pianist while performing the Center for Plastic Surgery's slate of surgical and noninvasive services. Equipped with a team of experienced aestheticians, Dr. Bonaldi oversees facelifts and body-slimming procedures that can outfit physiques with a younger-looking appearance more effectively than shopping in the kids' section at a costume shop. A diverse roster of medical skincare services includes microdermabrasion, beauty injections, and laser treatments. The skilled staff also tailors weight-loss programs based on the Paleo Diet system, which replaces processed foods and deep-fried silverware with healthy, sustainable cuisine.
6630 S Mccarran Blvd., Suite B20
Reno
Nevada
775-828-7400
Kwong Dental Care's Dr. Cyrus D Kwong, who also teaches at the Milan Institute for Dental Assisting, believes that each person requires a custom approach to dentistry, and tailors treatments to create services based on lifestyle and budget. An emphasis on customization is one of the reasons he uses CEREC—technology that proffers digitally rendered restorations while enabling him to gain accurate color matches for teeth repairs, which he then custom stains in various shades, such as white, ivory, or eggshell with a hint of snow.:
333 California Ave.
Reno
Nevada
775-323-3892
Naturally Well is about a "love of being both healthy and beautiful in the most natural way possible," says Estell Myers, the business's owner. She's not exaggerating: Estell makes her own salves for waxing and sells raw honey harvested by her own husband, a beekeeper who also provides the wax from which Estell crafts candles and lip balms. Her weight-loss regimen rests on the principles of homeopathy, and her detox foot spa sessions rely on charged particles to manipulate the way the body stores energy.
Originally a cosmetologist, Estell felt compelled to explore the close connection between internal and external wellbeing, so she earned her certification as a nutrition consultant. For the same reason, she also took up reflexology, a practice that eases stress and pain by applying pressure to the hands, feet, and flippers.
1750 Locus St. , Suite B
Reno
Nevada
775-225-5390
---