Spartanburg, SC Outdoor Activities
---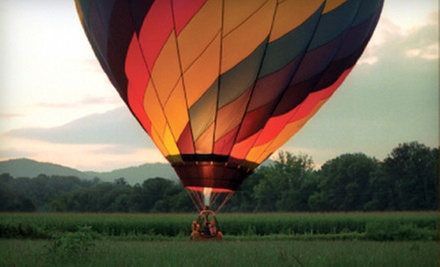 ---
Recommended Outdoor Activities by Groupon Customers
---
Moving Sidewalk Tours' knowledgeable staff turns Asheville's streets into a mobile adventure as they take small groups of Segway riders on scenic tours. Before each departure, guides train each participant on how to operate, steer, and merge consciousness with their second-generation Segway i2. They then lead groups through downtown Asheville, coasting across some of the area's current hot spots as well as historic sites. Moving Sidewalk's staff keeps Segway riders safe and comfortable throughout journeys with helmets and complementary bottles of water. They can also sell customers commemorative T-shirts or a Segway machine to give to their car as a pet.
36 Montford Ave.
Asheville
North Carolina
828-776-8687
While the Hampton family owns and operates French Broad Ziplines, twin brothers Mitch and Michael Hampton have also had their personal share of ups and downs, both on the water and off. At age 10, they began exploring eastern Tennessee rivers with their grandfather, and they followed that passion for whitewater rafting into their business, which had been family-run for nearly 30 years. But then their dream was threatened. A fire swallowed the business, and the brothers lost everything. Slowly, though, with the help of family, friends, and staff, they rebuilt their company, learning patience and perseverance while finding comfort and strength in the support of their community.
Today, in addition to their traditional water-based excursions, the brothers also take to the trees on their recently constructed zipline course. Ripping through the clear mountain air, they've charted mid-air trails for zipline canopy tours that send guests soaring from tree to tree more swiftly than a caffeinated eagle. The course's eight ziplines stretch in distance from 420' to 1000', ensuring the guests have plenty of time to admire their sky-high view of the woods on adventures that also incorporate rappels, short hikes, and a rumbling jaunt on a hard-nosed utility vehicle.
9800 US Hwy 25-70
Marshall
North Carolina
The treetops are traditionally the playground of winged beasts and tiny, furry climbers. So it's not unnatural to do a double take upon seeing humans flying from tree to tree—at heights of up to 50 feet—with all the grace of a forest native. Today, 15 treehouses peek through the leaves of the sprawling wooded area, serving as resting points and educational outposts for visitors soaring on ziplines. The Beanstalk Journey at Catawba Meadows came to fruition to fulfill its builders' goal of providing fun and physical activities for families to enjoy. Now the park is open year-round, supplying adrenaline-pumping recreation to all who seek it.
Like veins coursing through the forest, swinging rope bridges and covered rope tunnels run through the foliage alongside ziplines of varying difficulty levels, enabling visitors to soar from tree to tree and finally assuage any regrets about not being born with hollow bird bones. For an extra challenge, the 32-foot beanstalk climbing tower and a massive multidirectional climbing web put upper- and lower-body strength to the test, and educational stations at each treehouse challenge minds with lessons on nature and local history. In addition to the standard attractions, outings can also be catered to visitors with special needs.
Combining the park's adventure opportunities with educational pursuits, the staff also runs an adventure-photography workshop, nighttime zipline tours, and Birds of Prey Journeys. Continuing the mission to foster outdoor education and physical activity, the beanstalk's building team continuously erects new courses at other locales, ensuring that all are family friendly and none require hand braking.
220 Catawaba Meadows Dr.
Morganton
North Carolina
828-430-3440
At the foothills of the Blue Ridge Mountains, Yogi Bear's Jellystone Park surrounds a 5-acre lake with a constellation of camping stations and activity centers. The Garcia family graciously plays host to guests who careen down the twists and turns of the park's 300-foot waterslide, play mini golf, or cast lines into the lake to catch waiting fish. Along with opportunities to connect with nature and name every tree after their fathers, the Garcias furnish visitors with space to set up tents, pop-ups, and RVs, or stay in the ground's own rough-hewn cabins. They also provide showers and laundry facilities to help campers maintain ties with civilization. The family becomes especially excited when pointing guests in the direction of North Carolina's Chimney Rock or Grandfather Mountain for hikes and breathless sightseeing adventures.
1210 Deacon Dr.
Marion
North Carolina
828-652-7208
---
---
Outdoor Activity Deals - Recently Expired
---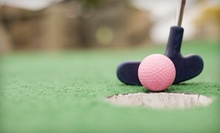 18 holes of outdoor mini golf for two on traditional course winding through lush landscape
---
---