Things to Do in Spartanburg
---
Recommended Things to Do by Groupon Customers
---
While the Hampton family owns and operates French Broad Ziplines, twin brothers Mitch and Michael Hampton have also had their personal share of ups and downs, both on the water and off. At age 10, they began exploring eastern Tennessee rivers with their grandfather, and they followed that passion for whitewater rafting into their business, which had been family-run for nearly 30 years. But then their dream was threatened. A fire swallowed the business, and the brothers lost everything. Slowly, though, with the help of family, friends, and staff, they rebuilt their company, learning patience and perseverance while finding comfort and strength in the support of their community.
Today, in addition to their traditional water-based excursions, the brothers also take to the trees on their recently constructed zipline course. Ripping through the clear mountain air, they've charted mid-air trails for zipline canopy tours that send guests soaring from tree to tree more swiftly than a caffeinated eagle. The course's eight ziplines stretch in distance from 420' to 1000', ensuring the guests have plenty of time to admire their sky-high view of the woods on adventures that also incorporate rappels, short hikes, and a rumbling jaunt on a hard-nosed utility vehicle.
9800 US Hwy 25-70
Marshall
North Carolina
The referee surveys the field, his eagle eyes scanning the masked figures who silently dart behind inflatable cones and crawl through the forest. The silence breaks as a player makes a break from the woods only to be struck by green pellets slamming against his chest. Satisfied that the shot was fair, the ref keeps the game moving in all its paint-splattered glory.
This is a typical scene at Wolverine Paintball, where seasoned staff members are dedicated to maintaining rigorous safety during adrenaline-fueled games on the facility's sprawling, tree-dappled course. Wolverine's field rules keep play in check, whereas eco-friendly paintballs keep players away from toxic materials with colorful pigments that contain no oil or tree tears.
487 Brookside Camp Rd.
Hendersonville
North Carolina
828-697-4263
Thousands of sheep have Friends & Fiberworks to thank for their cool, breezy summers. The shop's 4,000-square-foot show room is packed with the dyed, spun remnants of their winter coats, inspiring shoppers to fashion art for the home and body. Wooden display panels show off sample projects above shelves stuffed with skeins of all kinds, including yarns spun by local fiber artists such as Rowan and Debbie Bliss. Amid the rainbow of pillowy packages, cushy armchairs await practicing knitters and spiders-in-training.
More than just a supply shop, Friends & Fiberworks cultivates its own flock of knitters and craftspeople through ongoing classes and twice-yearly retreats. The talented instructors delve into everything from weaving on a loom to spinning wool into yarn and straw into gold, eliminating the need to wager firstborn children away to nameless imps.
800 Brevard Rd.
Asheville
North Carolina
828-633-2500
In 2003, underwater overachiever Robbie Bogan embarked on a new endeavor would have him regularly shifting back and forth between the thrill of exploring shipwrecks to the gravity of teaching CPR and marine rescue techniques. The experienced cofounder of Upstate Scuba had created a scuba school that teaches both recreational scuba diving and tactical and emergency diving. As a result, the people who frequent the Upstate facility comprise a diverse student body.
First-timers arrive and are soon dunked into the pool during Try Scuba courses; search-and-rescue personnel often show up for instruction on the latest underwater navigation or night diving. The curriculum includes opportunities to gain certification, which can be used to participate in Upstate Scuba's open-water trips to nearby lakes. As dealers of top-notch equipment, Robbie also teachs divers safe use of breathing apparatuses and how to scare away sharks by impersonating Steven Spielberg.
139 Anderson Hwy., Suite 210
Clemson
South Carolina
864-653-3483
The idea for an annual barbecue expo began slow-cooking in 2010 at a family lunch. The Boyds thought about organizing a little barbecue competition and ended up luring 8,500 barbecue enthusiasts to their "small" cook-off and fundraiser. Now in its third year, the charitable event continues to develop flavor and raise money for local schools while packing bellies with some of the area's best barbecue recipes.
With napkins in hand, attendees can follow the smoky scents and sounds of sauce-splattered high-fives from the tents of a variety of vendors. Ten teams of grilling gurus face off in a whole-hog cook-off, with the winners earning a cash prize and a spot in the state championship later this year. A new Chick-fil-A sauce competition sifts through the day's top toppings until a winner is crowned. Between bites, guests can also savor the festival's many attractions, including a police dog demonstration, a petting zoo, and a BMX bike show, where riders wow onlookers by performing tricks and bunny-hopping over smokers.
311 Eighth Ave.
West Hendersonville
North Carolina
The doors to Asheville Community Yoga's donation-based studio open to a team of experienced yoga instructors and a bevy of classes. Though the classes don't have a fixed cost, the staff encourages students to give $5–$15 for regular classes and at least $15 for special events and workshops. These offerings—in addition to donations from local organizations and health-conscious tycoons—go toward maintaining the studio space, which can hold up to 55 students, has a heated wood floor, and houses complimentary yoga equipment.
8 Brookdale Rd.
Asheville
North Carolina
828-450-5370
---
---
Things to Do Deals - Recently Expired
---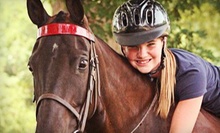 A 35-acre equestrian facility helmed by husband-and-wife team with more than two decades of training and teaching experience
---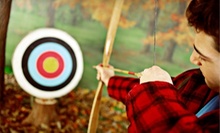 Archers hone their aim on multicolored targets in an indoor archery range
---
---