Professional Services in Speedway
---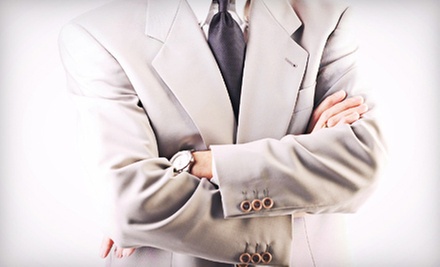 ---
Professional Service Deals
---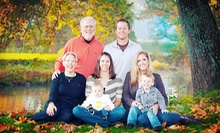 An accomplished photographer stages stunning family portraits inside or outside the studio's idyllic estate
---
Recommended Professional Services by Groupon Customers
---
Think of boudoir photography outfits and you probably think of lingerie. And though there are plenty of black lace corsets and fishnet stockings on display in the Haute Mama Photography gallery, there are also less conventional choices: a loose men's dress shirt and tie, an off-the-shoulders motorcycle jacket, even a strategically placed basketball that serves as a sort of top. It's partly a reflection of the diversity of the photos' subjects, whose figures range from slender to voluptuous, and partly a testament to the creativity of studio owner Leah Severson, who has designed it so that even the studio's most basic package allows for multiple outfit changes. Severson has so thoroughly mastered the boudoir photo business that she holds both group workshops and one-on-one mentoring sessions, during which she shares with other photographers tips for posing subjects, establishing the right mood for shoots, and getting their work to appear on the first page of Google results without taping anything to their monitors.
2223 W 166th St.
Westfield
Indiana
317-867-3723
Kittens are known for their cleanliness despite their aversion to water, and the same is true for nice clothing. But unlike kittens, the staff members at Curley's Cleaners don't lick garments clean. They remove stains and wrinkles with speedy dry-cleaning services for dresses, suits, comforters, and sundry garments.
3838 N Illinois St.
Indianapolis
Indiana
317-925-5335
Project Home Indy (PHI) provides a long-term residence for young mothers with individual case management and programming designed to help each person transition to self-sufficiency. The residence can house five young women aged 15–19 who are pregnant or parenting young children for up to two years at a time. During their stays, they complete secondary education and engage in courses on parenting and life skills, such as contraception, technology, and economic literacy. Project Home Indy also provides health care for mothers and children including pediatric care, substance-abuse treatment, and mental-health services. Each young mother can determine the amount and intensity of the services she requires from the program, while gathering the tools to support herself and her child.
32 E 32nd St.
Indianapolis
Indiana
RecycleForce provides comprehensive recycling services to residents and businesses across Indiana, offering low- to no-cost recycling collection for a wide range of materials, including plastic, paper, aluminum, cardboard, and electronic waste. To broaden its community impact, RecycleForce uses the revenue generated from its recycling business to employ formerly incarcerated individuals and provide them with comprehensive social services and job training. Its six-month transitional job program focuses on character development, personal counseling, and job skills. After participants complete the program, RecycleForce helps them obtain full-time employment by partnering with employers committed to hiring ex-offenders.
754 Sherman Dr., Suite 220
Indianapolis
Indiana
Great Harvest Food Pantry gathers and prepares food for more than 500 families from the Indianapolis area every month. The volunteer staff members stock an inventory of donated items and purchase additional food from a local food bank. When families arrive seeking food, they can sign in and move through the pantry with a volunteer, selecting the produce and grocery items they need. The volunteers help carry bags and boxes to clients' vehicles and see them off. Teams also conduct food drives and community giveaways around the city, and deliver food to people who cannot leave their homes or are living on the streets. Great Harvest Food Pantry does not turn away any families who request food, and serves people from a variety of economic and linguistic backgrounds.
2516 E Stop 11 Rd.
Indianapolis
Indiana
At Happy Hollow Children's Camp, children from Indianapolis and surrounding counties with special needs or from economically disadvantaged households live as a community for a week at the 822-acre camp facility in Brown County. Under the guidance of their trained cabin counselors, children in each cabin group select their activities for the week, such as fishing, horseback riding, and canoeing. The structured activities help each camper gain team-building, leadership, and outdoor technical skills, and also give them an exciting summer-camp experience.
615 N Alabama St., Suite 228
Indianapolis
Indiana
---