Shopping in Speedway
---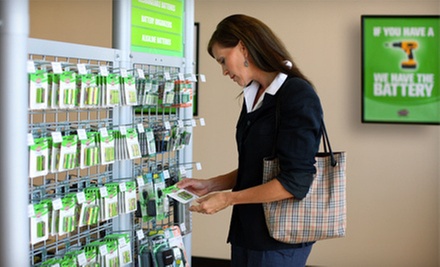 ---
Recommended Shopping by Groupon Customers
---
Authorized DVDNow distributor In A Minute Games and Movies dispenses the latest Hollywood releases and video games via red kiosks. Patrons can rent or buy films ranging from horror flicks to romantic comedies, or opt for popular games such as Call Of Duty: Modern Warfare 3, in which players guide their blood-spattered avatars through household chores. New releases grace the kiosk every Tuesday, arriving the same day they come out nationally, and patrons can reserve films renting like hotcakes once they register as members online, a process that takes roughly five minutes to confirm through email.
1447 Main St.
Brownsburg
Indiana
317-683-3133
Working together as makeup artists, Anne White and Holly Kirsh soon bonded over their mutual passion for fashion. In 1994, they started hosting quarterly shopping events in Indianapolis to share the season's latest trends with other fashionistas. Over time, their style-seeking endeavors evolved into a successful business of culling the latest in skincare products, apparel, and accessories. AH Collection—a name derived from their combined first initials—now boasts locations at the Hamilton Town Center in Noblesville and Clay Terrace in Carmel. The two locations stock a rotating array of apparel selected to match seasonal fashion trends. Cosmetics include foundations, eye shadows, and bronzers to highlight natural features while covering up blemishes and last year's Halloween masks.
14511 Clay Terrace Blvd.
Carmel
Indiana
317-753-1830
Since 1935, the hard-working staff of Jackson Oil & Solvents, Inc. has fueled the business through honest customer service and top-notch products. Today, they distribute a plethora of premium products, including Phillips 66 and Howes Lubricator fuels and Chevron industrial oils. To help speedy rides beat out top competitors and souped up tricycles, the 24-hour racing-fuel station pumps vehicles with VP Racing Fuels.
In addition to its fuel services, Jackson Oil & Solvents collects food for the Mary Rigg Center, sponsors youth sports teams, and stays engaged with other community-involvement efforts.
1970 Kentucky Ave.
Indianapolis
Indiana
317-636-4421
At Wittmann 20/20 Family Eye Center, Dr. Tammy Wittmann measures patients' visual acuity, diagnoses ocular health, and performs genetic tests to identify risk for diseases such as macular degeneration. She is aided by a staff that includes an office manager who is especially sympathetic to suffering patients, as she has experienced serious ocular diseases herself. Dr. Wittmann specializes in primary eye care, diabetic eye exams, and fitting multifocal contact lenses for sports fans who like to watch four TVs at once. Wittmann 20/20 caters to adults and children alike with designer frames from Vera Wang, Jimmy Choo, and Veggie Tales.
2792 E 146th St
Indianapolis
Indiana
317-843-2020
Furnished with bins of vibrant yarn, antique fixtures, and even a few comfortable chairs reserved for onsite knitting, Nomad Yarns' sunlit shop feels like a home away from home to any crafter. The cozy shop is home to dozens of yarn, needle, and notion brands, as well as local fibers courtesy of the animals of local Breezy Manor Farm and Amber Meadow Farm. To put all these supplies to use, the shop also hosts a rotating schedule of classes that focus on wearable projects such as socks, sweaters, and monocle cozies, as well as a Thursday night knit and crochet club, which is free and open to crafters of all skill levels.
218 E Main St.
Plainfield
Indiana
317-742-7456
The Shoe Fits matches feet besieged by medical woes—such as arthritis, circulatory problems, and diabetes—with shoes customized to fit every contour and cushion every tender spot. Store president Sheryl McCain leverages her pedorthics certification to pair feet with conventional shoes, such as Klogs and New Balance running shoes—which can be altered with shoe inserts or physical modifications for a nice fit—or with custom-molded prescription shoes. Her shop also repairs worn-out shoes and stocks orthotic instruments, which can help accommodate foot deformities, reduce muscle stress, and jump-start a marching band that just wandered too close to a game of freeze tag.
1512 W 86th St.
Indianapolis
Indiana
US
317-471-8880
---