Stores & Markets in Speedway
---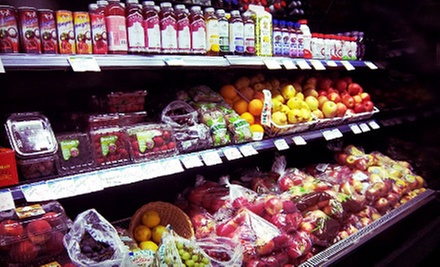 ---
Recommended Stores & Markets by Groupon Customers
---
In 2007, Vine and Table remodeled and metamorphosed from a humble wine and cheese caterpillar to the WiFi-emitting artisan monarch it is today. The hybrid grocer and café offers up a selection of epicurean delights that includes chocolates and candies, wine, beer, and spirits that hail from across the globe. Partnering with both artisan cheese makers in Indiana and the best cheesemongers from across the globe, Vine's diverse selection of cheeses provides milky bliss for every palate. Blue De Graven ($19.95/pound) is a creamy blue cheese from Denmark with a mild back end that substitutes saltiness for a pinch of sweetness. The six-year-aged Widmer Cheddar ($21.99/pound) is a rich, nutty cheddar that works wonders in soups and on sandwiches, whereas the whimsical stilton with blueberries ($19.99/pound) is equal parts sweet and tangy, making for a delightful dessert cheese or rub-on fragrance.
313 East Carmel Dr.
Carmel
Indiana
Green B.E.A.N. Delivery helps build a local food system by bustling to bungalows with groceries produced by a network that includes local farmers and artisans. The company's food fetchers drop off weekly or biweekly bins brimming with an assortment of seasonal fruits and vegetables, sidekicked by a selection of more than 350 à la carte grocery items. Buyers of today's Groupon can kick off regular delivery with one of five sizes of produce bins. Suitable for two to three people or up to 14 meerkats, the small fruit-and-vegetable bin ($35) holds seasonal munchables, such as apples, strawberries, mushrooms, and tomatoes. Green B.E.A.N.'s produce selections change routinely, and shoppers can customize each delivery by swapping out staff picks for free agents from a list of around 40 seasonal fruits and vegetables. Customers can garnish their orders with groceries including coffee ($7.50+), all-natural breads ($3.85+), farm-fresh eggs ($3.85/dozen), and organic cheeses and milk ($4.25+ for ½-gallon). Free delivery applies to orders of $35 or more.
7503 Crews Dr.
Indianapolis
Indiana
Firmly rooted in downtown Fishers since 1966, Archer's Meats breaks down orders of pork, beef, and chicken for homes, catered events, restaurants, and retail establishments. The staff secures USDA-certified cuts from naturally fed Black Angus livestock, only trusting a handful of local producers to provide its meats. Before any beef sees a customer's grill or oven, it's aged for 7–14 days, which leaves it tender and toothsome. These marbled steaks then appear in the display cases alongside flavored sausages—including Wisconsin bratwurst, hot italian, and andouille—and halal servings of lamb and goat.
8655 E 116th St.
Fishers
Indiana
317-849-1790
---