Professional Services in Spokane Valley
---
Professional Service Deals
---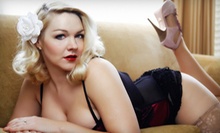 Strut your stuff in four to five of your favorite outfits and turn two poses into 5"x7" and wallet-sized prints and retouched digital images
---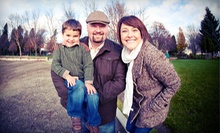 Award-winning photographer with stand-up-comedy experience captures spontaneous, creative portraits while eliciting laughter
---
Recommended Professional Services by Groupon Customers
---
Sandy Konyu's passion for photography began at a young age and has been fueled by her own experiences as a mother of three. After graduating with a degree in portraiture, Konyu opened the doors to the 1,500-square-foot Divine Portrait Boutique. She incorporates the beauty of the outdoors as well as graphic design into her art, and seeks out new ways to best preserve memories.
Maternal instincts guide Konyu as she outfits children with carefully chosen props, such as hats, seasonal items, and Olympic gold medals in meatball shot put. She also uses her camera to gather the triumphant grins of graduating seniors.
1901 S Clover Dr.
Spokane Valley
Washington
509-981-8501
Diane Maehl became a professional photographer in 1987, and, like a sword against the grind of a whetstone, her eye has only sharpened over the years. She specializes in portraiture, capturing family moments, senior graduations, and moments in childhood both in her studio and outdoors. She typically offers custom portrait sessions, though occasionally does limited edition themed sessions throughout the year.
168 S Division
Spokane
Washington
Chris Wooley may have a knack for magic tricks. What else would explain how he gets average women to metamorphose into 1940s-style pin-ups inside his studio? But rather than sleight of hand, he depends on a talented makeup artist and hairstylist to give the illusion of any era. Fully made-up models use props and themed attire while channeling their inner tiger or their inner tiger's inner kitty cat for photo shoots tailored to their comfort level. They are then furnished with retouched photos and digital images to share with loved ones. In addition to vintage or contemporary pinups, Chris also snaps professional headshots for actors, models, and business folk.
7406 E Sprague Ave.
Spokane
Washington
509-688-7960
---