Spokane Health and Fitness
---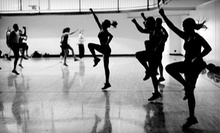 The gym features strength-training and cardio machines; group classes include Zumba, BodyPump, and water aerobics
---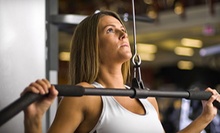 Advanced cardio and strength-training equipment fortifies physiques at famous gym; hydromassage beds coddle fully clothed muscles
---
Recommended Health & Fitness by Groupon Customers
---
Wild Walls Indoor Climbing Gym sprawls across 6,000 square feet of a historic armory building, challenging gravity-bound bodies with various climbing and bouldering structures. "People have the misconception that rock climbing is like an amusement ride," says Todd, the general manager. Wild Walls lures exercisers from dull workouts, such as watching paint dry on dumbbells, by offering challenging routes, tricky angles, and a wide variety of top-rope and sport-lead routes. Indoor adventurers can vary sweat sessions with yoga classes.
Wild Walls also stocks portable walls that soar to 16 and 24 feet, ideal for birthday celebrants or bosses who need a way to determine which employee gets a raise. For more permanent climbing surfaces, its staffers can install traverse walls, which run horizontally, in locations such as school gyms or underground monkey-training facilities.
202 W 2nd Ave.
Spokane
Washington
509-455-9596
The Fairways Golf Course's layout unfurls over rolling terrain teeming with wetlands and native grasses. Multiple water hazards and fast greens pose challenges for experienced players, and relatively open fairways and a set of closer, forward tees cater to junior clubbers, beginners, and golfers testing out a set of repurposed spatulas. A dramatic conclusion awaits at the par-4, 419-yard 18th hole—the course's most challenging hole—where golfers must contend with a dog-leg right and a small pond that arches around the front and left sides of the green. Golfers can prepare for the round at the driving range and practice green, or simply ask the course's beverage-cart operator for the liquid cure for a slice-prone swing.
9810 W Melville Rd.
Cheney
Washington
509-747-8418
Alison Rubin first discovered yoga when she moved across the world, leaving England behind for sunny Southern California in 1972. She fell, or steadily posed, head over heels for the ancient exercise form, eventually earning her teaching certification in 1984 when she moved to Spokane. Now, with 40 years and myriad certifications under her belt, she leads a dedicated troupe of instructors who teach Hatha-style classes within a cozy studio, winning Best Yoga Studio by The Pacific Northwest Inlander in 2009 and 2010.
They lead a lineup of classes that accommodate a spectrum of skill levels, ranging from newcomers to Twister world champions.
1717 W 6th Ave.
Spokane
Washington
509-747-4430
More than two decades ago, Paul Fish dreamed up a unique backpack and stitched a prototype by hand. After some redesigns, Fish and his wife opened an outdoor apparel shop—Mountain Gear—where they could sell these packs to local climbers and backpackers. Today, Mountain Gear's spacious retail location boasts a comprehensive selection of gear for camping, hiking, and climbing, as well as snowsports and watersports. Skiers can bundle up in gear from The North Face and Black Diamond, and mountaineers can ascend to new altitudes with Mountain Hardwear apparel. Mountain Gear also houses an indoor climbing wall, and its outdoorsy staff hosts classes that teach attendees how to tackle their first climbing wall or cook meals in the wilderness without having to call a restaurant for instructions.
2002 N Division St.
Spokane
Washington
Fitness-centric posters speckle the walls of the newly expanded Elite Fitness studio, aiming to motivate students through workouts during more than 35 fitness classes throughout the week. Reflected in the towering mirrors, seasoned instructors captain cardio, strength-training, and flexibility sessions, including an innovative Sh'Bam class, where they'll guide students through high-intensity dance moves to the tune of popular music. Otherwise, in a private cycling room, they'll lead indoor rides on advanced M3 bicycles, which, unlike real bikes, provide computerized feedback and don't try to buck the rider every 2 miles.
At the studio's juice bar, attendants dole out healthy postworkout fruit shakes that feature ingredients such as whey protein. Meanwhile, attendants look after youngsters in an onsite babysitting center.
4241 S. Cheney-Spokane Rd.
Spokane
Washington
US
At Elite Pilates Reformer Studio, owner and instructor Luisa Parker leans on a career of more than 29 years as a dance instructor, a certified personal trainer, and a red/black belt in karate to lead high-energy Pilates Reformer sessions. Working with Luisa, you'll build strength without bulking up, improve posture, balance, and flexibility, and excel in sports and exercise.
4241 S. Cheney-Spokane Rd.
Spokane
Washington
US
---