Arts & Culture in Spring
---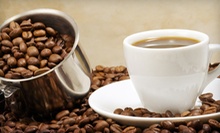 Espresso & chocolate cake crowns lunch of raspberry-walnut chicken salad in Victorian chambers styled after movie Clue
Use Today 11:00am - 4:00pm
---
Recommended Arts & Culture by Groupon Customers
---
Today's Groupon offers an upgrade from your biography audio books. For $20, you'll experience legendary lyricist Stephen Sondheim's candid confessions at The Society for the Performing Arts on Sunday, October 25, a $42 value. New York Times columnist and former chief drama critic Frank Rich will prompt the esteemed composer to reflect on his career, collaborations, and creative process during the 7:30 p.m. performance at Jones Hall. Gypsies: "Boy, I was pretty sure I was going to get sued for this one. To make the lawyers happy, I added a scene where giant robots fight each other and changed that song to 'Everything's Coming Up Robots'." A Different West Side Story: "You can't copyright a part of town! The story is basically the same as the regular West Side Story, but some of the characters in mine are giant robots who have forbidden love." Sweeney Ted: "I didn't change much in this case because the original seems to also be about robots. A huge hit!"
615 Louisiana St., Suite 100
Houston
Texas
US
Stages Repertory Theatre stages innovative performances of new plays and classic works in an intimate setting. Revel in the riotous hilarity of Auntie Mame, as the 12-actor cast weaves in and out of more than 45 characters (runs September 15–October 10). Or delight in a modern take on a literature classic with Panto Pinocchio, which shares the hilarious story of a robot boy looking for love (runs November 23, 2010–January 9, 2011). Consult the full season schedule to find a show of interest, and let Stages Repertory Theatre light you up with the luster of live theater. Free parking is available for ticket holders.
3201 Allen Pkwy.
Houston
Texas
For $25, today's side deal scores you a ticket to see the Masquerade Theatre's production of Camelot at Zilkha Hall in the Hobby Center for the Performing Arts (an up to $56 value). Seating will be in the orchestra section.
800 Bagby St.
Houston
Texas
From its first days as a converted parking garage to its time as a host for Quentin Tarantino's five-day movie marathons, Alamo Drafthouse Cinema has ushered film-lovers of all breeds into its atypical auditoriums. The theaters subvert the industry standard by offering locally brewed beer and fine wines, a rotating menu of handcrafted snacks and desserts, and an advertisement-free experience. A long table stretches in front of every row of seats, enabling waiters to unobtrusively pick up written food orders throughout the night.
Both first-run blockbusters and classics are projected onto the silver screen in crisp 35-millimeter or digital format. Meanwhile, surround sound submerges audiences in the cinematic landscape, whether they're seated in one of the intimate theaters reserved for indie screenings or the more expansive spaces afforded to Hollywood epics.
The staff and an enormous shepherd's crook enforce a strict no-talking, no-texting policy—with a few notable exceptions. For example, fan-centric Quote-Along and Sing-Along nights encourage guests to shout their favorite lines, and appearances by actors, directors, and other film celebrities append in-depth discussions onto the show. These exclusive events have helped build Alamo Drafthouse's reputation among cinephiles across the country, leading to nods from Entertainment Weekly, which called it "one of America's most fanatically unique moviegoing experiences," and Wired, which opined that it "might just be the coolest movie theater in the world."
1000 West Oaks Mall
Houston
Texas
281-920-9268
Ibsen's Ghosts, a blistering commentary on 19th-century morality and hypocrisy, centers on a woman's efforts to keep her philandering husband's wealth out of the syphilitic hands of her son (who is in love with a maid who bears more than a passing resemblance to his father) by sinking it into an orphanage. The play's shocking subject matter was hailed by Victorian-era fuddy-duddies as "revoltingly suggestive and blasphemous," praising its "gross, almost putrid indecorum." For a less scathing and more insouciant send-up of the same time period, George Bernard Shaw's Candida centers on an enchanting clergyman's wife as she finds herself torn between her upstanding but dull husband and the persistent advances of their romantic young houseguest. Shakespeare's beloved comedy As You Like It follows the meanderings of Rosalind and Orlando as they fall in love against a mystical woodland backdrop of cross-dressers and courtly intrigue—speaking such immortal lines as "All the world's a stage, and all the men and women merely players" and "NOOOO!" along the way.
2201 Preston St
Houston
Texas
The high-flying acrobats of Cirque du Soleil set their microscopes on the insect world with Ovo, a family-friendly circus spectacle that exposes the beauty of the lowest levels of our ecosphere. Like the lost Disney adaptation of Kafka's Metamorphosis, the show bridges the gap between humans and their minuscular counterparts with the help of whimsical costumes and set designs. As the first act begins, a monolithic egg lands in the midst of a bustling insect community, raising a commotion among the many-legged residents. Ants and crickets creep across the stage's webby backdrop, extending their antennae for a peek at the mysterious object. By the time a gawky blue insect arrives onstage and a ladybug sets his heart aflutter, audiences are cocooned to their seats in awe of the stylized habitat. Creature-themed stunts and dance routines fill the show's nine acts, which include a juggling firefly, a trapeze troupe of scarabs, and a pair of Spanish butterflies engaged in a rousing thumb-wrestling bout.
8877 Barker Cypress Rd.
Cypress
Texas
---