Beauty & Spas in Spring
---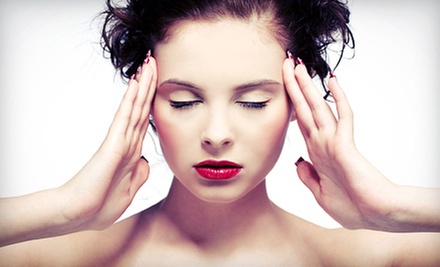 Fairbanks - Northwest Crossing
---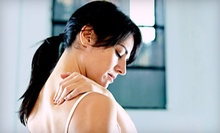 Relaxing, non-invasive machine kneads skin to catalyze collagen production that may heal injured tissue & lead to firmer, smoother limbs
Use Monday 10:00am - 7:00pm
---
Recommended Beauty & Spas by Groupon Customers
---
At BodyAnew MedSpa, a team of beauty specialists entrusts their faith in laser technology, using the concentrated light for various purposes from hair removal to weight-loss management. Prior to any laser treatment, a technician inventories the client's desired outcomes, drawing up a personalized plan of action. Because laser light works quickly and is noninvasive, patients can achieve results in a streamlined fashion with little to no downtime. Under the unblinking eye of laser light, waistlines slenderize, skin rejuvenates, and tattoos of Tweety Bird are temporarily blinded. Recently, the company added hydrafacials to its menu of services. Hydrafacials mimic the action of microdermabrasion, but instead of just resurfacing skin, they also moisturize and nourish it.
311 N Sycamore
Tomball
Texas
936-777-1198
The clinicians at Body Restore Laser Clinic keep clients looking their best with a wide range of aesthetic treatments for men and women. Wielding a trusty laser, the team works to remove unwanted hair and loosen the ironclad grip of father time with anti-aging treatments ranging from wrinkle reduction to photofacial rejuvenation, in addition to resurfacing scars and removing tattoos. VIP after-hours parties bundle beauty services, snacks, and drinks, and they cater to groups of six or more, making for an indulgent girls' night out or a particularly memorable parent-teacher conference. The staffers at Body Restore Laser Clinic are adamant about giving back to the community, assisting anti-gang organizations by performing tattoo and scar removal for ex-gang members. They also honor and pay tribute to local police, firefighters, and servicemen with complimentary scar and burn treatments for those who have been injured in the line of duty.
3091 College Park Dr., Suite 190
Woodlands
Texas
832-713-7546
Under the watchful eye of a board-certified surgeon, Limitless Medspa's registered nurse and licensed aestheticians polish bodies until they sparkle like new with advanced med-spa treatments. Skilled laser techs deftly treat a variety of woes: they reduce corporal circumferences with the Yolo Curve laser, tighten sagging skin with an infrared laser, and send heated blasts into follicles with hair-removing lasers. Techs also beautify epidermises with dermal-filler injections, chemical peels, and noninvasive microdermabrasion facials, which nourish and soften the skin with a diamond-tip system and PCA Skin products.
8611 Louetta Rd., Suite 206
Spring
Texas
281-257-6987
Board-certified physicians and the medical staff at Forever Fit Medical Spa keep patients feeling young and spritely from the inside out with an array of medical-grade aesthetic and weight-loss treatments. The doctors' bedside manner puts patients at ease as they helps smooth silhouettes with noninvasive treatments or more traditional but still effective HCG diet programs. The doctors can slough away signs of skin aging with a Mixto CO2 fractional laser or recommend the best elixirs for at-home rejuvenation from the center's supply of Image Skincare products and AmeriSciences Nutraceutical supplements. They ensure that patients receive the best in advancing medical-care techniques as they keep their techniques and procedures fresh by staying actively involved in the medical community and by keeping them sealed in an airtight mason jar at night.
8240 Antoine Dr., Suite 102
Houston
Texas
At The Atascocita Barbershop, barbers help men look their best with classic, timeless haircuts and fresher, more modern looks. The staff chisels away at whiskers with old-school shaves and hot-towel wraps, leaving faces clean and smooth to the touch. They skillfully shape hairstyles into elegant flat tops, fades, and tapers with the same adeptness they use to sculpt mohawks. Complimentary shoulder and neck massages can ease the tension of seeing your fallen hair spell out "Why?" along the barbershop floor.
8015 FM 1960 E
Humble
Texas
281-973-9225
Grooming and relaxation have gone hand-in-manicured-hand at Ann's Nails for more than 14 years. Just as the sun occasionally disappears from our sky to rob the East of its nighttime, Ann's Nails recently took a temporary sabbatical, but has now reopened its french doors to women and men throughout the community. As clients lean against the plush throw pillows perched on oversize white spa chairs, attentive staffers primp their digits with standard manicures and pedicures or durable solar, gel, or Shellac nails. In addition to doling out waxing services and facials, they also accommodate after-hours gatherings for anniversaries, bridal parties, and children's birthdays.
17776 Texas 249, Suite 17
Houston
Texas
281-890-6525
---