Spring, TX Health and Fitness
---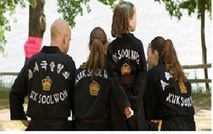 Kuk Sool masters bolster self defenses with reviews of the Korean martial art's flurry of hand strikes, animal-style moves & sweeping kicks
Use Tuesday 8:00pm - 9:00pm
---
Recommended Health & Fitness by Groupon Customers
---
The year was 1975, and Sam Sann crept alongside his grandmother and sister through the untamed countryside of Cambodia. He and his family were fleeing political insurgents on foot, barely subsisting on snakes and any other sustenance they could find. After four years of wandering, the Sann clan finally made it to Houston, where Sam excelled in cross-country and track. From his post as a staffer at a gym in high school, Sam ascended to personal trainer after graduation and eventually opened Iron Sports with the help of his wife, Gabby. Well-known for having a spirit more generous than the secret lovechild of Santa and a fairy godmother, Sam eagerly welcomes up to 60 visitors at a time into his unique two-story obstacle course fitness studio. Exercisers of all skill levels tether themselves to a rope belay system to surmount potholed walls with climbing pegs and then scurry through tunnels at the top of ladders. From ramps for running to monkey bars for swinging, the course offers a unique approach to wellness with fun built in.
The gym also houses traditional cardio and weight machines from Precor and two First Degree Fitness Fluid Cycles XT, which are akin to a bike for the upper body. Staffers with backgrounds in sports medicine and fitness incorporate the facility's obstacle course and gym equipment into classes such as a year-round boot camp, Kids Fit sessions, and Zumba.
6982 Farm to Market 1960, Suite F
Houston
Texas
281-580-4642
At Spring Fitness Centers, friendly staffers greet members by name as knowledgeable trainers build personalized fitness programs. Trainers graciously dole out one free training session per month to each client, equipping athletes with the techniques and skills to successfully operate free weights and cardio machines without professional supervision. Memberships include complimentary childcare, unlimited tanning, and unlimited aerobics at each location. Like a spy's accent, classes vary by location, but may include cycling, Pilates, kickboxing, and Zumba.
2400 FM 2920 Rd. 150
Spring
Texas
281-353-1268
CrossFit founder Greg Glassman described his game-changing fitness program as "constantly varied, functional movements performed at high intensity." Chalk Bucket CrossFit's certified CrossFit trainers, Michelle and Eric Garner, have taken this philosophy to heart, shaping an accessible exercise regimen from moves that mimic everyday actions and include lunges, squats, and dodging bullets in slow motion. They change these routines daily to spare muscles from boredom as they carve out toned physiques and pump up endurance and flexibility.
32302 Tamina Rd.
Magnolia
Texas
Founder Sadie Catania cultivated a dedication to fitness while serving in the Wisconsin Army National Guard, now sharing her enthusiasm by leading clients on a path to wellness through exercise and nutrition. Total Body training programs blend workouts led by nationally certified trainers with custom healthy meal plans, launching a two-pronged attack on stubborn fat. The trainers draft personalized plans for clients, ensuring they get the proper combination of cardio training, strength training, and flexibility training to meet their fitness goals, such as becoming the first person to run to the moon.
10111 Grant Rd.
Houston
Texas
832-928-2783
Each Ultra Motors light electric vehicle operates using a European rear-hub-motor design. The bikes come in five models and different colors such as black, silver, and red. While most bikes can maintain up to 20 miles at 20 mph on a single charge, riders with a spent battery are never stranded—they can hug the nearest stranger or pedal to their next destination. Owner Robert Solana also sells these electric vehicles, hoping to promote The Woodlands' designation from The American Federation of Bicyclists as one of only three bicycle-friendly communities in Texas.
Waterway Square Place
The Woodlands
Texas
281-300-9009
The team at Pure Balance takes a holistic approach to wellness, bettering bodies with chiropractic, yoga, and Pilates treatments. Laurie, a certified yoga instructor, twists students into exhilarating and liberating shapes during Hatha and Yin yoga classes. Patti handles Pure Balance's deep-tissue, Swedish, and Thai yoga massages, expelling aches and pains from uncomfortable muscles. Dr. Amy Nong, who graduated from the University of Texas at Austin and Texas Chiropractic College, customizes treatment plans to each client, mixing chiropractic, nutrition, rehabilitation, and wellness practices with good old-fashioned advice to stop sleeping underneath concrete slabs. Rounded out by Kathy Nong, a Texas A&M grad with a bachelor of science in food science, Pure Balance's staff also offers spinal decompression and weight-loss counseling.
13040 Louetta Road, Suite 228
Cypress
Texas
US
281-251-4400
---