Restaurants in Spring
---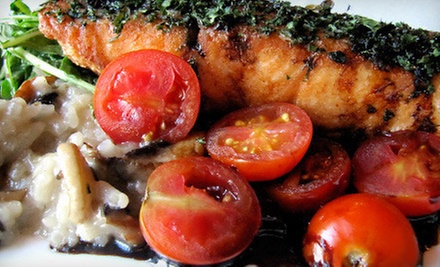 ---
Recommended Restaurants by Groupon Customers
---
Tipico Cafe's menu spills over with Latin American flair. Following Honduran tradition, servers slide complimentary pan de coco—or coconut bread—onto tables before every meal. Appetizers, such as the towering pyramid of crabmeat, avocado, and mango found in the Tipico tropical stack, precede meaty entrees accompanied by rice and beans, plantains, and Salvadorian cheese and cream. Freshly prepared dishes team up with the café's music and decor to create an authentic Latin cultural experience. To complement meals, a BYOB policy lets diners park a favorite bottle of wine or jetpack fueled by beer right at their table.
5758 FM 1960 E
Humble
Texas
281-973-9706
As the centerpiece of Kublai Khan, the mongolian grill reaches temperatures of 650 degrees and can cook more than 30 meals at the same time. The restaurant's methods revive an ancient tradition from centuries ago, when, after a long day of hunting, Genghis Khan and his warriors would cook meat, vegetables, and whatever spices were available atop their upturned shields—which had the logos of several sponsors on them. In similar fashion, diners at Kublai Khan gather their self-selected bowls of ingredients before handing them over to the chefs, who slice, dice, and sear them into stir-fry creations. The fiery production earned Kublai Khan the Talk of the Town customer-satisfaction award in 2012 for the second year running.
13708 Northwest Freeway
Houston
Texas
713-690-2244
Taking its name from the Mayan word for hummingbird, Zunum strives to fill mealtime with harmony and joy. Silhouettes of trees cling to the walls of the airy dining room that overlooks Zunum World, a play area for kids. The menu runs the gamut, with pastas, salads, paninis, and burgers that pair with glasses of wine.
1620 Research Forest Dr.
The Woodlands
Texas
281-419-5400
At Lenny's Sub Shop, team members bake fresh loaves of bread every morning and slice deli meat to-order for each sandwich. Lenny's Sub Shop began just outside of Memphis in 1998, and it has grown to reach diners in more than 15 southern and midwestern states. Their signature 7.5-inch sub sandwiches cradle a half-pound of meat and cheese, and their 15-inch subs hold up to a full pound. Hot pepper relish blended from diced cherry peppers is available to add zing to deluxe clubs, roast beef sandwiches, and veggie subs. In addition, the shop's kids' meals pair well-portioned sandwiches with engaging stories of Li'l Lenny and the Global Adventurers rather than age-inappropriate tax forms.
21202 Tomball Parkway, Suite 100
Houston
Texas
US
281-257-0328
No one can say this coffee bar and deli is lacking in confidence. In fact, no one can say they're lacking in much of anything. The soups, sandwiches, and salads live up to the café's self-assured name, with chefs preparing their made-from-scratch fare from fresh ingredients, such as ciabatta bread, sliced avocado, and signature chicken salad. Fresh cookies and homemade soups make suitable companions for made-to-order sandwiches, and slices of house-made pecan pie tame unruly sweet teeth faster than a retainer lined with cake batter.
1984 Cypress Creek Pkwy.
Houston
Texas
US
281-866-0236
At Red Dot Cuisine, crabmeat cocktails garnished with mango caviar arrive at tables with an unexpected twist: the cocktail glass serves as the top of a mini fish bowl, with an actual goldfish inside doing laps. It's just one of the creative touches that make Red Dot's upscale bistro into a dining experience. The bar, lunch, and dinner menus combine Indian and American cuisine elements, yielding dishes such as the tandoori turkey panini with cranberry-flavored mayo. Specialty cocktails such as lychee martinis and tamarind mojitos complement meals, and an eclectic roster of desserts includes raspberry chocolate cake and fried Oreos with Shiner Bock ice cream.
8921 Louetta Rd.
Spring
Texas
281-303-5686
---