Restaurants in Spring Valley
---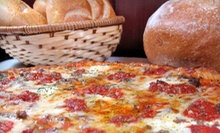 Use Today 6:00am - 11:30pm
---
Recommended Restaurants by Groupon Customers
---
At Memphis Mae's BBQ Bistro, owners Andreas Nowara and Jeff Matros are rewriting the barbecue gospel. They've crossed out a number of popular myths—that barbecue joints should be shrouded in smoke, that barbecue puritans only cook in the style of a single region, and that those who divulge secret recipes should be cooked themselves—in favor of a more chic and diverse sauce hot spot. Their dining room emulates a crisp bistro, and their menu traverses several Southern states, listing Texas beef brisket alongside Carolina pulled pork and Memphis ribs. They don't limit themselves solely to barbecue staples, either. Comfort foods such as Mississippi catfish and chicken-fried steak appease patrons who might not want to get their hands dirty, and vegetarian options include smoked portobello mushrooms and "pasties" filled with sautéed vegetables.
Their eclectic approach has hardly canceled out down-home prep, however. The kitchen's wood smokers infuse meats with flavor 24 hours a day, passing on zesty notes from pecan and hickory logs. The beer is likewise carefully brewed, arriving from Dogfish Head, Duvel, and other craft companies. In maintaining this delicate balance between strict tradition and inclusivity, Memphis Mae's BBQ Bistro has cemented a savory reputation. The restaurant has catered the New York Yankees' opening-day celebration and was later featured in the New York Times which praised its brunch and catalog of sides, which contains drunken yams, peach applesauce, and none of "the usual throwaways or fillers that most barbecue joints offer."
173 S Riverside Ave.
Croton-on-Hudson
New York
Tim Latterner of the Highland Fling considers Jersey Burgers "…the place to go for anyone who craves a juicy, tender and reasonably priced burger," describing the food as "melting in your mouth" and "made with love." The chefs at Jersey Burgers earn such praise by making each beef, salmon, and veggie burger fresh to order, stacking crisp bacon, jalapeños, and gooey cheese between fresh buns. They also cook up hot dogs, meaty sandwiches, and crispy fries that complete classic American meals or classic American food fights.
112 East Main Street
Ramsey
New Jersey
201-934-0002
At Badlands Tacos, diners are transported to the titular locale upon gazing at the eatery's southwestern decor. Cow skulls adorned with feathers and bright ceramic art festoon the umber-colored walls. From behind a walk-up counter, a chalkboard menu displays an array of Mexican tacos, chimichangas, and 11 kinds of enormous burritos filled with fixings such as flank steak, cilantro, and guacamole. Badlands Tacos offers booths and tables at their BYOB restaurant, outdoor seating, catering for special occasions, or take-out to feed pet llamas hidden under the porch.
102 East Main Street
Ramsey
New Jersey
201-818-2446
Rainwater Grill's patrons unwind in dining room that a 2010 New York Times article praised for its neighborhood feel and elegant décor. Amid natural stone accents and a gently burbling waterfall, servers deliver upscale American dishes such as grilled new york strip steak and a Fisherman's Wharf seafood cioppino rife with sautéed clams, mussels, and calamari in a spicy saffron tomato broth. Diners can choose a beverage to complement their means with ease: the restaurant offers numerous wine-pairing suggestions for every entrée on the menu. In the lounge area, bartenders mix martinis for patrons who eschew the dining room in favor of watching one of the four high-definition televisions or listening to live music.
19 Main St.
Hastings-on-Hudson
New York
914-478-1147
Mima Vinoteca, winner of Best of Westchester awards for three consecutive years, presents northern Italian comfort cuisine that harkens back to the classic dishes prepared by their grandmothers, or mimas.. At the marble wine bar carved by Michaelangelo in his Utilitarist period, guests swirl and swish wine from a sommelier-curated collection that represents each region of Italy. These wines complement vino-friendly dishes such as cured meats, mussels, risotto, and hand-made pasta served in a dining room lined with rustic brick and wine bottles and outfitted with tables of Tuscan wood. Full meals include selections such as wild mushroom polenta laced with white truffle essence and gouda , and a plate of braised short rib with pears poached in red wine and mashed sweet potatoes.
63 Main St.
Irvington
New York
Impressed by the flavor and precision of Okinawa Hibachi Steakhouse's cuisine and chefs, respectively, the readers of Westchester Magazine cast their votes to name the restaurant the home of the area's best hibachi in 2011. Surrounded by the glowing reds and golden hues of the dining room, chefs sear and manipulate meats and vegetables at traditional teppanyaki tables, cooking steaks to order and cutting heads of broccoli to resemble arms of broccoli. At the sushi bar, a line of chefs assemble maki rolls and platters of sushi and sashimi. The trickle from the fountain in the dining room provides a soothing soundtrack for fully equipped eating contests.
218 S Highland Ave.
Ossining
New York
914-762-9887
---