Pet Services in Spring Valley
---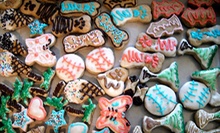 Use Sunday 8:30am - 1:00pm
---
Recommended Pet Services by Groupon Customers
---
Heather Brooks plays with dogs for a living. The results of these puppy-fests can be seen in her portfolio of candid portraits that capture each pooch's unique personality. After honing her photographic craft on human families, Heather decided to launch Pupparazzi, carting her equipment to canines' natural habitats to snap up-close and personal puppy pics in black and white and full color. Heather knows all the tricks of the trade, like eschewing flash for natural light and shooting under a tree for the kind of soft light that brings out a pup's true eye color. Her telephoto lenses and fast shutter settings are able to capture the quick flick of a puppy's tail or the moment before a dog realizes that the Frisbee he's about to catch is actually a miniature UFO. Heather snaps her shutter for cats and other animals, too, and when the flashbulb frenzy comes to a close, pet owners can decorate their homes and bodies with fine-art prints and custom jewelry featuring their furry friend's face.
1200 N Town Center Dr.
Las Vegas
Nevada
702-587-0030
At Sagebrush Ranch, experienced equestrians and instructors pair guests with patient, well-trained horses for lessons or scenic rides through the rustic expanse just west of Las Vegas. In group lessons or day-long clinics, students practice horsemanship and proper riding techniques on one of the stables' 45 red-ribbon-clad steeds. Before visitors embark on trail rides, the Sagebrush Ranch staff pairs them with specific horses based on riding experience and personality, after which the star-crossed duos set out for the desert paths surrounded by mountains and lizards riding bareback atop armadillos.
7103 Rebecca Rd.
Las Vegas
Nevada
702-645-9422
At A-Round of A-Paws Pet Boarding Resort & Spa, pooches sprawl in the lap of luxury, lounging on hypoallergenic lambskin bedding during resort stays and enjoying mud facials and Swedish massages at the spa. Vacationing owners can rest easy knowing that their canine and feline companions are in safe hands. The resort provides amenities that include K9-themed movies for pups and condos that accommodate pet families with connecting doors. An agility track, doggy day care, and group play sessions keep canines alert, whereas lessons with trainers help get pooches closer to the day when they can fetch Chinese takeout.
The spa, meanwhile, goes above and beyond standard grooming with hair dyeing and styling, as well as pawdicures that pamper canine appendages with paw soaks. The spa's aroma therapist and massage therapist kneads arthritic and tense muscles in a variety of modalities, employing warm-oil massages and stone massages to banish the stress of dreaming of a world run by squirrels. Over in the bakery, chefs turn out organic treats perfect for rewarding obedient pets, while cakes with low-fat cream-cheese-honey frosting accompany puppy birthday parties hosted at the resort.
3255 St. Rose Parkway
Henderson
Nevada
702-462-9700
At A-V.I.P. Pet Resort, founder, avid dog trainer, and breeder Kurt Williams is never far from his canine boarders. That's because he and his family live on the premises. This enables him to supervise animals beyond business hours, and his four children enjoy giving the critters attention when the professional groomers and behaviorists are in hibernation.
During the day, Williams's crew administers prescription medicine at indicated hours and also follows specific diet requests during meal times. His pet guests reside in private suites with plush bedding and television screens. Twice daily, the trainers bring any social dogs into a large outdoor play arena to sniff, socialize, and discuss articles from the morning edition of the squeaky newspaper. Williams maintains a comfortable temperature at all times at the resort, with air conditioning during the summer and heated floors during winter months.
2675 W Arby Ave.
Las Vegas
Nevada
US
702-361-8900
---