Beer, Wine & Spirits in Springfield
---
Beer, Wine & Spirits Deals
---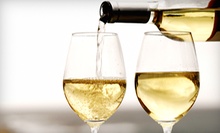 Taste six estate wines produced from red and white Hudson Valley grapes and local apples, pears, and cherries
---
Recommended Beer, Wine & Spirits by Groupon Customers
---
Soft breezes skip off the shores of Amos Lake, rustling through trees and across the grassy acreage that surrounds Dalice Elizabeth Winery, where second-, third-, and fourth-generation Italian Americans share the secrets of their polished craft. Having dispersed its all-natural specialty foods and wines internationally, the winery's founding family continually impresses the palates of casual indulgers and contest judges alike, churning out grape-to-bottle chardonnays, merlots, and sauvignons that cannot be found on the shelves of local stores. In addition to tastings, the winery hosts winemaking and cooking classes, during which glasses clink between aspiring chefs and vintners as they learn to entertain houseguests or polite burglars with style and ease.
6 Amos Rd.
Preston
Connecticut
Rolling meadows spread out amid rocky slopes, with the gray-blue peaks of the Catskills Mountains looming in the distance. In front of this scenic backdrop, Millbrook Winery invites guests to immerse themselves in the verdant, sprawling landscape of its 130-acre estate. On the more than 30 acres currently under the vine, its growers cultivate varietals such as chardonnay, tocai friulano, pinot noir, and cabernet franc, which are then mashed and fermented into the estate's characteristically dry wines. Having recently surpassed their 24th vintage, the winemakers display evidence of their grape-smashing prowess with a bounty of gold medals awarded by the Hudson Valley Wine and Grape Association, as well as the New York Wine & Food Classic.
When not hiking along a newly laid one-mile walking trail that meanders through the vineyards, guests gather in the winery building—a renovated Dutch-hip dairy barn bedecked with old white-framed windows, bare-wood walls, and exposed ceiling beams. Inside, tasting guides expound on the winery's various types of wine, revealing which grapes were used, how long they spent in the barrel, and their favorite New Yorker articles. In addition to tastings, they pass on their knowledge in a range of events, such as boot-camp training for prospective wine growers. They also grant guests personalization of their vintages with fully customizable wine labels, letting them outfit bottles with their own photos and names.
26 Wing Rd.
Millbrook
New York
845-677-8383
Since opening in 1975, Haight-Brown Vineyard has churned out 2,000 cases of grape-based libations each year from its nearly 10-acre vineyard and welcomed visitors into its rustic, cottage-like wine house. Emphasizing vinifera and French hybrid grapes, the state's first-established winery creates a selection of wines that include the Big Red, a bold syrah; the Morning Harvest, a rich malbec; and Honey Nut Apple, a traditional apple wine that incorporates local honey and cinnamon. Vintners share their time-tested expertise during regular classes that teach aspiring oenophiles about a variety of vintages and techniques for cheese and chocolate pairing. Amid the tasting room's wood accents and crackling stone fireplace, customers sample vintages and attempt to describe taste sensations with adjectives such as "silky" or "very different from milk."
29 Chestnut Hill Rd.
Litchfield
Connecticut
For more than 90 years, the same soft morning sunlight has poured over the fields of yellow sunflowers, tasseled stalks of sweet corn, and rows of grapevines growing at Rosedale Farms & Vineyards. In that span of time, five generations of Rosedales have tended to the farm's fresh vegetables, fruits, and flowers, sharing them with the Simsbury community and even earning a nod in the Washington Post. It wasn't until 2005, however, that the family produced its first vintage from its 4-acre vineyard of French hybrid grapes. Since then, the winery's estate-grown vintages have earned several awards, including a double gold at the 2010 Vineyard & Winery International Eastern Wine Competition. Today, at the winery's onsite bar, staff members pour samples of varieties such as the Simsbury Celebration, which distinguishes itself with a creamy structure, mineral overtones, and a penchant for hiding beneath lampshades. Additional events include fall farm fests that include free hayrides and corn mazes. Partnering with the Max Restaurant Group, Rosedale Farms & Vineyards also features chef-to-farm dinners, during which chefs prepare four- to six-course banquets using ingredients plucked straight from the fields.
25 E Weatogue St.
Simsbury
Connecticut
860-651-3926
Ranked 73rd best brewer in the world by RateBeer and 15th out of the top 50 American Microbreweries by BeerAdvocate, Thomas Hooker Brewery has earned its share of accolades. The brewery's staff has been forging consistent, small-batch brews for more than a decade. Today, they produce 11 one-of-a-kind beers, with year-round flavors such as the Hop Meadow IPA, or the Irish Red Ale. Their seasonal flavors, meanwhile, include the Chocolate Truffle Stout and the Watermelon Ale, whose fruity notes make it ideal for summer drinking or as the proper liquid with which to hydrate a fruit garden. The team leads a tour and tasting on Saturday afternoons, and their gift shop is fully stocked with paraphernalia and growlers of their popular brews.
16 Tobey Rd.
Bloomfield
Connecticut
860-242-3111
---