Springfield, OR Outdoor Activities
---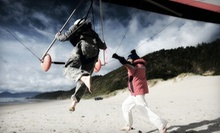 Four-hour ground school covers basics of launching and landing a hang glider with both simulator and actual equipment
---
Recommended Outdoor Activities by Groupon Customers
---
Among the forests and hills of the Willamette Valley, Highway 58 Golf Range fills with the staccato pops of launching golf balls as golfers there practice every aspect of the game. Guests tee their range balls up year-round on either natural-grass tees or covered mats, sending the balls soaring toward Mount Pisgah in the distance. A short-game area allows for focused practice of near-green finesse, complete with a putting green, a chipping area, and a bunker where golfers perfect saves and practice guessing how many grains of sand are in a jar to win it.
34455 Highway 58
Eugene
Oregon
541-741-1119
After running a sawmill for 15 years in Corvallis, Mode and Babe sold it, retired, and bought a 74-acre parcel of land just because they wanted it—even though they had no plans for its use. At the urging of their friends, Mode and Babe decided to build a nine-hole golf course, not letting their lack of experience with the game dissuade them. Since that spontaneous founding in the 1950s, Marysville Golf Course has been operated by the same family and has served Eugene-area golfers with a nine-hole USGA-rated course that's appropriate for all ages and experience levels. A first-come, first-served policy rewards early risers and sleep-skipping permagolfers, and new sand traps and greens comprise an elegant landscape over which golf balls briefly orbit before being dragged down by gravity. Additionally, a covered driving range allows for long-distance putting during thunderstorms or temporary ice ages, and the pro shop carries name brands such as Nike and Callaway in addition to a selection of new and used clubs.
2020 SW Allen St.
Corvallis
Oregon
541-753-3421
In 2011, Brandon Richardson became a Class A PGA Instructor and a nominee for the Oregon Chapter PGA Teacher of the Year award. These prestigious accolades did not come easily; they were the culmination of more than two decades of teaching and professional play that included stints on the Nationwide Tour. As Golf with Freedom's founder and director of coaching, Brandon's coaching style allows golfers to grow and develop as a golfer within an environment free of judgment or evaluation, creating a sense of calm toward misbehaving 9-irons. His programs—which range from private coaching classes to small-group and women-only workshops—aim to increase one's ability to self-coach by making swing adjustments on the fly or subbing in a stunt double for help with a particularly difficult lie.
2700 Columbia St.
Eugene
Oregon
541-954-7684
Diamond Hill Paintball's two outdoor fields evoke historical battlegrounds for tournament-style and recreational play. A net encloses the regulation NPPL speedball course, whose symmetrical layout of inflatable bunkers is designed for intense competition. The rec-ball field's mounds and muddy foxholes help conceal casual players as they advance and protect feral canvases from the Technicolor volley. A unit of paintball veterans ensures safe, fun play at all levels, and distributes safety gear to accompany Tippmann 98 rental markers.
23721 Peoria Rd.
Harrisburg
Oregon
541-285-0073
After wrapping up a five-year career for the University of Oregon men's golf team, Justin St. Clair knew he was destined to dedicate himself to golf. A bona fide ace by nearly every standard—he won the 2009 Pacific Northwest Pro-Am and was named an All-Pac 10 Honorable Mention in 2005—Justin couldn't quite ascend to golf's highest ranks, opting instead to channel his passion for the game by opening his own golf school.
Today, Justin presides over the practice facilities at Emerald Valley Golf and Resort, correcting swings with advice relayed in simple terms. Justin can help golfers sharpen swing mechanics at the driving range, where he enlists high-speed video to dissect swings and locate heckling poltergeists, he can improve course management with a playing lesson, or he can determine his clients' ideal clubs with club- and driver-fitting services.
83301 Dale Kuni Rd.
Creswell
Oregon
541-912-1472
A former three-sport standout at the University of Oregon and current Oregon sports commentator, Jordan Kent employs his athletic experience to lead kids' day camps filled with football, basketball, and soccer drills and competitions. Part of the nonprofit Jordan Kent Foundation, Jordan Kent Skill Camps seek to build self-confidence and discipline in young athletes of all ability levels. For one week, campers train under Jordan and his team of coaches comprised of local high-school athletes, former college athletes, and adult volunteers. The camps aim to teach boys and girls ages 7–13 the value of character and hard work as they engage in a series of scrimmages and contests. A nutritious lunch is provided each day to keep energy levels high, and coaches also build nutrition education into the camps to jumpstart healthy eating habits. On the last day, campers leave with a cookbook full of good snack and meal ideas, as well as a SportHill T-shirt, helping kids remember their time at camp without having to create elaborate cave paintings on the walls of their forts.
1302 Barrington Ave.
Eugene
Oregon
541-621-2155
---