Shopping in St. Albert
---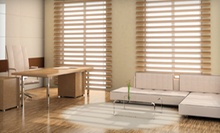 Custom options include cellular, wood, roller blinds, and highlights
---
Recommended Shopping by Groupon Customers
---
Seven-feet wide, 30-feet deep. Those were the pocket-sized dimensions of the original Wee Book Inn–and the reason for its name. Established on Whyte Avenue in 1971 by Edmonton native Darwin Luxford, that first shop spawned four additional locations during the 1980s, making space for an ever-growing selection of books and media.
In December 1990, disastrous fires destroyed two Wee Book Inns, including the flagship shop on Whyte Avenue. Within two years, however, both locations were rebuilt, restocked, and back in business. Today, Wee Book's roster of shops continues to do what it's done for more than four decades: buy and sell lightly used books and media, adjusting always to keep pace with the times. Inside, visitors may run into Wee Book's cats, as well, each of who bares the name of a former professional hockey player.
10310 Whyte Ave.
Edmonton
Alberta
What began in 1998 as a business run out of Diane Shaw and John Foo's basement has blossomed into an empire of three brick-and-mortar shops, a warehouse, and an online emporium bursting with handy teaching tools and toys. Education Station's extensive collection supports the healthy mental and physical development of kids of all ages, whether they're honing fine motor skills or penning thought-provoking postmodern critiques of children's literature. Youngsters share quality time with parents and siblings over informative games, puzzles, and playthings, and teachers shape bright young minds with classroom supplies and lesson-plan supplements. Each shiny new e-book, fun toy, and challenging puzzle is hand-selected and fosters long-term learning and intellectual development.
13204 137 Ave. NW
Edmonton
Alberta
At Dallas Frame & Arts, expert staffers navigate a selection of more than 4,000 frame mouldings to help customers find one that showcases their prints, matches their decor, and fits their budget. Their diverse styles range from rustic wood and modern metal to ornate gold leaf and whimsical heart and oval shapes. The staff also taps into 25 years of experience to design frames and mats that fit and preserve your prints. In addition, they can create custom shadowboxes to display sentimental objects or secure grandpa's consistently misplaced reading glasses.
The shop also stocks artwork, prints, and posters from internationally famous names such as Thomas Kinkade, as well as regional artists including Alex Halliburton, Jack Ellis, and Robert Bailey.
6246 99 St. NW
Edmonton
Alberta
780-438-3229
Housed in a homey storefront space, The Frame Corner helps visitors preserve their favourite keepsakes, photos, and works of art. A vast selection of sample frames is on hand to inspire, and the store uses hand-cut mats to accent your artwork attractively. An array of needlepoint patterns and accessories can be used for stitching projects, and gifts for sale include sterling-silver jewellery, holiday decor, and other items. The shop also hosts regular stitching workshops and gatherings of the Needle Bugs sewing circle.
17012 90 Ave. NW
Edmonton
Alberta
Amedeo Exclusive keeps gentlemen looking dapper with an assortment of formalwear and business togs crafted from luxurious materials including silk, cashmere, and expertly milled cotton. Neckties adorn collars with over 110 brilliant colours with matching stainless steel tie clips and cufflinks, allowing customers to create meticulously coordinated outfits or proud displays of their old kindergarten's school colours. Elegant French cuffs ring the sleeves of tonal-stitched dress shirts, and skinny ties infuse ensembles with a youthful, contemporary flair. Bowties and pocket squares of Italian silk accent formal costumes with old-school class, as accessories such as bronze business-card holders cherry-top business outfits with an extra note of sophistication.
102 St. and 102 Ave.
Edmonton
Alberta
587-520-8669
Identity Clothing founder Kelly Noland has fashion coursing through his veins. He began his career by helping his mother in her shop, Lord's Shoes in Southgate Shopping Centre, at the age of 13. When he was 17, he hit the road, travelling and buying shoes for the shoe shop. While his sister embarked on her own fashion quest by opening a Lord's location in South Granville, he veered toward clothing worn above the ankle. Now the master of his own domain, Kelly and his staff maintain a stock of trendy items geared toward men and women in their 20s, with shirts, dresses, and pants from such designers as William Rast, Joe's Jeans, and Selected. Staff tailors also provide two- to three-day tailoring services, getting customers into their new clothing before a night on the town or a chandelier-store shopping spree. To ensure customers have a choice in clothing from head to toe, Kelly's shop also houses a Lord's Shoes section.
14263 23 Ave. NW
Edmonton
Alberta
CA
780-439-9043
---