Schools & Tutors in St. Catharines
---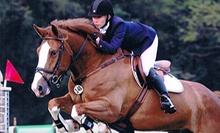 Students sit atop safe, reliable horses as they learn the art of walking, trotting, and cantering
---
Recommended Schools & Tutors by Groupon Customers
---
Paul Stewart's passion for pottery is genetic. And, as The Pottery's resident potter, he spins more than 25 years of experience between his steady hands. It was 1985 when Paul decided to follow his father's footsteps and enter the profession. For some time after, Paul bounced around Toronto-area studios until landing in Bloor West Village, where he's remained for more than a decade.
Over that time, Paul has created award-winning works that have appeared in magazines, on TV, and in films, and many of his pieces can be bought and added to private collections or worn as part of all-ceramic wardrobes. More than just the birthplace of porcelain decor, Paul also utilizes The Pottery's space to lead lessons and workshops–something he's done for a dozen years. He instructs all ages of students during introductory sessions, as well as during themed workshops and curriculum-based courses.
498 Runnymede Rd.
Toronto
Ontario
Ontario College of Health & Technology educates its students to herald a healthier and safer tomorrow. Through programs that focus on disciplines as diverse as massage therapy and private investigation, the private career college readies pupils for long-term success in their chosen field. Yet the school expands its scope beyond career tracks, offering the casual learner an arsenal of new skills. The culinary department, for example, takes two forms: by day, Red Seal–certified cooking instructors train full-time students to become chefs in restaurants and hotels, but by night, they oversee proteges' first steps into the kitchen or second steps back into the kitchen after realizing they left their headlights on. In comprehensive workshops, students learn to properly sauté, simmer, and bake dishes so that they can treat their family to a nice meal or throw a fitting party for a foodie friend.
1040 S Service Rd.
Stoney Creek
Ontario
905-643-8778
Curling is in Chad McMullan's blood. After spending his childhood Sundays watching his parents compete at their favourite Winnipeg rink, Chad carried on the family tradition, notching victories in multiple World Curling Tour outings, two appearances in Canadian national championships, and one imaginary sleepover with the Governor-General over the course of his career. After stints as Executive Director of the World Curling Tour and World Curling Players' Association, Chad brought his icy know-how to Rock Solid Productions, which applies curling's fundamental team-building qualities to everything from business retreats to beginner's lessons. The group's in-school training program introduces curling to 100,000 students each year, helping Chad share his childhood love of the game with the next generation of competitors.
226 E Bond St.
Oshawa
Ontario
A celebrity makeup artist boasting a number of lauded clients such as Ford Models and R&B singer Cee Lo Green, Asha aids apprentices in nurturing their craft and inspires confidence in the modern woman with a bounty of beautifying services. During intensive weeklong makeup artistry certificate programs, the renowned makeup artist teams novices with industry professionals such as photographers, models, and hair stylists to provide valuable industry experience. A.S.H.A.'s in depth makeup workshops, such as Fashion, Editorial, Film, Television, and Bridal Hair, all cap at six pupils to ensure a greater quantity of individual instruction so that the makeup maven can help each participant reach his or her full potential. Customized beauty consultations and makeup packages for special events pair patrons with Asha, providing an opportunity to discover what products befit their particular skin type, lifestyle, and tornado-chasing schedule.
243 Queen St. W, Floor 2
Toronto
Ontario
647-700-7599
Since 1978, the English equestrian facility Myrddin Equestrian Centre has led students of all levels through classes based on the safe practices of the Canadian Equestrian Federation Rider Level Certification Programme. At the 50-acre facility, instructors oversee classes inside a heated arena or outside along varied terrain including rolling hills and verdant woodlands. The training-level XC course takes steeds through fences, ditches, and steeples, whereas the all-weather sand ring beckons horses to practice their jumps and beach-volleyball skills.
Head coach Margaret Godson, the facility's operator for the past three decades, selects each training horse for its temperament and ability. Visitors to the animals' renovated-bank barn can get to know Molson, a 22-year-old thoroughbred, or Marty, a clyde and standardbred crossbreed who delights smaller riders with tales of his youth as a carousel pony.
5046 Trafalgar Rd., R.R. 1
Georgetown
Ontario
905-877-6698
Magazine editor Denise Wild started out teaching her friends to sew, and before long she was teaching her friends' friends. Her network of students led her to create The Sewing Studio, which now proudly teaches the seamstress arts in New York and Toronto. She and her staff impart methods for bobbing and weaving colourful threads through linens, taking students from beginning steps to advance endeavours such as creating their own skirts, handbags, and party dresses. Denise and company lead lessons in a bright and intimate classroom setting, helping participants learn to alter their own clothes or re-create treasured designer duds by hand. The Sewing Studio also nurtures aspiring fashionistas through after-school programming and week-long intensive sessions. Over the course of five days, guests can brainstorm, sew, and model their own garments or drop by for a workshop on creating dresses and kevlar body armour for American Girl dolls.
1225 Yonge St.
Toronto
Ontario
416-901-0758
---