Music Lessons in Stafford
---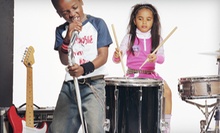 Songwriting tips from guest musicians, coached band rehearsal, and a student performance; instruction in keyboards, bass, drums, or guitar
---
Recommended Music Lessons by Groupon Customers
---
If you've never played an instrument, you're missing out on one of the most fulfilling human experiences: smashing your instrument. Actually, the most fulfilling experience is when you play something so beautiful that you lose yourself in the music. For you seasoned musicians, a brush up lesson at Page Music could improve your skills. Why, even Mozart took piano lessons late in his life to learn new techniques. Today's Groupon also makes a great gift for a talentless friend or relative. All ages are welcome at Page.
93 Massachusetts Ave
Boston
Massachusetts
US
The Real School of Music bestows the gift of instrument-playing ability upon students with a variety of music lesson options. The week-long, all-day summer music program, Real Jams Academy (ages 10–19, $500 for five days), is complete with music lessons, songwriting, band-forming, and a live performance in front of families, friends, and fans (no experience necessary). Get private lessons (approximately $37 per week, with daily access to the facility) in the instrument of your choice (voice, guitar, bass, keyboard/piano, sax, drums, pork-rib-xylophone, etc.). Private students achieving intermediate proficiency are then invited to play in one of the school's RealBands. If you're not ready for private lessons, embrace education with your fellow students in a group lesson ($120 for six 45-minute lessons) to learn the basics. Baby Beethovens (five and under) can flourish under the RealKids Family Music program ($180 for nine 45-minute lessons).
56 Middlesex Turnpike
Burlington
Massachusetts
Finally, you'll have a viable alternative to wooing potential romantic partners with a sousaphone serenade. For $137, today's side deal gets you five private, in-studio guitar lessons at Boston School of Guitar in Brookline (a $275 value for adults), including use of a guitar during your lessons. You may also choose to take home a rental guitar for additional practice (limited availability). Boston School of Guitar's private lessons are available seven days a week and typically last 45 minutes (30 for kids). All you'll need to bring to your lessons is a pick, some functional fingers, and maybe an iPod full of the music you'd like to learn.
33 Harvard St., Suite 300
Brookline
Massachusetts
US
With the decline of boomboxes and mixtapes, the lovelorn have discovered that blasting "In Your Eyes" from an iPod held aloft doesn't pack quite the same emotional punch. Today's Groupon gives crafty romantics a much-needed alternative medium for creatively professing love. For $20, you get $50 towards jewelry-making, sewing, or paper crafts classes at Abeille. If you're feeling especially inspired, you can buy two for $100 worth of do-it-yourself tutorials. Your Groupon can also be applied toward jewelry-making materials, even if you don't enroll in a class.
45 Harvard St.
Brookline
Massachusetts
When Jennifer Hill was a baby, her mother sang to her. When she was 2, she began singing full songs in tune. Throughout her childhood she sang at fairs, school musicals, and local sporting events, where she would belt out the traditional pregame rendition of "Welcome to the Jungle." She went on to receive a scholarship to the University of Hartford's Hartt School of Music, and currently she's the frontwoman of the jazzy rock outfit Jennifer Hill & Co. Music has stitched through the entire fabric of her life, and for more than a decade, she has worked to help students discover the joy of creating beautiful noise.
Jennifer tailors each private lesson to the individual student and welcomes all musical styles and genres in order to encourage young artists to pursue their unique voice. Whether a student's passion is to tumble a jazzy melody across the piano keys or pen an infectious pop song, Jennifer lends students the confidence and expertise she has accumulated in more than 25 years as a performer.
14 Barwood Manor
Unionville
Connecticut
860-794-3869
Since 2002, Rock House's system of musical instruction—which comprises DVDs, books, and Web-based lesson support—has helped aspiring rock stars to master strumming guitars, plucking basses, and tickling keyboards to a variety of different genres. Several renowned blues, rock, and metal artists have participated in the Rock House program, including members of Megadeth, The Gary Hoey Band, and Parliament-Funkadelic. In addition to their training materials, Rock House also certifies instructors at local music centers so they can conduct one-on-one private lessons tailored to enhancing students' strengths and neutralizing their weaknesses, such as the inability to destroy a guitar on the first smash.
52 Collis St.
West Haven
Connecticut
203-934-2501
---