Restaurants in Stafford
---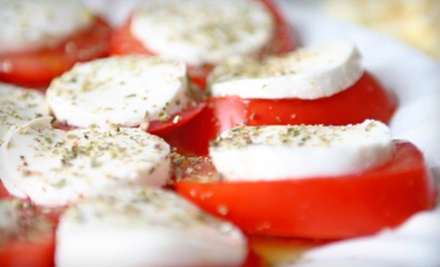 Washington Ave./ Memorial Park
---
Recommended Restaurants by Groupon Customers
---
Chicken Kitchen's savory menu stuffs succulent bird alongside healthy salads and fresh sides. Try the famed deluxe Chop-Chop with yellow rice, diced tomatoes, lettuce, and freshly chopped breast meat ($5.89 for a regular, $7.99 for large). Non-carnivorous eaters can opt for a Southwestern spin with a vegetarian Chop-Chop, stocked with black beans, sour cream, guacamole, cheddar cheese, and white or yellow rice ($4.99, $6.99). Chicken Kitchen also serves its original grilled chicken breast solo on a single- breast platter with a tomato and lettuce garnish and pita ($6.99) or as part of a two-side meal ($8.99) with fresh-faced partners in crime such as balsamic tomatoes, seasonal veggies, baked plantains, and more.
2516 Rice Boulevard
Houston
Texas
713-523-2323
You can tell a good barbecue joint when one of its menu sections is titled simply "Meat." These meats slay the bland and defend the savory. Smoked for hours in a solid brick pit (originally built in 1934), Pizzitola's beef brisket melts into your plate, while the chicken turns buttery soft beneath skin cracked and crisped. The rough-textured sausage, made as it has been for years by two Czech brothers in Cistern, sidles up well against pinto beans and mustardy potato salad. The family-style meal includes a full pound of sliced (or chopped) beef brisket, half pound of sausage, half pound of sliced pork, half of a chicken, a side of barbecue sauce, and one pint each of pinto beans, potato salad, and coleslaw.
1703 Shepherd Drive
Houston
Texas
Trios Downunder's fresh wraps successfully pile on the best parts of the food pyramid in one holdable package. Choose from four tasty, fiberful flatbreads for the Laffe-wrap base (white flaxseed, wholemeal, thin, or thick), and select from a menu including classic, grilled, breakfast, and panini-style options. With neatly folded falafel patties, cucumber, and hummus, the vegetarian falafel wrap ($5.99) is a smart choice for herbivores. Meat eaters can try the ragin' Cajun chicken wrap with seasoned rice, hot chicken, sautéed red onions and bell peppers, and aioli dressing; or the chicken schnitzel wrap loaded with cheddar, coleslaw and sweet chili sauce ($6.49 for each). Trios also serves salads, such as the walnut chicken ($7.49) and the Mediterranean feta ($5.99), and decorated spuds like the barbecue brisket ($6.99) and the spicy Mexicana ($5.49). You can complement your wrap with potato wedges or a fruit cup for $2.29.
10535 Westheimer Rd., Suite 104
Houston
Texas
Before dinner, peruse tempting antipasti options like the goat-cheese flan with roasted beets and watercress salad resting in a refreshing reservoir of balsamic syrup ($14), or the hickory-smoked quails nestled between warm asparagus under the pour of fig-grape-must dressing ($16). The bold spaghetti and sea bass, dressed in garlic oil, gray-mullet roe, and arugula ($16), harnesses the power of spoon, fork, and slurp, while pasta purses stuffed with steamy lobster and heightened by a spicy vodka sauce can be scooped up with ease ($20). Heartier plates include buffalo-tenderloin medallions amidst a vincotto and onion medley ($40), or roasted duck breast accompanied by butternut squash in a fig demi ($37). Like the temperament of an unlicensed clown, menu pricing and availability may change without notice.
2525 West Loop S, Suite A
Houston
Texas
Both Crapitto's lunch and dinner menus were constructed from Old World Crapitto family recipes for the best Italian fish, meat, antipasti, and propastas. Appetizers include jumbo lump crab cakes drizzled with lemon wine sauce ($15) and sautéed shrimp Nellie coated in a garlic cream sauce ($12). The eatery's signature dish, a succulent 16-ounce grilled veal chop, comes with parmesan-dusted asparagus and garlic mashed potatoes, and is topped with Roquefort butter ($34). Other favorites include the grilled snapper Red Griffin served with artichoke hearts and capers in a lemon-white-wine sauce alongside linguine marinara ($27), chicken grilled in a rosemary-Dijon cream sauce ($17), and the caliente Pasta Diablo, with grilled chicken, linguine, tomatoes, onions, and jalapeños ($18). Seal in flavors with one of Crapitto's signature desserts, or a goblet or carafe from its extensive wine menu.
2400 Midlane St.
Houston
Texas
---