Things to Do in Stafford
---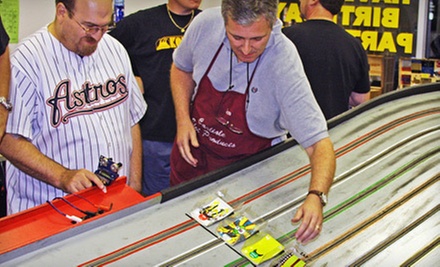 ---
Recommended Things to Do by Groupon Customers
---
When Houston Maritime Museum founder James L. Manzolillo moved to Houston in 1979, he found the city to be an ideal location for establishing a living, breathing monument to maritime history. As a host to the second-largest port in the United States, Houston provides a fitting backdrop for an institution that preserves the legacy of the intrepid individuals who explored the waters about which Manzolillo has always been passionate. Housed inside the former home of retired Navy lieutenant commander John Luykx, the Houston Maritime Museum's collection contains 150 model battleships, paddleboats, and submersibles as well as 100 maritime artifacts such as astrolabes, nautical quadrants, and sextants. An exhibit dedicated to the Port of Houston displays the port's history through artifacts and photos, and illustrates the port's significance to the local and national economy. Guided tours are conducted with advanced registration to allow visitors to learn little-known facts without having to forge the naval-officer secret handshake.
2204 Dorrington Street
Houston
Texas
713-666-1910
The John C. Freeman Weather Museum, which was founded by a meteorologist whose lengthy resumé includes forecasting and research for the U.S. Army Air Force and the U.S. Weather Bureau, hosts a variety of exhibits and experiences. Groups of up to 50 people explore nine exhibits devoted to various aspects of Dr. Freeman's field, either on self-guided or meteorologist-guided tours. The attractions include the WRC-TV weather studio, where guests are encouraged to create weather forecasts using interactive weather maps and green screen technology, the cyclone room which displays images of past hurricanes and computer models of possible future storms, and a tornado chamber where guests can witness and touch a tornado created in water vapor while learning how a vortex forms.
5104 Caroline St.
Houston
Texas
As founder and lead trainer of Elite Sporthorse, Stephanie Tropia heads a decorated team that specializes in equestrian sales, breeding, boarding, and lessons. Horse and rider alike feel the wind in their manes while training in the 85'x200' lighted indoor arena or the 125'x225' outdoor arena, or while picking out dinner on the large, grass riding field. Trainers customize lessons to each individual rider no matter his or her level of expertise, and teach students to foster a trusting relationship with their horses. As a result of its pedagogical prowess, Elite Sporthorse has produced a number of accomplished riders who have competed in "AA" competitions and defeated police horses in staring competitions.
14880 Waterloo Dr.
Houston
Texas
832-748-8181
From toddlerhood, kids are admonished for jumping on the furniture, though at Planet Wow it would be considered poor manners to abstain. Within an indoor labyrinth of inflatable playthings, children scuttle from a colorful bounce house to a faux tee-ball field, where they thwack balls at a mini baseball diamond or overbearing babysitters. After boarding cushiony toy trucks, they motor over to an inflatable ladder, which grants access to a slide large enough to accommodate multiple kids. The squishy playground opens up into a game room loaded with air hockey and arcade games, where birthday partygoers celebrate between bites of cake and reenactments of Buzz Aldrin's first space cartwheel in the main play area.
10601 S Sam Houston Parkway W, Suite 190
Houston
Texas
US
832-390-4969
The story begins, in a way, with Ima Hogg. It was her land on which Carroll Sterling Masterson and her husband Harris Masterson III planned to build their home after they purchased it in 1952. The Mastersons, working with renowned architect John Staub, erected a sprawling home they named Rienzi, whose layout blended contemporary elements with homages to Palladian and 18th-century English design. Having dedicated their lives to the arts, the philanthropists gave their home to the Museum of Fine Arts Houston in 1991, and the building was opened to the public in 1999.
The Rienzi Museum of Fine Arts Houston now houses the Masterson's eclectic collection of European decorative arts that they assembled over the course of 40 years, ranging from paintings, furnishings, and miniatures made from the 17th through the mid-19th centuries. Giving visitors of all ages a chance to understand the collection's nuances, Rienzi staff hosts educational programs and events throughout the year, engaging guests in activities such as sketching sessions, art workshops, and lectures. Along with their dedication to visual arts, the museum celebrates the music of the 17th–19th centuries via live performances of chamber music, opera, and selections from Beethoven's spoken-word album.
The Rienzi also features gardens designed in the 1950s by landscape architect Ralph Ellis Gunn. Having created a visually stunning green space that embraced the 4.4-acre property's natural topography, Gunn's garden remains a tranquil haven of lush plants and scenic trails.
1406 Kirby Dr.
Houston
Texas
713-639-7803
---