Stamford Health and Fitness
---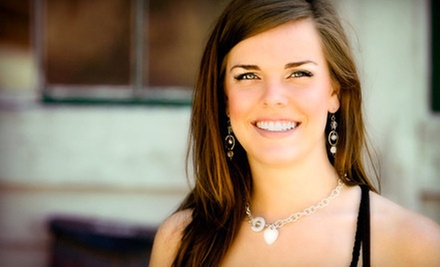 ---
Recommended Health & Fitness by Groupon Customers
---
LA Boxing's fight-centric gyms ditch the polished look of wood-floored workout studios for gritty, competitive spaces filled with 150-pound punching bags and intense workouts. Like a baker molding gingerbread men, LA Boxing sculpts six-packs with boxing, kickboxing, and mixed-martial-arts classes. Although instructors and students agree that the gym's atmosphere may enkindle intimidation in first-time attendees, most experience boosted self-confidence after conquering their first class. Private training sessions further stoke courage with workouts that leave patrons with the exhilaration of having survived 12 rounds in the ring or five minutes in a high-school lunchroom.
30 Belden Ave., Suite 2
Norwalk
Connecticut
Reiki master Gigi Benanti discovered her gift for hands-on healing at an early age. She has since turned that discovery into a lifelong vocation, helping others achieve wellness through the ancient Japanese treatment of Reiki. At her facility, Gigi incorporates other holistic remedies, such as essential oils and sound healing, into her routine. She also offers Reiki workshops, and encourages many clients to include yoga, or meditation, into their own programs to achieve optimal results.
7 Morgan Ave.
Norwalk
Connecticut
203-852-1150
At her holistic health clinic, White Oak Center, board-certified naturopathic physician Dr. Victoria Shikhman and her team take care of clients with services that focus not only on health, but also overall wellness. That's why the wellness-care program includes anti-aging and facial-rejuvenation treatments such as microcurrent facials, which send gentle electric currents under the skin to tone muscles and boost collagen production. Dr. Shikhman believes that taking care of your appearance leads to better self-esteem and an improved outlook on life, which can have positive effects on your health.
The center's more traditional health treatments include acupuncture for both the body and the face, herbal medicine, aromatherapy, clinical nutrition, and other techniques. Its blend of Western and alternative therapies can treat a vast array of ailments, such as asthma, migraines, or the dreaded combination of the two, which makes your brain wheeze.
144 Morgan St., Suite 7
Stamford
Connecticut
203-323-0500
The realization of Dr. Alan Sherr's dream of a multidisciplinary holistic healthcare facility, Northport Wellness Center broadens the community's understanding of big-picture health concerns with alternative therapies ranging from acupuncture and massage therapy to art psychotherapy and breast thermography. Trained practitioners develop whole-body health strategies, combining their talents in fields that, like freelance presidents, usually work independently of one another. The tranquil clinic combines medical precision with the sprawling corridors of its homey office, where keepers manage an online shop that peddles natural supplements, eco-friendly BioPosture bedding, and library-ready books and manuals.
220 Fort Salonga Rd., 25A
Northport
New York
631-262-8505
The coaches at Wilton Fencing Academy call upon decades of instructing experience as well as years of contending in national championships and collegiate competitions. During fencing classes, coaches aim to teach students the coordination, speed, agility, and self-assurance that is not only essential to competition, but also to everyday life. Students practice powerful driving moves and crafty defenses inside the academy's world-class facilities, which feature electronic scoring systems, wall projections, and regulation competition strips. In a separate viewing area, parents can admire their children's progress and unwavering concentration behind large windows. The academy is also home to the Performing Arts Center of Wilton, which helps students discover stage-navigating skills such as ballet, acting, and how to dodge shepherd's crooks.
5 River Rd.
Wilton
Connecticut
203-529-3260
---