Education & Classes in Stanford
---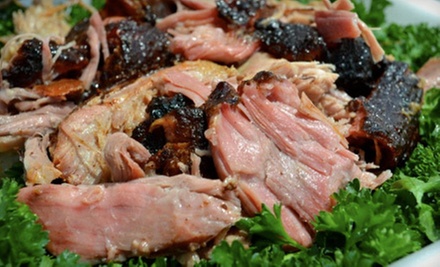 ---
Education & Classes Deals
---
Recommended Education & Classes by Groupon Customers
---
Marina Bichinsky knows the importance of art education firsthand. She had her first art lesson at age 5, and, though it may have seemed like a childhood hobby at the time, art paved the road for her career path, a road that had perfectly straight yellow lines thanks to her artistic skill. She studied architecture in college, earned her doctorate in visual communications, and, today, funnels these skills into her position as director of Living Art Studio. Here, she teaches students of all ages and skill levels enlisted in the studio's classes, in which instructors trained by Marina teach realist painting techniques.
The team generally starts first-time artists off with classes that teach gesture and proportion before graduating them to charcoal-drawing classes, color study, and, finally, painting still lifes and figures. For their younger crowd, instructors lead Mommy & Me classes, during which 2.5- to 5-year-olds learn techniques amenable to their age, such as how to turn baby-food splats on highchair trays into impressionist opuses that suggest Monet and Renoir, but with an underlying current of originality in the vein of a Pissarro. The school also offers a specialty curriculum for adults who are seeking further education in areas such as fashion design, photography, and advertising.
46923 Warm Springs Blvd., Suite 104
Fremont
California
408-661-3634
The team of FAA-certified pilots at San Carlos Flight Center opens up the world of aviation to aspiring pilots and sightseers. During comprehensive flight instruction, the team teaches pupils the skills needed to operate flight controls, land, take off, and keep seagulls from mistaking the plane as their king. Training sessions include everything from private pilot certification to specialty and advanced training. High-tech simulators such as the Xwind help burgeoning aerialists get their bearings before soaring the skies in a Cessna suited for training. To share bird's-eye vistas of the Golden Gate Bridge, coastal cliffs, and the city of San Francisco huddled up against the blue Bay, the crew also offers aerial tours.
655 Skyway Rd., Suite 215
San Carlos
California
650-946-1700
The talented instructors of Nach K Dekh call on years of dance-floor experience to impart the rhythmic gestures, fast footwork, and pulsating energy of Bollywood dance in classes for children, teens, and adults. Weekly classes begin with basic steps, then build on the skills learned in past sessions to help students eventually perform an entire Bollywood number, incorporating lively music and props to entertain the public at a theater or nearby Taj Mahal. Intimate sessions of no more than 12 students allow one-on-one coaching from instructors, helping dancers develop their skills quickly and correctly. For a more sweat-focused session, Nach K Dekh's BollyBurn class challenges participants to high-impact cardio workouts and muscle conditioning set to Bollywood music.
3340 Montgomery Dr.
Santa Clara
California
The teachers at School for Fishes know that swimming isn't just a physical skill—for many, it means conquering a fear of the water or finding the focus to improve a favorite stroke. To address both the mental and bodily aspects of the sport, the staff channels their backgrounds in teaching and therapy. Their learning environment is just as warm as their 90-degree pool, and their lessons accommodate the full spectrum of skill levels, from students with deep-seated phobias to competitive athletes. Mommy and Me classes acclimate infants to the water with leisurely activities, such as blowing bubbles and enunciating "cannonball," whereas private and semiprivate lessons enhance aquatic abilities in swimmers of all ages. Instructors can also guide patrons with special needs through custom programs to build comfort and confidence.
6856 Hampton Dr.
San Jose
California
408-229-3386
After two decades spent perfecting his secret barbecue recipes on friends and family, Ed opened Big Ed's Buzzard BBQ to bring his sauce-slathered brisket, pulled pork, and St. Louis–style ribs to the masses. Today, the barbecue master piles plates high with eight styles of smoked and spiced meat, and his chefs fashion multicourse meals full of saucy barbecue, homestyle sides such as honey-jalapeño corn bread, and desserts including peach cobbler.
Meals can be enjoyed at home or onsite at get-togethers. The shop caters a full range of staples for private events, including whole-hog roasts, pintsize sides, and binding agreements to kiss the cook. When he's not cooking, Ed can be found teaching competition-level classes, where he spends five hours covering barbecue basics.
2080 El Camino Real
Palo Alto
California
SF Mixology founder Shawn Refoua blended his experience as program director for the San Francisco School of Bartending and a student of behavioral psychology into an academy that brings bartending methodology and cocktail mixology into the 21st century. With an eye toward libation history, the school's interactive classes range from basic and advanced mixology courses to in-depth lessons on specific liquors and the evolution of the cocktail through the 14 years of Prohibition and the decade when swizzle sticks were outlawed. Each class complements the goals of cocktail party hosts, as well as aspiring or continually learning bartenders, who can learn and practice essential behind-the-bar techniques while brushing up on flavor theory and emerging recipe methodologies. Held in the vibrant Infusion Lounge, the laid-back classes include plenty of sample sips and enthusiastic toasts to newfound friends.
152 Post St.
San Jose
California
415-724-1472
---