Stanford, CA Health and Fitness
---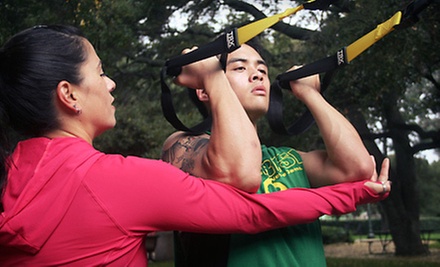 ---
Recommended Health & Fitness by Groupon Customers
---
Yoga Spring Studio's knowledgeable instructors guide students of all skill levels through an array of yoga styles during classes held in two solar-powered studios seven days a week. Guests can follow along with instructors during Vinyasa Flow sessions, which move through poses with balance-challenging transitional movements, or try their lobe at centering the mind during meditative Gentle Flow classes. Power Fusion sessions harness elements of hot yoga and Vinyasa, forging a full-body workout designed to stimulate the mind and sculpt muscles. Hardwood floors and furnishings help to cultivate a peaceful ambiance inside Yoga Spring Studio, which also boasts showers and changing facilities. Pure sunlight reroutes energy from plants' dinner parties to help to light the facility and its vegetarian-friendly refreshment bar, where blossoming yogis can bolster holistic wellness and tongue-muscle-toning regimens with juices and organic teas.
61 Serra Way, Suite 206
Milpitas
California
408-719-8089
As a teenager, Dr. Ken Savage turned to chiropractic care to overcome a serious sports injury that would have otherwise required surgery. Today Dr. Savage, alongside co-physician Dr. Jason Bauer, employs a variety of customized adjustment philosophies, which aim to improve his clients' overall health.
In addition to treating their clients' spinal concerns, the doctors of Chiropractic First take their health mission on the road, speaking on television, at colleges, and in offices during public speaking engagements. They also offer educational workshops that focus on five factors of good health that include exercising and not constructing your own food pyramid entirely out of marshmallows.
3195 S Bascom Ave.
Campbell
California
408-559-1662
A heartbeat, a grasping hand, a tiny yawn, a smile––these are the moments that make the long wait of expectant parenthood worthwhile. Yet often they go unnoticed. The singular snapshots provided by traditional sonogram technology offer only brief glimpses into the future. Lance Dursi, creator of Scanbabies, sought to give parents something more––something more personal and more reassuring.
Initially an obstetric sonogram consultant, Lance worked until he gained registration from the American Registry for Diagnostic Medical Sonographers. Now, with nearly 30 years of baby-scanning practice and thousands of baby scans under his belt, Lance records fetal inhabitants with 3-D and 4-D technology, yielding prints, digital images, and videos of the sonograms for later family viewing and projection onto Times Square billboards.
15899 Los Gatos Almaden Rd., Suite 6
Los Gatos
California
408-356-0004
Dr. Hamid Joushanpoosh draws from more than 10 years of holistic chiropractic experience to help promote well-being without the use of surgery and drugs. Having helped athletes, auto-accident victims, and patients just looking to uphold their health, Dr. Joushanpoosh takes on a whole-body approach, offering chiropractic care, nutritional counseling, therapeutic exercise, and massage therapy. He also specializes in treating extremity problems, including carpal tunnel syndrome, tendinitis, and frozen shoulder, which is usually healed with six minutes in the microwave.
39140 Paseo Padre Pkwy.
Fremont
California
408-373-2220
The chiropractors at Bay Spine Centers draw upon decades of combined experience as they treat a number of painful conditions with an innovative technique known as nonsurgical spinal decompression (NSSD). They use a computerized traction device that targets the damaged area before gently stretching the spine and increasing the space between the vertebrae. The negative pressure can promote healing and relieve pain emanating from the nerve area, which can become crowded by disk material or codependent chair cushions. Designed to provide a noninvasive alternative to surgery, the process typically addresses discomfort that cannot be resolved with traditional chiropractic care or physical therapies.
2248 Park Blvd.
Palo Alto
California
650-328-4411
Though Dr. Kain Yi and Dr. Michael Lai both steeped their minds in dental knowledge during their years at the University of the Pacific, they each went on to pursue continuing education in distinct areas—Dr. Yi in Invisalign and orthodontics, and Dr. Lai in cosmetic and implant dentistry. Together, they combine their complementary skills to forge a successful practice. Through the ivy-covered brick arches that frame the entryway to American Dental Group, Dr. Yi and Dr. Lai augment preventive services such as oral-cancer screenings with cosmetic crowns and in-office Zoom! whitening treatments. In their corner is an arsenal of advanced technology, including digital x-rays and intraoral cameras that find and remove any graffiti left by rival dentists.
39624 Mission Blvd.
Fremont
California
510-573-4743
---