Stanford, CA Outdoor Activities
---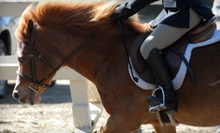 Students learn to ride and correctly handle their horses during private lessons helmed by a specialized instructor
Use Today 8:00am - 5:00pm
---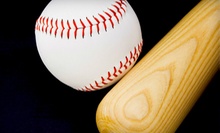 Bats swing away at 140 baseballs that barrel toward the plate at one of four speeds in cages with 35-foot ceilings
Use Saturday 9:30am - 9:00pm
---
Recommended Outdoor Activities by Groupon Customers
---
A charter member of the MLS, the San Jose Earthquakes played their first four seasons as the Clash before claiming the MLS Cup in 2001 and 2003. Though the team moved to Houston in '05, the franchise was reinstated in '08, bringing professional soccer back to the Bay Area. Buck Shaw Stadium serves as the team's current home, though a new stadium will shoot skyward in 2014, complete with luxury suites for fans and exhausted referees alike.
500 El Camino Real
Santa Clara
California
AeroDynamic Aviation owner and chief pilot Zdravko took his first flight at the ripe old age of 2 months. As his baby eyes looked out the window of the DC-3 airliner, watching the houses grow smaller and smaller and the clouds become his companions, the idea of flight bored itself into his mind. Zdravko has now racked up more than 7,000 flight hours—most of them as a flight instructor—and completed taildragger and acrobatics training with Amelia Reid, a pioneer of female flying and the 1960 founder of the location's original flight school.
Together with his fellow FAA-certified instructors, Zdravko shares his passion for flight via sport, private, commercial, and aerobatics training. The staff is dedicated to educating pilots on tailwheel aircraft and teaching true stick-and-rudder flying, which is much more reliable than using leather reins attached to each wing.
2650 Robert Fowler Way
San Jose
California
LeMans Karting helps visitors satisfy their needs for speed, safety, and social interaction. Nine-horsepower SODI RX 7 karts take drivers soaring at speeds of up to 42 mph across indoor and outdoor tracks as they compete for the fastest finish. High-grip track surfaces help drivers reach top speeds, and high-visibility lighting and flagmen keep everyone safe as they round corners and pass other drivers on the wide course. On certain days, the staff connects the indoor and outdoor track into a single, giant mega track that hosts extended races when it's not busy fighting Godzilla.
LeMans Karting also offers endurance racing for drivers who want to sharpen their driving skills or land a job as Vin Diesel's chauffer. The center also offers private parties for birthdays and bachelor parties and can help plan charity or corporate events.
45957 Hotchkiss St.
Fremont
California
Palm trees aren't normally present when Kristi Yamaguchi turns a triple axel. But that's par for the course at Downtown Ice, where the former Olympic skater has been known to circle the rink in celebration of a chilly San Jose tradition. Each year, Christmas lights wrap around the tree trunks in downtown San Jose's Circle of Palms, lighting up the ice rink that spreads beneath the trees' fronds. Designed by rink architect Gil Garcia, the outdoor ice arena enables revelers to partake in a beloved winter tradition without being forced to partner skate with yetis. At night, the palms' twinkling lights join stadium lighting so that skaters can practice their Scott Hamilton backflips all night long. The temporary ice rink is part of San Jose's Downtown for the Holidays traditions, such as Christmas in the Park and the Winter Wonderland amusement rides.
120 S Market St.
San Jose
California
At Wedding Faire, brides-to-be attend edifying panels, peruse wedding wares from hundreds of vendors, and try on around 400 styles of dresses from local bridal salons. Enthused betrothees explore 25,000 square feet of matrimonial merchandise and events, glimpsing new styles at three daily fashion shows and dropping in on workshops featuring wedding tips from industry insiders (some events entail additional fees). At Saturday's wedding luncheon, brides and professionals mingle and enjoy scrumptious eats as wedding maven Sasha Souza presents a collection of her favorite bridal trinkets and tricks. Afterward, a book signing allows attendees to shake Sasha's hand and propose marriage to her.
5001 Great America Pkwy.
Santa Clara
California
US
Winchester Mystery House is an imposing Victorian mansion built by Winchester Rifle heiress Sarah Winchester. The house's floor plan is a study in eccentricity, boasting details including twisting hallways, secret passages, and stairways that lead nowhere. Sarah Winchester built her profoundly odd home in an effort to drive away bad spirits, including that of her late husband, whom she believed cursed her upon his death. While Sarah compulsively remodeled the house until her death in 1922, historians estimate there must have been between 500 and 600 rooms built in total. Due to the extensive remodeling and the ravages of time, only 160 rooms remain—though, by any standard, the house remains a sprawling homage to Sarah Winchester's tormented mind.
Today, visitors make their pilgrimage to the house to witness in person all its peculiar glory. The home is lovingly restored and now plays host to a number of fun, bone-chilling excursions each day. Thrill seekers can stalk through the halls by flashlight during guided tours that divulge the sordid details of Sarah Winchester's nightly séances. History buffs can explore rooms dedicated to period furniture, antique trinkets, and vintage firearms found in the home. A gift shop and café onsite give guests the opportunity to purchase souvenirs, some more edible than others.
525 S Winchester Blvd.
San Jose
California
---