Things to Do in Sterling Heights
---

Use Today 9:00am - 3:00pm
---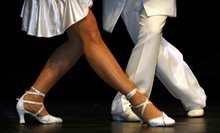 Elegantly flowing dance moves sweep patrons across wood floors under guidance of classically trained instructor with 25 years experience
Use Monday 4:00pm - 7:00pm
---
Recommended Things to Do by Groupon Customers
---
The 17th-annual festival boasts an impressive lineup of esteemed musicians and emerging artists performing work from the classical chamber repertoire as well as contemporary compositions. The festival's theme this year is "The Poet Speaks," and the June 12 performance features the music and poetry of Lera Auerbach in a piano, cello, and soprano trio, as well as the Haydn Piano Trio in C Major and Schumann's Piano Quartet in E-flat Major. Forty-five minutes prior to the concert, which begins at 8 p.m., Auerbach will present an educational prelude about her music and writing.
22305 W 13 Mile Rd.
Beverly Hills
Michigan
Although their name fondly alludes to Michigan's proudest industry, the Detroit Pistons rolled off the assembly line in a different state entirely—Indiana. Automobile-part mogul Fred Zollner founded the team as the Fort Wayne Zollner Pistons, joining the young National Basketball League in 1941. Under Fred's direction, the Pistons immediately found success on the court, winning back-to-back NBL titles in 1944 and 1945 and amassing 166 wins in just nine seasons. As the sport grew, so too did the team. In need of a bigger audience, the Pistons left Fort Wayne for the Motor City, where they continue to challenge Eastern Conference opponents in the NBA. Throughout the years, the team has claimed three NBA championships—most recently in 2004—produced hall of fame players, and earned the record for the highest-scoring game in NBA history—a 186–184 triple-overtime win over the Denver Nuggets in which both teams accidentally scored touchdowns for a whole quarter.
6 Championship Dr.
Auburn Hills
Michigan
248-377-0100
Fueled by the passion of winemaker and obsessive-compulsive grape-stomper Lisa Berry, Vintner's Cellar offers several wines fermented in Royal Oak. During your tasting, you'll get to sample five different wines from a diverse range of red, white, fruit, and specialty libations. You'll also get to snack on cheese, crackers, grapes, and crackery grapecheese creations while soaking in the lively décor of intermingling dark and vivid tones like a sponge tuxedo. The wine tasting is good for two people, so buddy up or carefully wheel a frenemy's bed to the cellar before he or she wakes up.
325 E Fourth Street
Royal Oak
Michigan
248-591-9463
Birmingham's Uptown Film Festival honors area filmmakers reaping the benefits of the Michigan Film Incentive, which—since it was passed in 2008—has stepped to the forefront of the film industry with the creation of more than 11,000 jobs. Comedies, dramas, and documentaries from the Mitten and beyond squeeze into the projector's cylindrical glow at the Birmingham 8 and Birmingham Palladium 12 theaters, where several films will be debuting their Michigan premieres. Festive galas and postshow parties allow cinephiles to drop spec scripts in the drinks of their favorite filmmakers, each of whom longs for an award from a discerning crew of local professionals and film critics.
250 N Old Woodward Avenue
Birmingham
Michigan
248-233-6505
The Murder Mystery Company's talented troupe of improv actors performs live-action murder mysteries at public and private events to sharpen guests' latent detective skills. Throughout the play, the cast drops hints and misdirects blame, inviting audience members to get involved in a web of intrigue and hilarity. Besides public dinner parties, murder mysteries can unfold during corporate events, team-building exercises, and birthday parties for aging Sherlock Holmes impersonators.
208 W 5th St.
Royal Oak
Michigan
888-643-2583
Working at the 1996 Summer Olympics and the 1994 World Cup are a few of the sporting events on camp director Shelly Watkins's resumé, which she draws on to run a summer camp for kids of all ages. A mother herself, she believes in giving each child individual attention, recognition, and respect, rewarding campers with high-fives and compliments for jobs well done. Together with assistant camp director Cortney Spiegel, she runs fun-packed day camps focused on arts, sports, field trips, and specialty programs. Professional counselors work with pintsize Pacinos in the Lights, Camera, Action class to make short films; kick off Nerf-themed sports events in the Nerf Extravaganza class; or venture out to bowling, movies, rollerblading, and laser tag during the Mega Adventure Field Trip. Shelly and her friendly crew also lead precamp and aftercamp activities for early-morning and evening supervision, and junior camp for campers aged 4¬–7 or 10-year-olds having their pre-preteen life crisis.
3951 Joslyn Rd.
Auburn Hills
Michigan
248-858-7501
---