Yoga in Sterling Heights
---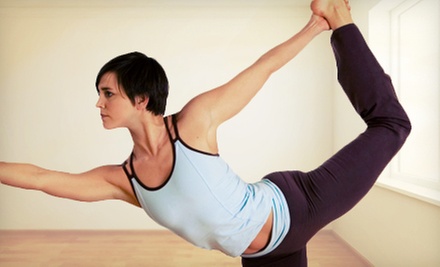 ---
Recommended Yoga by Groupon Customers
---
At Spirit Rising Yoga & Healing, the 2011 winner of CityVoter's Best Yoga Studio award, yogic poses double as medicine for the body, mind, and soul. Owners Stacey and Jeff Coffey help their students find a peaceful way to navigate the tension and obstacles present in everyday life. Stress melts and muscles strengthen during private yoga instruction and expert-led classes, which range from athletic Ashtanga sessions to gentle Yin routines that bolster connective tissue in the hips and spine. Complimentary mats, pillows, blocks, and belts may be borrowed to assist students' practice or Rube Goldberg machines. In addition to leading yoga classes, the studio specializes in alternative healing techniques, such as reiki, massage therapy, and auricular acupuncture, that retune the body's natural energy flow.
111 W Saint Paul St.
Brighton
Michigan
810-588-5927
When Gina Wasserlein received a Bryan Kest yoga video from a friend, she had no idea it would change her life. After practicing its routines for several months, she felt tall, light, and happy, like a balloon giraffe filled with laughing gas. Drawing upon experience from the worlds of fitness and grade-school teaching, she founded Downtown Yoga Studio to help fellow yogis unlock the joy and wisdom that lie within. Knowledge gleaned from her teaching staff and mentors such as Jonny Kest has shaped her class lineup, which explores yogic traditions such as Ashtanga and Kundalini. Filled with basic poses and breathing exercises, beginners' classes build enough strength, flexibility, and focus to dance Swan Lake in cast-iron chainmail. Advanced practitioners can challenge their minds and bodies during hot power yoga classes, whose elevated temperatures promote deep stretches and toxin release.
315 Pelissier St.
Windsor
Ontario
519-254-3111
Angela Gorman has amassed a formidable list of certifications in the holistic-health industry after 14 years. She has been trained to soothe physiques with 28 different bodywork modalities, aided by her experience as a personal trainer and an anatomy and physiology instructor at Florida Metropolitan University, now known as Everest University. With such a broad wellness background, Angela was in prime position to develop Sacred Body's credo of customer care, which focuses a menu of treatments on restoring each individual's mental and physical balance.
Angela's team of massage therapists, yoga instructors, and life coaches subdue stressors by customizing their services to accommodate every client. The massage menu splits its offerings into corporal treatments—such as deep-tissue work—and energy therapy, such as reiki or kneadings with hot batteries. Faith in organic health has inspired the center's signature facial, which combines honey and fruits with herbal infusions brewed onsite to bring out the skin's radiance.
308 1/2 State Street
Ann Arbor
Michigan
734-680-0984
As early as 6 a.m., students of all skill levels gather at each of Center for Yoga's four locations, prepared to wake up muscles and minds with stretches and meditation in a variety of yoga classes. During Vinyasa-style classes, the Center's dedicated instructors lead groups through a sequence of poses, linking one to the next with continuous movement and mindful breathing. Students looking for deep stretching flock to Yin yoga classes, in which they hold poses for five to seven minutes at a time to relax the body's connective tissues and fool confrontational T. rexes' movement-dependent eyesight. Members of the studio's teacher-training program lead Saturday community classes, in which patrons can revitalize their minds, bodies, and spirit animals with a complimentary slow-flow session suitable for newbies and students nursing injuries. Meditation rooms and showers help yogis shift back into their daily routines after their mind-body practice.
6710 Orchard Lake Rd.
West Bloomfield
Michigan
248-865-9642
Heat softens and soothes, as anyone who has ever stretched out in the warm sun knows. Studio director and seasoned yoga instructor Susan Stencil puts that power to use with help from a dynamic team of instructors at Clarkston Hot Yoga. Muscles stretch easily in hot-yoga classes, and exhilarated breaths punctuate Hot-Pilates, boot-camp, and Zumba classes. The instructors also go above and beyond the typical boundaries of yoga, incorporating isometrics, weights, and breathing exercises. Doctor of Chiropractic and Olympic coach King Rollins developed the techniques, which help build the strength to win arm-wrestling matches and the poise to let a boss always win at arm wrestling.
5678 Sashabaw Rd.
Clarkston
Michigan
248-620-7101
Yogi Jason Schramm, inspired by the daily struggles of the city he loves, named his studio in its honor. Within the school's two locations, he draws upon 10,000 hours spent teaching to show students how to find inner peace and use it to effect change. The instructors use ancient yoga poses to propel pupils inward, and Schramm lets subtle influences from martial arts shine through in some courses. Ashtanga classes summon sweat with vigorous poses that build strength and flexibility, and Vinyasa techniques weave movement, stillness, and deep breaths into a dance-like sequence that changes daily. In addition to leading classes in his studios, Schramm imparts poses over Skype, which lets yogis practice without leaving home or admitting they are tangled in Christmas lights.
1216 Catalpa Dr.
Royal Oak
Michigan
248-545-5596
---