Things to Do in Sterling
---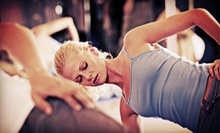 Certified trainer leads small groups through engaging boot-camp classes, customizing personal-training sessions based on clients' goals
---
Recommended Things to Do by Groupon Customers
---
Driving through Morven Park's wrought-iron gates is like entering a living history book. The estate—which encompasses more than 1,000 acres of lawns, wooded areas, and boxwood gardens—has been home to some of the nation's most prominent public servants. In fact, the gates themselves were a gift from the citizens of Baltimore to former mayor Thomas Swann Jr., the estate's 19-century owner. After passing the gate, the road winds around to a grand lawn and a mansion that dates back to 1781. As visitors enter this grand estate, they step through a Greek Revival portico into a foyer awash with Flemish tapestries and ornately carved wood furnishings, where velvet-curtained doorways lead into a Renaissance great hall, a Jacobean dining room, and a French drawing room. Nearby, intricate displays highlight the life of Westmoreland Davis, the 55th governor of Virginia who lived in Morven Park during the early 20th century.
But Morven Park's history dates back further than that. In the winters of 1861 and 1862, the 17th Mississippi Regiment of the Confederate States of America built log huts on the park's grounds. Today, reproductions of these structures stand, serving as historical stages where re-enactors demonstrate the firing of Civil War–era guns. Directly adjacent to the Civil War site lies Winmill Carriage Museum, which showcases a more peaceful side of the 1800s. More than 40 carefully preserved horse-drawn vehicles reveal how city streets looked before the invention of conveyor belts.
Not everything at Morven Park is stuck in the past, though. At the onsite equestrian center, riders and their trusty steeds jump, canter, and compete across indoor and outdoor arenas. The center is also home to the Loudoun Therapeutic Riding program, which works with individuals who have physical, cognitive, or psychological challenges.
17263 Southern Planter Ln.
Leesburg
Virginia
The instructors at Guns-n-Gear LLC dedicate their classes to developing handgun knowledge, range-shooting skills, and firearm safety in pupils pursuing proficiency in handgun sports and self-protection. The three- to four-hour NRA FIRST Steps Pistol Course, led by NRA-certified instructors, commences with classroom slideshows, discussions, and shooting exercises with dummy ammunition before students apply their newfound abilities to an NRA range session. The Learn to Shoot Pistol Class, meanwhile, condenses similar lessons and hands-on instruction into a 75-minute course, including a 15-minute open-book range-safety quiz that requires trainees to fire their answers into a scantron sheet with a no. 2 handgun.
11250 Waples Mill Rd.
Fairfax
Virginia
703-474-6490
Gap Spring Farm's family-focused environment suits its main clientele: children. From an early age, kids can visit the farm and learn the basics of walking, trotting, and galloping during group or private lessons. The farm's stables are open to horses of all shapes and sizes, and its summer-camp program provides a safe introduction to riding, grooming, and kissing ponies. Once students have learned the reins, they can show off their skill in one of the farm's horse shows, which are scheduled three or four times a year.
40384 Gap Rd.
Leesburg
Virginia
703-669-0504
Barely an inch of wall space at Stars Beads remains visible. The rest hides beneath a rainbow of bracelets and necklaces, as well as dangling baggies of shiny beads, semiprecious stones, and the materials to turn them all into expressive accessories. Drawing from this stock, jewelry-weavers of all skill levels can plump up home arsenals or gather together in the shop to bolster the beading community. Classes led by experienced crafters guide groups through projects such as creating beaded clasps, learning the arts of metalsmithing, or using pearls to create bracelets and necklaces instead of decoy-gumball collections.
139 A Church St. NW
Vienna
Virginia
703-938-7018
---