Stillwater, OK Outdoor Activities
---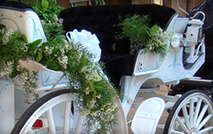 Equine-powered carriages travel through mural-infused Bricktown or the hotel district while passengers rest atop plush velvet seats
---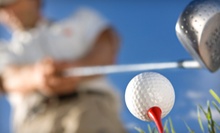 Sporting lush greens, P.B. Dye–designed course spans 6,992 yards of fairways that weave past ponds and hug the shores of Lake El Reno
---
Recommended Outdoor Activities by Groupon Customers
---
Designed by esteemed fairway artist P.B. Dye, Crimson Creek Golf Club's 18-hole course summons golfers with 6,992 yards of well-groomed greenery. Constantly primped by a cavalry of lawnmowers and displaced hairstylists, the course sports a high-quality grass to help putts smoothly hold their line. A segment of the scenic course runs in a wide horseshoe pattern around the north end of Lake El Reno, which—along with a series of ponds that come into play throughout the round—compensates for the layout's scarce population of trees by gobbling up errant shots. Before taking to the first tee, golfers can take a few practice cuts at the club's driving range, check out the pro shop to load up on balls, or visit the Hook-N-Slice Restaurant for a bite to eat or a fork to use as a makeshift divot tool.
801 Babcock Dr.
El Reno
Oklahoma
405-422-4653
Originally built in 1945 and redesigned by renowned golf architect Tripp Davis in 1998, Lakeside Golf Course's 18-hole layout spans 6,756 yards of pristine terrain dotted with mature oak trees. The men's par 70 and women's par 71 course has served as a training ground for several veteran PGA Tour winners, including Scott Verplank and Bob Tway. The course's rolling, bermuda-grass fairways blend into its bentgrass greens, ensuring a smooth surface for putting or lying down to catch golf balls in your teeth.
5201 N Washington St.
Stillwater
Oklahoma
405-372-3399
A renowned speaker and family entertainer, Robin Ray Hocker––known by his professional clowning name, Chester––opened Chester's Pumpkin Patch and Corn Maze in 2001 as a means of engaging kids in fun-filled outdoor activities. Snuggled amidst 25 verdant acres, his farm keeps visitors entertained throughout the year via a host of seasonal activities, hosting private picnics and cookouts in summer. As autumn unfurls, the farm's annual pumpkin patch returns to welcome families for fall-themed activities including a giant slide, pumpkin bowling, and a petting zoo. Groups can also put their navigational skills to the test in the farm's three-acre Mystery Maze, meandering through spooky twists and turns made all the more tricky by a chance encounter with a ghostly pioneer or lost census taker. Afterward, guests can quiet chattering teeth by the warm glow of a bonfire, and outside picnic areas facilitate al fresco feeding frenzies throughout the day.
5201 Cimarron Rd. N.W.
Piedmont
Oklahoma
Ghouls, ghosts, and other blood-curdling creatures swarm to the Bricktown Haunted Warehouse to terrify locals in a 20,000-square-foot haunt. The site was once home to the Oklahoma Casket Company, but now houses a pitch-black labyrinth filled with unseen spooks around every twist and turn. In order to make it out alive, guests must find the finish using nothing more than a glow stick to light their way, hoping against hope that it will be enough to scare off monsters or at least make them dance long enough to make an escape.
429 E California Ave.
Oklahoma City
Oklahoma
Kelly Kraegel Varner, who held the title Miss Rodeo California in 2002, presides over Cottonwood Creek's stable of regal Morgan horses, many of whom have had a hand in the 50 World and Grand National and Reserve Championships she and her clientele have amassed over the years. With the help of Mandy Highsaw, a 20-year veteran rider and instructor, Kelly has centered Cottonwood as a respected riding school catering to students as young as seven.
The ranch's horseback riding lessons impart precious knowledge in a variety of riding styles, including Western, English, saddle-seat, stick-shift, and automatic, with friendly teachers practicing effective, positive reinforcement on both students and horses. Come midsummer, Cottonwood's summer camp amasses small groups for tutorials in Western- and English-style riding and grooming, as well as outdoor activities such as swimming and crafting. Gallopers gallivant across the ranch's newly renovated riding facility, with a spacious outdoor arena for open-air rides or a well-lit, roomy indoor space for winter riding or playing games of horse Monopoly during rainstorms.
8025 S Sooner Rd.
Guthrie
Oklahoma
405-204-7625
The Range
20-yard, 14-lane climate-controlled gun and archery range
HEPA filtration system exchanges 12,000 cubic feet of air per minute
Action Target Rapid Rail with push-button or mind-controlled target retrieval
Action Target Backstop handles all ammo calibers
The Rentals
Nearly 40 firearm rentals from manufacturers such as Glock, Smith & Wesson, and STI International
Calibers such as 9 millimeter, .357, and .45 ACP
At a Glance
Spanning 30,000 square feet, Heartland Outdoors houses a gun and archery range beside a full-service pro shop. There, staff members advise marksmen on equipment and clothing from brands such as Winchester and Mossy Oak. They also lead armed defense classes, imparting their expertise as NRA-certified instructors.
1444 N Kelly Ave.
Edmond
Oklahoma
405-340-7530
---