Stillwater, OK Outdoor Activities
---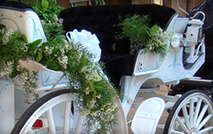 Equine-powered carriages travel through mural-infused Bricktown or the hotel district while passengers rest atop plush velvet seats
---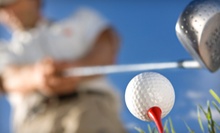 Sporting lush greens, P.B. Dye–designed course spans 6,992 yards of fairways that weave past ponds and hug the shores of Lake El Reno
---
Recommended Outdoor Activities by Groupon Customers
---
Designed by esteemed fairway artist P.B. Dye, Crimson Creek Golf Club's 18-hole course summons golfers with 6,992 yards of well-groomed greenery. Constantly primped by a cavalry of lawnmowers and displaced hairstylists, the course sports a high-quality grass to help putts smoothly hold their line. A segment of the scenic course runs in a wide horseshoe pattern around the north end of Lake El Reno, which—along with a series of ponds that come into play throughout the round—compensates for the layout's scarce population of trees by gobbling up errant shots. Before taking to the first tee, golfers can take a few practice cuts at the club's driving range, check out the pro shop to load up on balls, or visit the Hook-N-Slice Restaurant for a bite to eat or a fork to use as a makeshift divot tool.
801 Babcock Dr.
El Reno
Oklahoma
405-422-4653
Pirates Cove Scuba's certified instructors imbue beginning or advanced pupils with the requisite knowledge and techniques for plunging beneath aquatic surfaces and stock a full selection of dive equipment to help them to breathe easier while below. After briefings expound on what participants should expect when underwater, one-hour introductory courses gradually familiarize students with navigating H2O while wearing scuba gear before they explore the unseen depths and sunken pool-noodle wrecks of Pirates Cove Scuba's pool.
Open-water certifications expand on introductory knowledge with further classroom and pool study. Full-certification-seekers conclude schooling during scheduled weekend lake trips, which include four dives in open-water environments that, if properly performed, earn former novices final certification and congratulatory smooches from impressed catfish. To keep divers submerging in style, Pirates Cove Scuba carries equipment from Dive Rite, Henderson, and Seadive, which aquanauts can don on trips to Cozumel and other tropical destinations booked through the dive shop's travel desk.
6205 N Meridian Ave.
Oklahoma City
Oklahoma
405-722-4465
Originally built in 1945 and redesigned by renowned golf architect Tripp Davis in 1998, Lakeside Golf Course's 18-hole layout spans 6,756 yards of pristine terrain dotted with mature oak trees. The men's par 70 and women's par 71 course has served as a training ground for several veteran PGA Tour winners, including Scott Verplank and Bob Tway. The course's rolling, bermuda-grass fairways blend into its bentgrass greens, ensuring a smooth surface for putting or lying down to catch golf balls in your teeth.
5201 N Washington St.
Stillwater
Oklahoma
405-372-3399
European Formula EK20 karts whiz by on Pole Position Raceway's quarter-mile track, cruising at speeds of up to 45 miles per hour. Spectators crank their heads to keep up. There's no wind to battle against, no sun blinding the drivers' eyes, and no birds rigging the race by dropping smoke bombs because all of Pole Position Raceway's competitions happen inside. This is thanks to a fleet of electric-powered karts, which accelerate more quickly and hug curves more smoothly than gas-powered karts without dumping out clouds of exhaust.
To sate speed cravings, drivers simply arrive and drive—show up and nab one of 12 spots in the next race. Then with a DOT-approved racing helmet, they push the pedal to the floor for roughly 10 minutes, drafting their opponents to fly past them near the finish line. At the end of each race, drivers receive a SpeedSheet that displays their race results, fastest lap time, and the likelihood of getting their own action-movie franchise. For those seeking to dive deep into the world of racing, Pole Position Raceway offers driving clinics and youth racing camps, where younger racers pilot EK10 karts that peak at 20 mph.
2905 NW 36th St.
Oklahoma City
Oklahoma
At Remington Park Racing Casino, thoroughbreds gallop circuits around the track as visitors cheer for their favorite steed from a spacious brick plaza or the five-tiered clubhouse dining room. The clubhouse's wait staff makes the rounds with platters of tender steaks, seafood, and pasta, or visitors can remove their dress halters and nosh at more casual eateries such as the Wild Rush Bar or Jackpot Pizza. The onsite casino keeps gamblers entertained between races, and a balcony overhead spills out live music Thursday–Sunday.
1 Remington Pl.
Oklahoma City
Oklahoma
405-425-3270
A renowned speaker and family entertainer, Robin Ray Hocker––known by his professional clowning name, Chester––opened Chester's Pumpkin Patch and Corn Maze in 2001 as a means of engaging kids in fun-filled outdoor activities. Snuggled amidst 25 verdant acres, his farm keeps visitors entertained throughout the year via a host of seasonal activities, hosting private picnics and cookouts in summer. As autumn unfurls, the farm's annual pumpkin patch returns to welcome families for fall-themed activities including a giant slide, pumpkin bowling, and a petting zoo. Groups can also put their navigational skills to the test in the farm's three-acre Mystery Maze, meandering through spooky twists and turns made all the more tricky by a chance encounter with a ghostly pioneer or lost census taker. Afterward, guests can quiet chattering teeth by the warm glow of a bonfire, and outside picnic areas facilitate al fresco feeding frenzies throughout the day.
5201 Cimarron Rd. N.W.
Piedmont
Oklahoma
---